James Andrew (centre) celebrates with new graduates at the 2019 graduation for UBC's Indigenous MD Admissions Program.
When James Andrew enters a room, his positive, calm energy is immediately apparent. Whether it's a meeting or a celebration, formal or festive, when Andrew speaks, students, staff and faculty alike stop to listen.
As the current Indigenous Student Initiatives Manager in the University of British Columbia's faculty of medicine, Andrew is a long-time leader at UBC. This year, Andrew has been inducted into the university's 25 Year Club – a club recognizing non-faculty staff with 25 years of uninterrupted or accumulated service. This year also marks the club's 50th anniversary of honouring staff members.
Andrew first began working at UBC while also studying to earn a Bachelor of Science degree, focused on life sciences. He spent his evenings as part of the university's parking and security team – the role of an evening shift parking attendant worked well with his class schedule.
After graduation, Andrew, a member of the Lil'wat Nation, became a coordinator for First Nations Health Careers at UBC's First Nations House of Learning. There, he supported Indigenous students in health sciences programs across the university, from those studying medicine, to nursing, to psychology and social work.
Recommendations from the Report of the Royal Commission on Aboriginal Peoples led to the creation of an academic Institute for Aboriginal Health at UBC, and Andrew was part of the team that built the institute through consultations and proposals. Following UBC Senate-approval of the institute, he spent several years there as a community liaison.
"In that role I worked with Indigenous communities and advised the institute on what programs they should have to support the communities," Andrew says.
In 2000, Andrew decided to further his education by earning a Master of Health Sciences degree through Indigenous Health Studies at the University of Sydney in Australia. While in the midst of his graduate studies, Andrew worked with Dr. Joanna Bates, then the faculty of medicine's associate dean of admissions, to develop the Indigenous MD Admissions program. When a coordinator position was developed, Andrew put in an application. He has now held that role for the past 19 years.
Celebrating the 10-year anniversary of this Indigenous MD Admissions program has been one of Andrew's most cherished career moments. In 2012, UBC's faculty of medicine hosted the annual gathering of Indigenous coordinators from medical schools across Canada to coincide with this celebration.
"I think it inspired other medical schools at the time, because some were just starting out with their Indigenous programs," he remembers. "So inviting my colleagues to our 10-year anniversary encouraged them to push their program forward."
Beyond such milestones, Andrew says he experiences rewarding moments year after year.
"The highlight of my job is always seeing the Indigenous students getting into the program, and then seeing them graduate from the program," he says. "Those are the two most important things that I really enjoy every year."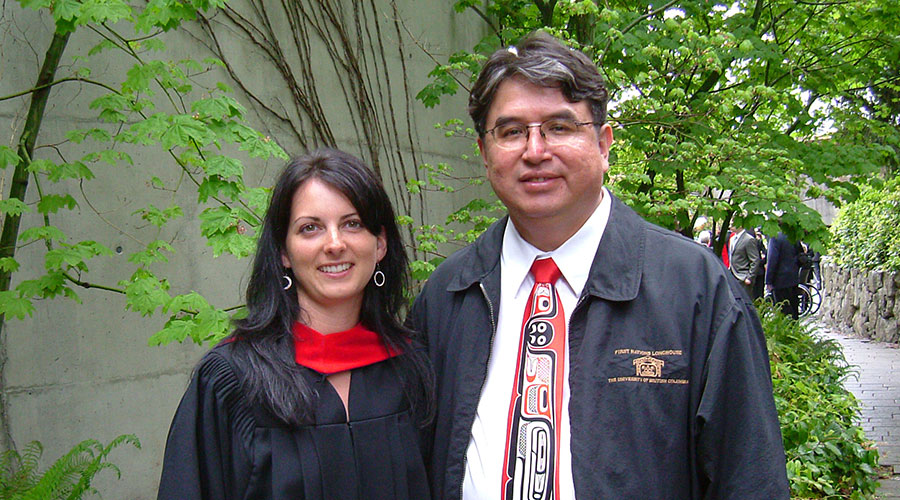 Dr. Brandy Bursey, an alumna of the Indigenous MD Admissions program, and James Andrew at UBC's 2008 graduation.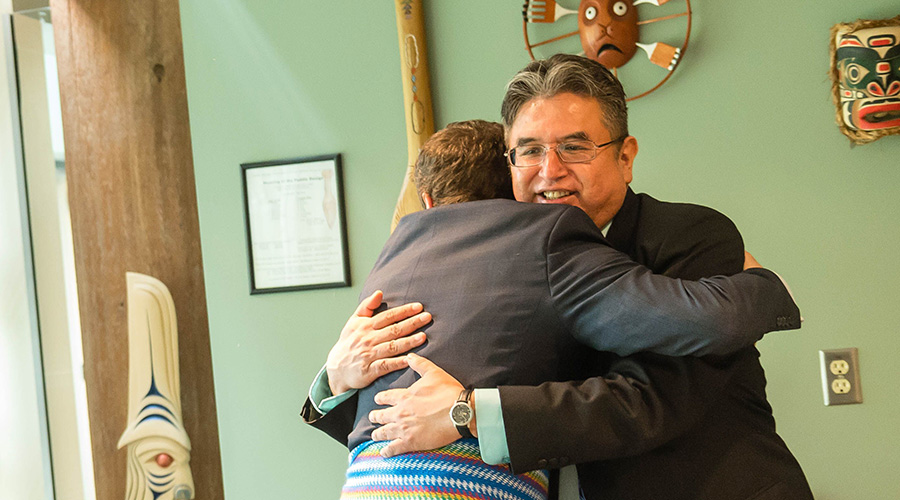 James Andrew with new graduate Dexter James before the 2019 graduation celebration.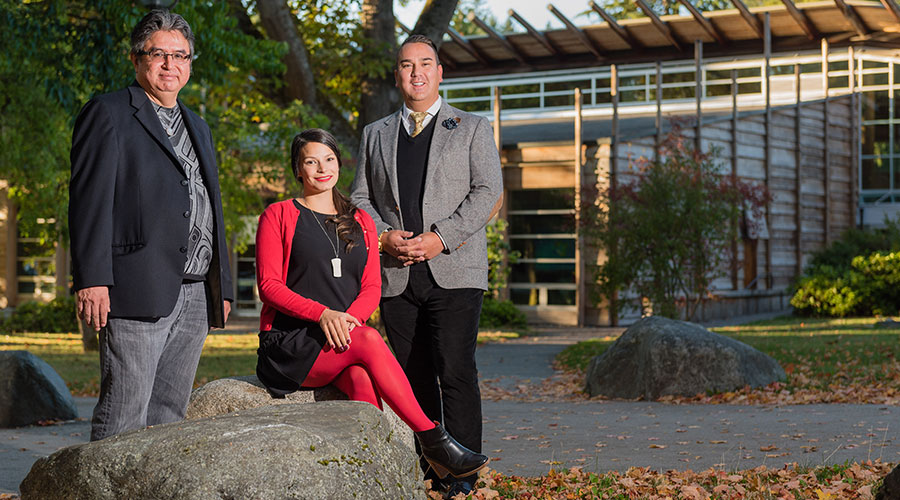 James Andrew celebrates the 15th anniversary of the Indigenous MD Admissions Program alongside medical student Willow Thickson and alumnus Dr. Peter Eppinga.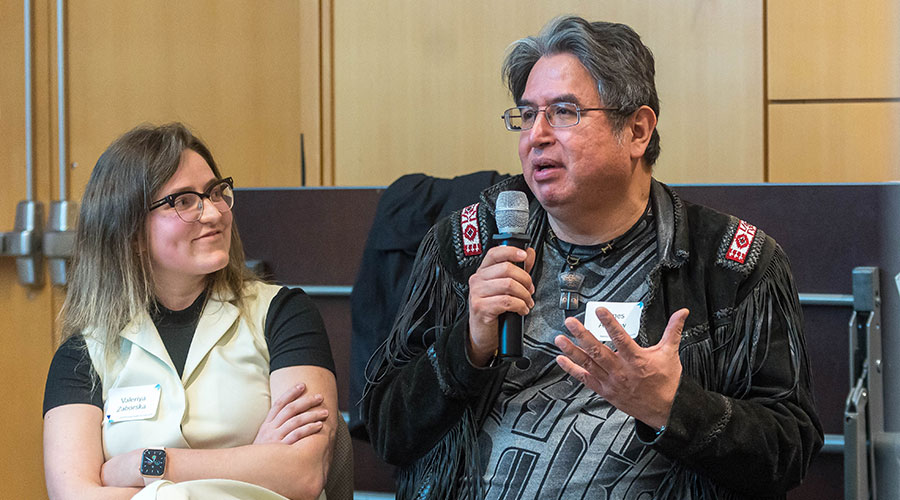 James Andrew speaks at the premiere of the Faculty's film,
Vision: Transforming Health for Everyone
at Vancouver General Hospital.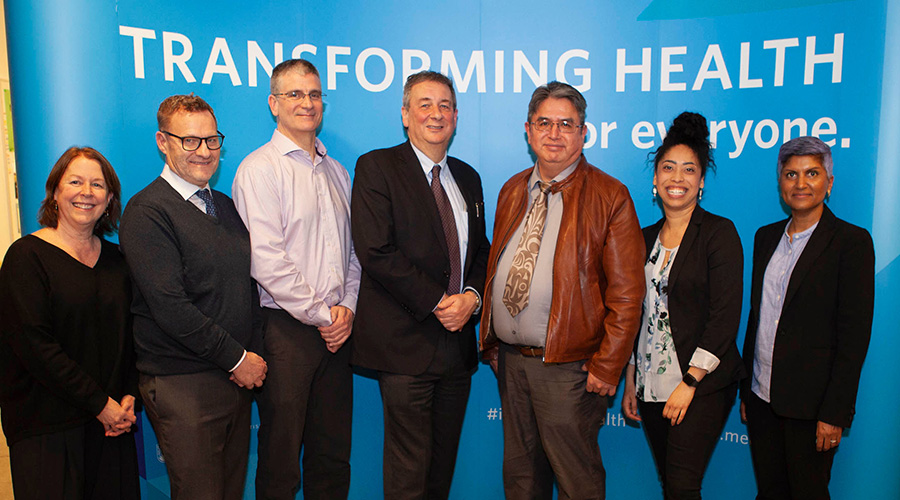 James Andrew with panelists at the premiere of the Faculty's film,
Vision: Transforming Health for Everyone
in Victoria.