Reconciliation in action
On May 21, 2019, 11 new Indigenous doctors celebrated their graduation from the Faculty of Medicine's MD Program at UBC's First Nations Longhouse. It is an annual event, where friends, family and members of the community gather together to honour the graduates of UBC's Indigenous MD Admissions Program and to share in the joy of their successes.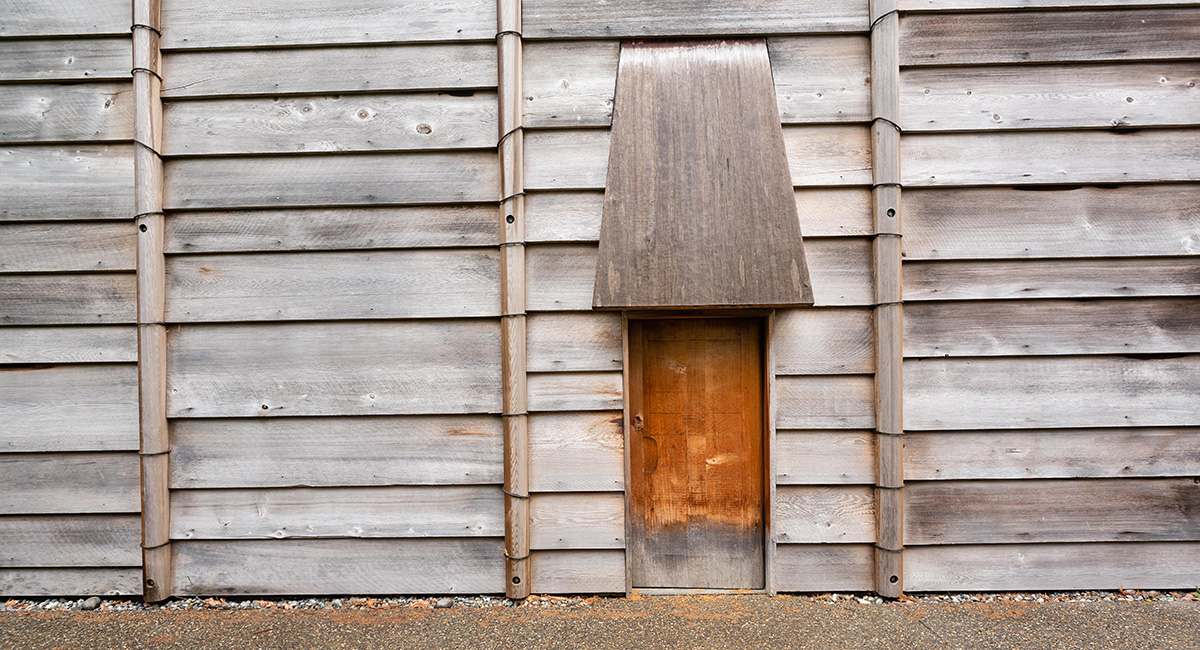 It is 9 a.m. and the ceremony is about to begin. The ceremonial door that leads each graduate into the Longhouse is only opened twice each year in celebration of First Nations, Métis, and Inuit graduates.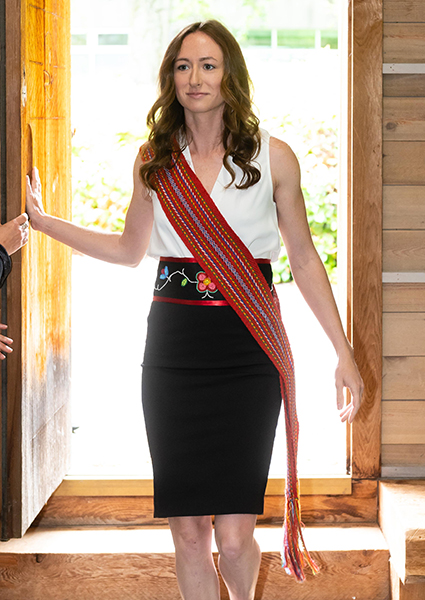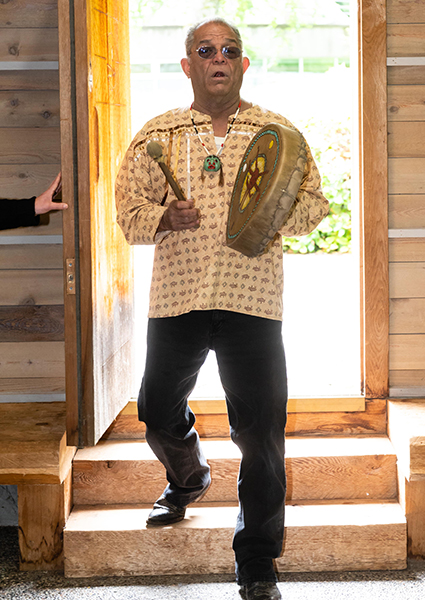 Dr. Zoe Friesen, a graduate of the Vancouver Fraser Medical Program, steps through the ceremonial door. For Zoe and her fellow classmates, crossing the threshold into the Longhouse marks an important milestone on the journey to becoming a doctor. The procession ends with Elder Oldhands, who performs an honouring song for graduates and guests.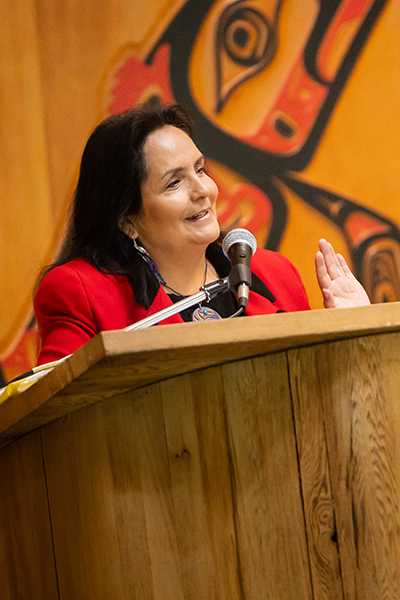 Elder Doris Fox welcomes graduates, their families and loved ones to her home – the traditional, unceded and continually-occupied territory of the Musqueam people.
The Honourable Melanie Mark, B.C.'s Minister of Advanced Education, Skills and Training, speaks to the transformational legacy of this year's graduates.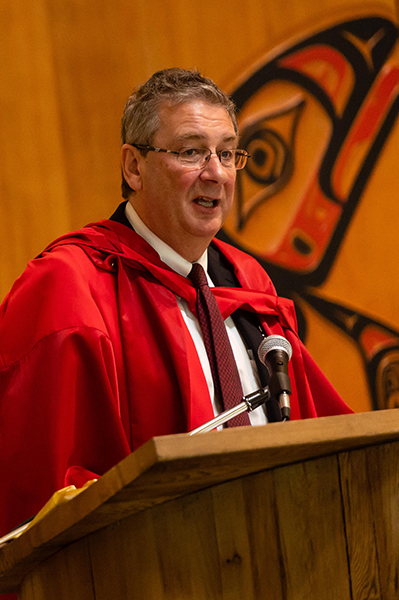 Dr. Dermot Kelleher, Dean of the Faculty of Medicine and UBC's Vice-President, Health, congratulates the new doctors and reflects on the successes of the Indigenous MD Admissions Program.
"We've got a lot of work to do when we talk about truth and reconciliation… You are reconciliation in action."
— The Honourable Melanie Mark, M.L.A.
Minister of Advanced Education, Skills and Training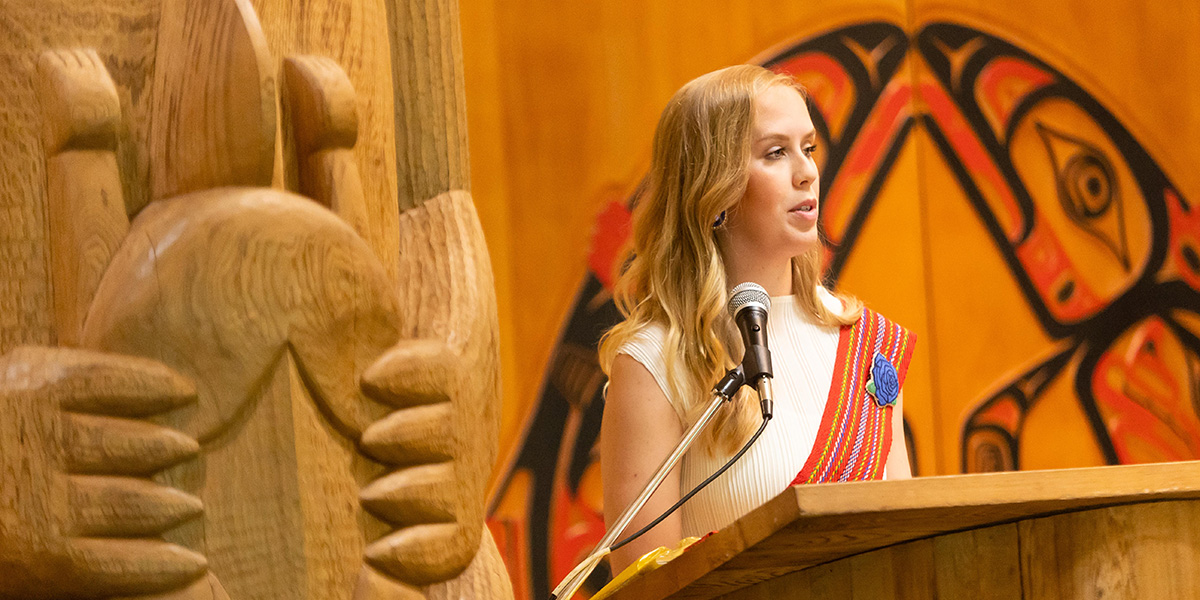 On behalf of her classmates, Dr. Natalie Bjurman, a member of the Métis Nation of B.C., expresses her gratitude for the support offered by the program.
"This program has given me a sense of belonging and a place to celebrate my identity."
— Dr. Natalie Bjurman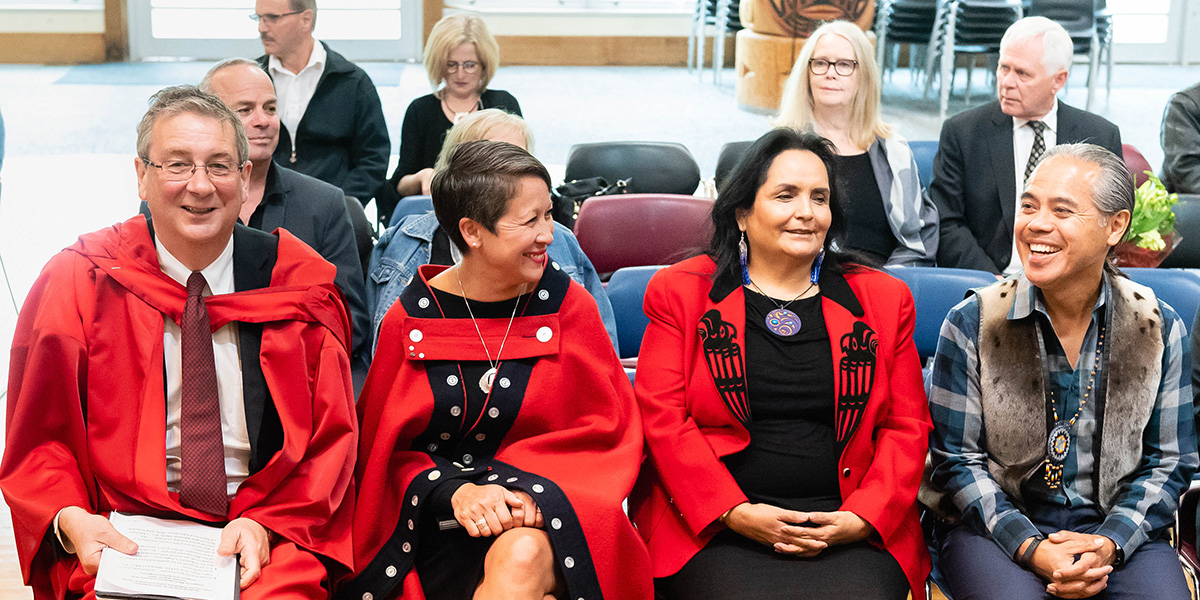 Dr. Evan Adams, Chief Medical Officer of the First Nations Health Authority, sits with Dr. Dermot Kelleher, Minister Mark and Elder Doris Fox before sharing a powerful story about his experience as young resident in a remote community on B.C.'s coast. He welcomes graduates to the growing community of Indigenous doctors in Canada.
"You represent a long lineage of people who have taken care of our people."
— Dr. Evan Adams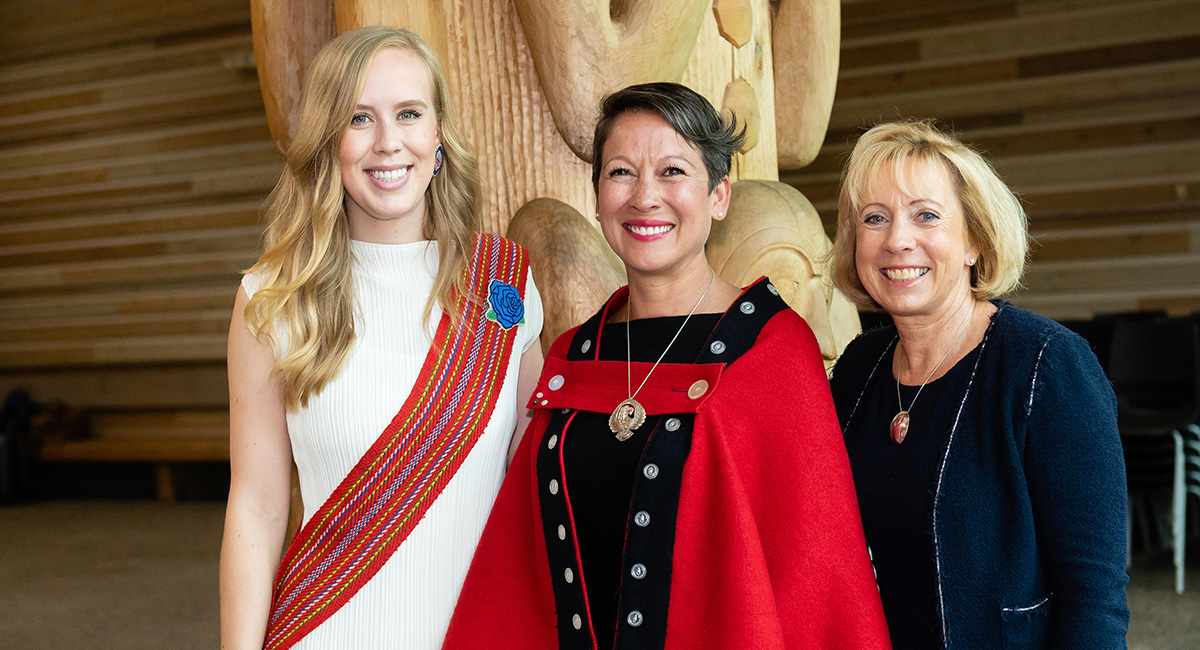 Natalie celebrates the day with Minister Mark and Dr. Deborah Money, Executive Vice-Dean. Later this summer Natalie will join UBC's Obstetrics and Gynaecology residency training program at Vancouver General Hospital.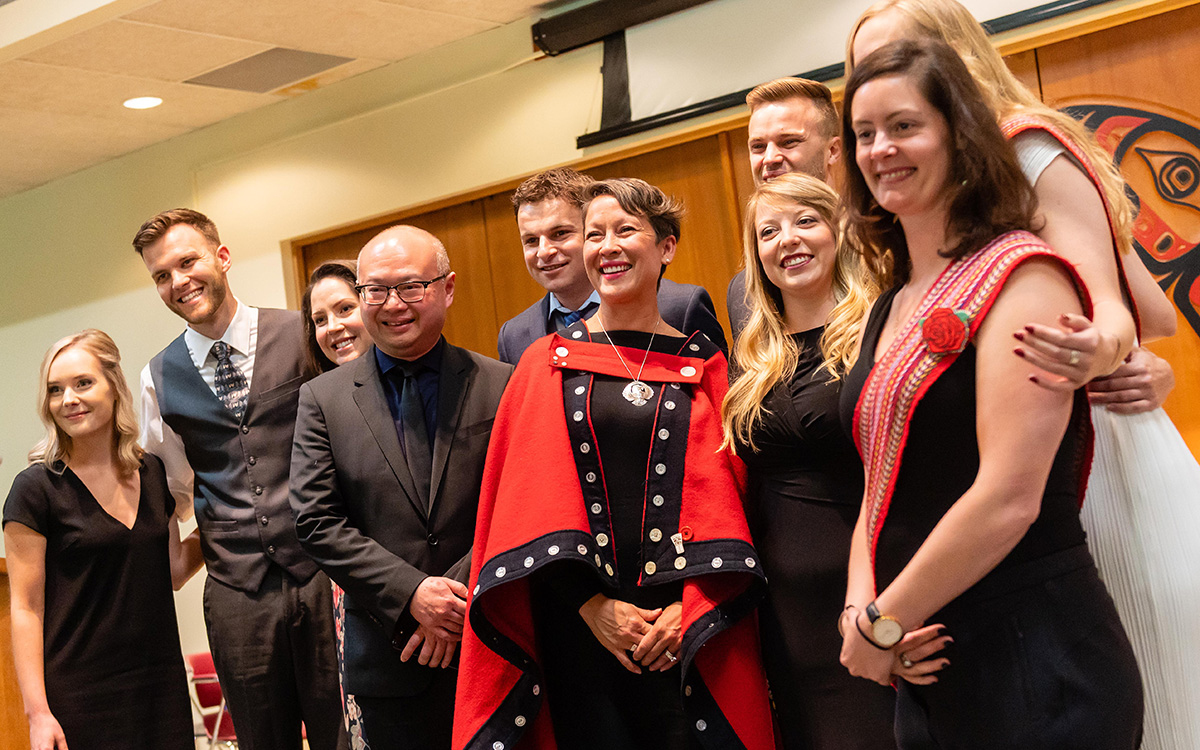 After the speeches wrap up, the new graduates gather with Minister Mark and Dr. Roger Wong, Executive Associate Dean, Education to celebrate, while parents and loved ones watch and snap photos to capture memories of the special day.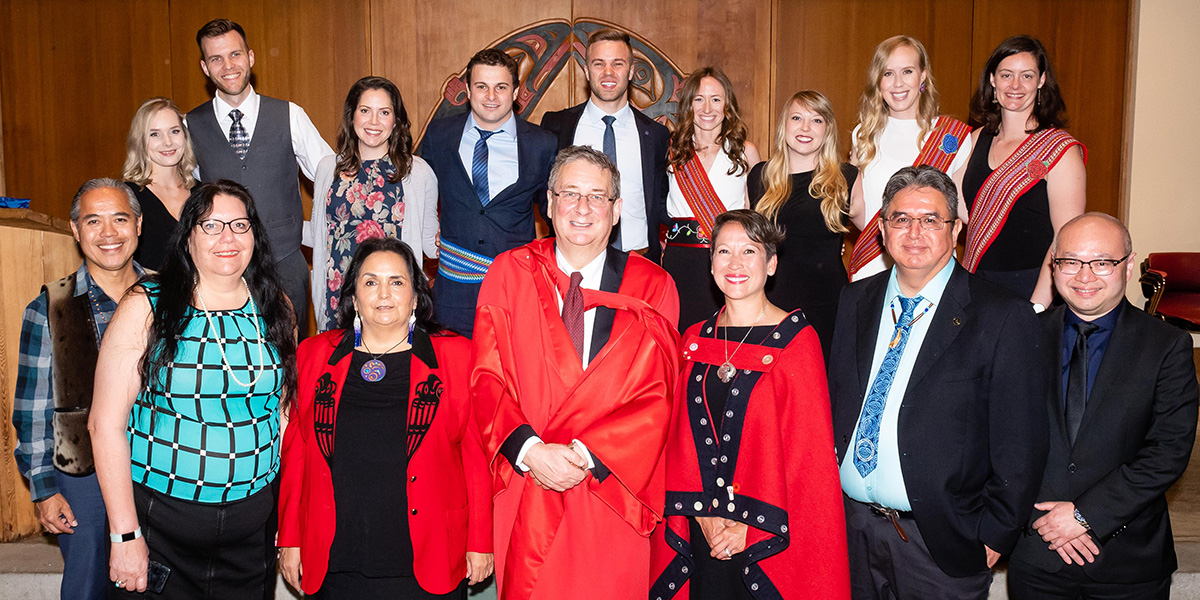 Today's new graduates join a community of more than 80 Indigenous doctors who have graduated from the program since 2004. Through their work in communities across B.C. and Canada, these graduates are helping to build a medical system that is more inclusive, representative and equitable.
"I see a group of strong Indigenous physicians who will not forget who they are and what they're fighting for," Natalie shares. "I know [we] will not forget that all of this is bigger than us and we have been given an amazing opportunity to serve others."
---