Office of Clinical Faculty Affairs
The Office of Clinical Faculty Affairs, based at the Gordon and Leslie Diamond Health Care Centre at Vancouver General Hospital, is an advocate for, and fosters recognition and reward of, clinical faculty.
The office facilitates two-way communication and understanding between clinical faculty and the Faculty of Medicine. The office, under the direction of Ms. Paul, promotes clinical faculty development and initiatives in teaching and scholarly activity, educational leadership, and research. It encourages participation of clinical faculty in the administration and operation of the Faculty, its departments, and at the various sites throughout BC.
Clinical faculty also are represented by the Clinical Faculty Affairs Committee, an advisory group consisting of representatives from each department within the Faculty of Medicine. The members present the concerns of their respective departments to the Director of Clinical Faculty Affairs.  Visit Clinical Faculty Affairs Committee to find your department contact.
Office of Clinical Faculty Affairs
Faculty of Medicine, UBC
2775 Laurel Street, 11th Floor
Vancouver, BC, V5Z 1M9
e-mail: ocfa.med@ubc.ca
---
Gurdeep Parhar, Executive Associate Dean, Clinical Partnerships and Professionalism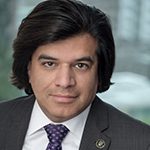 Dr. Parhar provides strategic coordination between the Faculty of Medicine and the Health Authorities, and works with the provincial government, agencies and other universities and public sector institutions to strengthen and support faculty members engaged in clinical activities throughout the Province.