Healthy aging through education
Seventy-four year old Yuet Sim's smile lights up her face as she chats excitedly about the flowers she has planted in her garden.
Only a few years ago, however, Yuet Sim wasn't doing so well.
"After my dad died, it was difficult for everyone," her daughter Mandy recalls. "But I noticed that not having my father around was especially hard on my mom. She started repeating things and it became really hard to carry on a conversation with her. I was worried I was losing her."
Another worry was also at the back of Mandy's mind: with her mom's health declining, was it safe for her to continue to live at home?
After raising her concerns with their family doctor, Mandy and her mom were referred to Dr. Roger Wong, a clinical professor with UBC's Division of Geriatric Medicine and a geriatrician at Vancouver Coastal Health.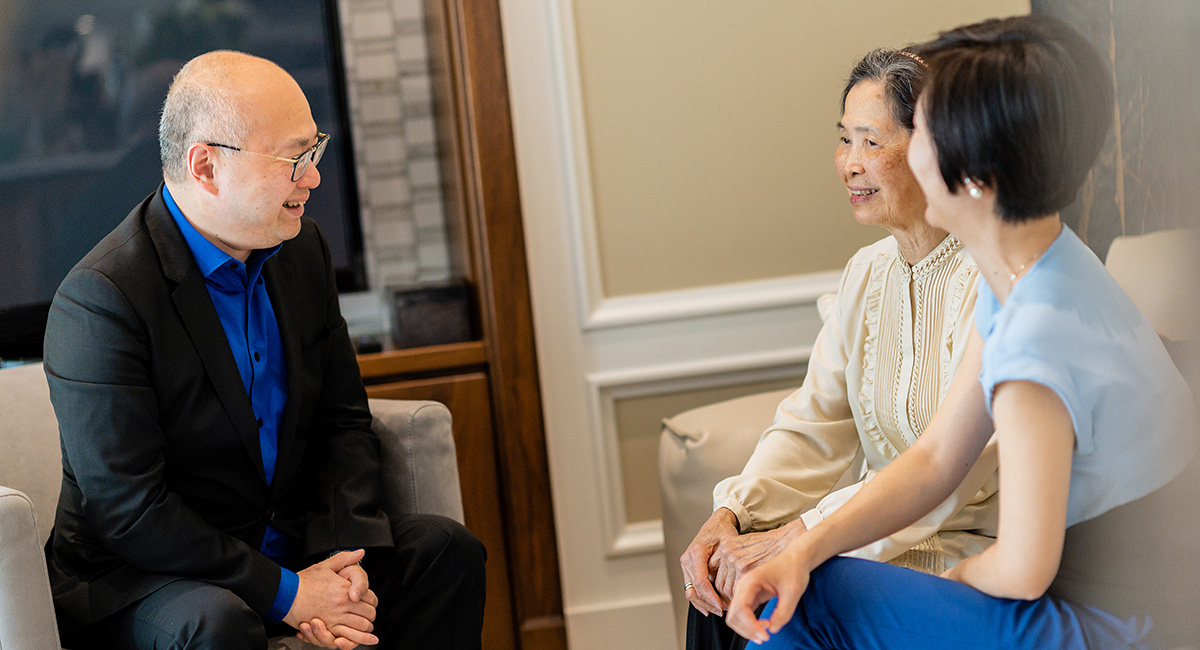 A shared experience
Dr. Wong deeply understands the worries and uncertainties faced by loved ones like Mandy, because he's been there himself.
"Caring for seniors is about more than just the patient, "he says. "It's also about helping their care partners – the family and friends who surround them."
"Caring for seniors is about more than just the patient. It's also about helping their care partners."
— Roger Wong
Executive Associate Dean, Education
He recalls his beloved grandmother struggling as aspects of her day-to-day life – such as navigating the uneven wood floors in her apartment and remembering to lock the front door – became harder and harder as she aged.
"Looking back, I often wish that there had been someone who understood what our family was going through when my grandmother was aging," Dr. Wong says. "Having better information and support would have made it easier on all of us."
The experience was a catalyst for Dr. Wong. Not only did it reaffirm his decision to become a geriatrician, but it also inspired another deeply personal mission: to improve health and wellbeing for seniors – like his grandmother and Yuet Sim – and their care partners through education.
---
9.5M
seniors in Canada by 2031
1/4
Canadians aged 65+ by 2031
1.3M
seniors in B.C. by 2031
---
The power of education
It is this mission that is top of mind in his work at the UBC Faculty of Medicine.
In addition to overseeing the Faculty's medical and health professions training programs as Executive Associate Dean, Education, Dr. Wong is dedicated to training and mentoring medical students, residents and students in health professions programs – such as Physical Therapy, Occupational Therapy and Audiology and Speech Science – to join him in a career providing care for seniors. This includes ensuring that all learners are well-equipped to work effectively with diverse health care providers in a team-based care setting, which is especially important when supporting the complex health needs of older adults.
It's an area of growing need, as the number of Canadians aged 65 and over continues to grow. By 2031, it's anticipated that seniors will number over 9.5 million, making up nearly one quarter of the Canadian population. In B.C., the statistics are similar: by 2031 almost one in four British Columbians will be over the age of 65 – more than 1.3 million people in all.
"Given how quickly our population is aging, we need to engage and empower many more people to care for seniors." Dr. Wong says. "I do a lot of work to encourage students and learners from across our programs to consider a career in this area."
Dr. Joshua Budlovsky – a 2012 graduate of UBC's MD undergraduate program, followed by residency training in internal medicine and a fellowship in geriatrics – is one of them.
As a first-year resident, he worked alongside Dr. Wong on his first geriatrics rotation, an experience that helped to change the direction of his career. Dr. Budlovsky credits Dr. Wong with recognizing and encouraging his emerging interest, which is rooted in a holistic approach to health required when caring for seniors.
Now a practising geriatrician in Victoria and a clinical faculty member with UBC's Division of Geriatric Medicine, Dr. Budlovsky is similarly committed to encouraging and educating other learners who are interested in pursuing a career supporting the health needs of seniors.
"I love waking up and going to work, so it's incredibly rewarding to share with students and residents what it is that I do and why it matters," he says.
"My job is not just about identifying illness. I get to know my patients so that I can understand what's most important to them and help them to have the best quality of life as they age."
"My job is not just about identifying illness. I get to know my patients so that I can understand what's most important to them and help them to have the best quality of life as they age."
— Joshua Budlovsky
Clinical Instructor, Division of Geriatric Medicine
Aging well at home
For Dr. Wong, his passion for education also drives his work as a public educator and champion for seniors and their care partners.
He strongly believes that knowledge is essential to healthy aging. In addition to travelling across Canada and internationally to share his knowledge with health professionals working with older adults, he also works closely with organizations such as the Alzheimer's Society of B.C. and UBC's Intercultural Online Health Network to educate the public about different aspects of aging. He encourages students and residents to also embrace their roles as champions, and helps to connect them with opportunities to do so.
Much of the health advocacy work he undertakes focuses on building awareness of the simple, practical changes that can help seniors, like Yuet Sim, stay in their homes longer, supporting their ability to 'age in place' safely.
"Many seniors are moving into long-term care facilities too soon," says Dr. Wong. "There are many ways we can support them and their care partners — from safety-proofing their homes to avoid falls, to using technology such as smartphones and smart watches, to supporting meaningful social connections— that can help seniors lead independent, healthy lives."
And Mandy agrees. After visiting Dr. Wong with her mom, she felt her worries start to ease.
Mandy credits what she's learned from Dr. Wong – from how to recognize when Yuet Sim's condition is getting worse, to how to make her home safer, to support resources available in the community – with helping her mom not only be happy and healthy, but also stay at home a little while longer.
"At the beginning, I didn't know what I didn't know. I felt overwhelmed," Mandy says. "Dr. Wong has been so helpful in supporting us, by helping me to understand more about my mom's health and what I can do to help her."
For Dr. Wong, Mandy and Yuet Sim illustrate the transformative power of education, which continues to motivate him in his work.
"From training more doctors and health professionals focusing in seniors care to equipping seniors and their loved ones with knowledge about healthy aging, I truly believe education is the key to helping ensure older adults have the best quality of life possible."
---
Share this Story
Published: July 2019