A researcher is training to become a medical doctor to help bring stem cell therapies to patients sooner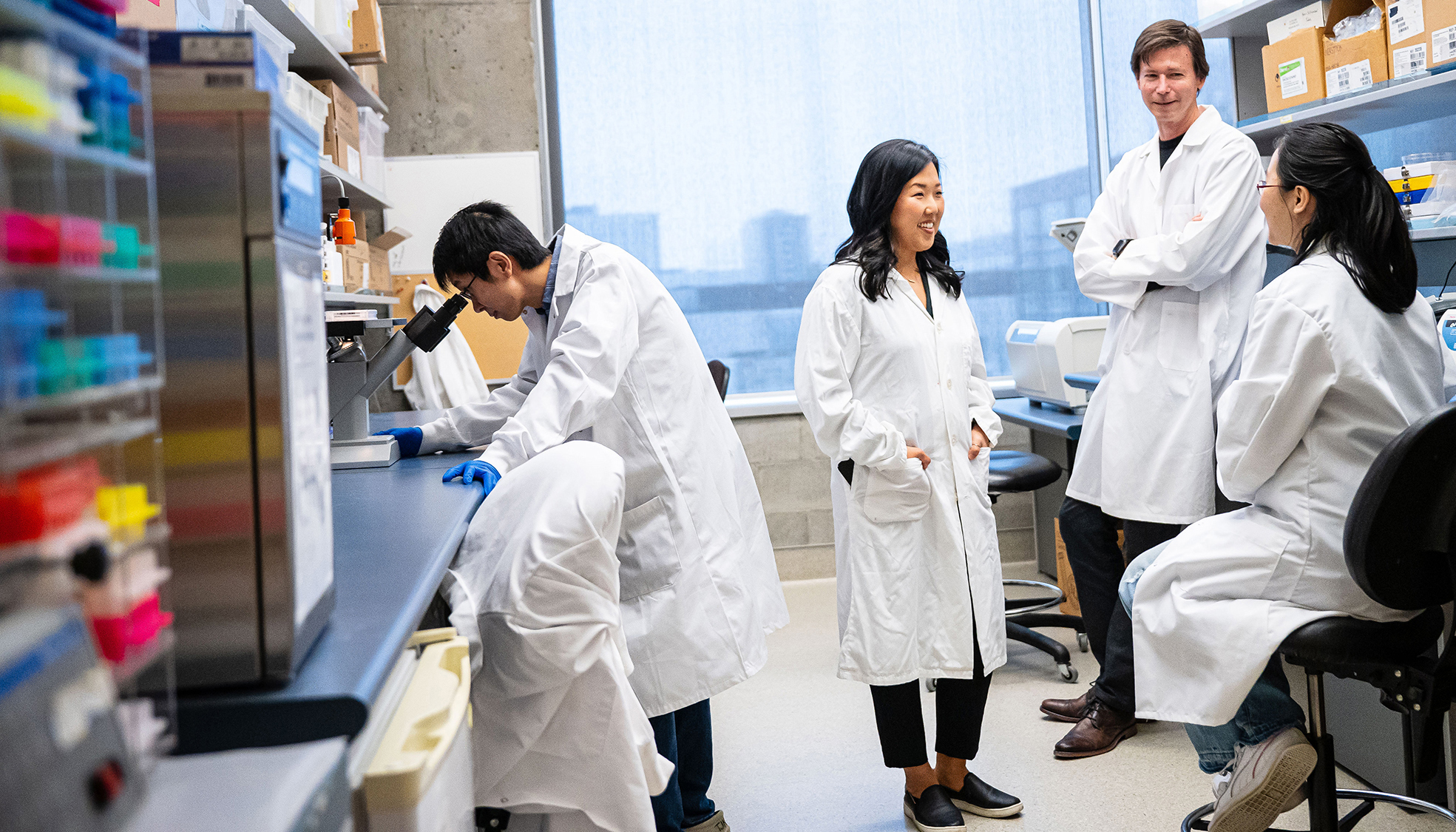 As Michelle Kwon worked on her PhD at UBC and then as a scientist in the biotech sector, she witnessed the potential of stem cells to transform medicine—and was inspired to do even more to help these new therapies reach patients.
"As science progresses, we are recognizing the need for more patient-oriented research," says Kwon, BSc(Hon)'13, PhD'19. "We need to translate the exciting findings from science into therapies for patients. And it goes both ways—we also need to recognize problems that our patients face, so we can find solutions in the lab that ultimately lead to cures."
Kwon was inspired to pursue the MD undergraduate program at UBC, where she is learning how to diagnose and treat conditions such as diabetes. Adding these new clinical skills on top of her innate curiosity and love of science is a powerful combination.
"Seeing real-world problems helps me identify the types of questions I'd like to answer in the lab," she says.
During her PhD in cell and developmental biology at UBC, Kwon used basic science to study how cells communicate with each other through hormones, and how these communication processes can break down in metabolic diseases like diabetes.
Kwon's PhD supervisor was Dr. Timothy Kieffer, a professor of cellular & physiological sciences and surgery at UBC. Dr. Kieffer's research has received support through the JDRF Centre of Excellence at UBC, the JDRF-CIHR Partnership to Defeat Diabetes, and numerous donors who believe in the promise of stem cell-based therapies to eliminate the need for daily insulin injections.
"Vancouver is leading the world in this area, including the implantation of gene edited stem cell products for Type 1 diabetes," says Dr. Kieffer. "We need people with the skills and motivation Michelle brings to build capacity and maintain our leadership."
After graduation, Kwon worked as a scientist at STEMCELL Technologies, a global biotechnology company based in Vancouver founded by president and CEO Dr. Allen Eaves, a professor emeritus in UBC's department of medicine and renowned stem cell and leukemia researcher. She studied the optimal nutrients that stem cells need to grow and turn into insulin-producing beta cells that can help patients with Type 1 diabetes. This work solidified her passion for stem cells and her desire to see these new therapies reach patients.
I started to think about how I can contribute more. I got to work in the lab with stem cells and saw their promise for the future of medicine. I realized I wanted to be on the front lines of medicine as stem cells help patients.

Michelle Kwon, PhD
Kwon has developed a love for surgery in medical school and aspires to be the surgeon who transplants stem cell-based products in patients to cure diseases like diabetes. As stem cell technologies become commercialized, she also sees a role for herself in shaping policy to ensure health equity, safety and accessibility for all patients.
"I am inspired by the patients, my incredible mentors and colleagues in medical school and the research community," says Kwon. "I am excited to be part of the next generation of clinician scientist who will bridge lab discoveries and patient treatments to advance medicine."
To learn more about how philanthropic support for translational medicine can advance research into diabetes and other diseases, please contact Lisa Slater at lisa.slater@ubc.ca.