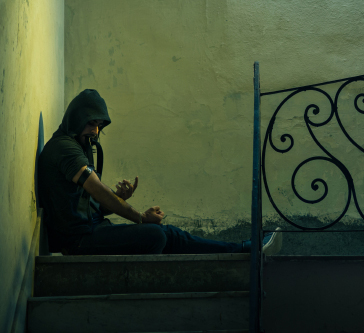 A new study led by the UBC Faculty of Medicine found that young Indigenous people who use drugs in British Columbia are dying at a rate nearly 13 times higher than Canadians their age.
Researchers followed 610 young Indigenous people who use drugs in Vancouver and Prince George. Forty of the participants died between 2003 and 2014, with overdose being the leading cause of death (38 per cent), followed by illness (28 per cent) and suicide (12 per cent).
Mortality rates among young women were almost double those of young men. Of those who took their own lives, 80 per cent were women; of those who died by overdose, 73 per cent were women; and those who died of illness, such as HIV-related complications or Hepatitis C, 73 per cent were women.
Published this month in the Canadian Medical Association Journal, the study was conducted by the Cedar Project Partnership, a collaborative, community-governed research initiative funded by the Canadian Institutes of Health Research that addresses HIV and hepatitis C-related vulnerabilities among young Indigenous people who use illicit drugs in British Columbia.
Recently experiencing a non-fatal overdose was associated with a three-fold increase in risk of death, suggesting that the period immediately after a non-fatal overdose is a critical time for intervention.
"The illicit drug supply is now catastrophically and irrevocably toxic," said Cedar Project co-principal investigator Martin Schechter, Professor in the School of Population and Public Health and the school's former Director. "The addition of fentanyl, carfentanil and their analogs — many of which are thousands of times more potent than heroin and morphine — has transformed each use of illicit opioids from a risky activity into a potential death by lethal injection."
Infection with hepatitis C at the start of the study was the strongest predictor of death, despite the young age of the population and Canada's universal health care system.
"Participants living with Hepatitis C, when they joined the study, were nearly three times more likely to die," said Eric Yoshida, Professor in the Department of Medicine and former Head of its Division of Gastroenterology. "Disturbingly, it indicates that Hepatitis C may also be a surrogate marker of premature mortality from all causes, suggesting that its associations are much more complex than a simplistic chronic infection that results in cirrhosis."
Since this analysis was completed, another 16 young women and girls and 10 men in The Cedar Project Cohort have died.
"We honour our young people who have passed away and offer condolences to their families. These statistics are more than just numbers. They are our children, our relations," said Kukpi7 Wayne Christian, Chief of Splatsin Secwepemc Nation and co-Principal Investigator of the Cedar Project. "These deaths represent emotional pain, spiritual pain, and mental pain caused by complex traumas that lead our young people to turn to opioids and substance use. Overdose is a symptom of a deeper crisis – our own nations and service providers in urban areas must address the cause of the opioid emergency."
The authors assert that culturally-appropriate programs that build on young people's strengths, with particular engagement of young women, are essential for stemming the flow of these tragic and unnecessary deaths.
"How can we create a safe place where people can be comfortable to talk about the complex trauma our communities have faced? We know that culture is such a huge part of that, such a huge part of healing," explains Sherri Pooyak (Cree) of the Aboriginal HIV & AIDS Community-Based Research Collaborative Centre and Canadian Aboriginal AIDS Network. "We cannot forget about the loved ones of our participants who are dealing with grief and loss. Their deaths can cause a ripple effect. It's so important that friends and loved ones are supported with culturally safe services to say goodbye and heal."