On March 1, celebrations kicked off across the province as hundreds of fourth-year UBC medical students learned the results from the first round of the Canadian Resident Matching Service (CaRMS), which pairs MD students with residency programs across the nation.
Students gathered at all four MD training sites, based in Kelowna, Prince George, Victoria and Vancouver, to congratulate their peers, reflect on their journey together through medical school, and look ahead to the next stage of their training as medical residents.
---
Here, a selection of students reveal what excites them most about the residency programs they'll be training with and the diverse communities they'll soon be joining.

Meet Lydia Hansma
Matched to: Family Medicine, Abbotsford
"I am very excited to be joining UBC's Family Medicine program in Abbotsford because the Fraser Valley is home for myself and my husband, and it's an amazing community! As a resident there, I'll have an opportunity to work in the regional hospital and work with so many great doctors. When it comes to matching to family medicine, I am really looking forward to the broad range of practice and patient populations who I will work with. During medical school, I had rotations with many wonderful family doctors who really knew each of their patients as people, and I really want to be able to have that as a family doctor."
Meet Darcy Good
Matched to: Psychiatry, Victoria
"I am so excited for a career in psychiatry. It's something that I've found a very strong passion for. And I'm very excited to have matched in Victoria. I've fallen in love with the city, and I've found nowhere else on the planet that's more beautiful, so I can't wait to build the life and the career that I want here. My main goal, now, is to give back. I'm the first member of my nation – Snuneymuxw First Nation, in Nanaimo – to get into medical school, and the opportunity to give back to First Nation communities across Vancouver Island is something that I really look forward to."
Meet Rahana Harjee
Matched to: Obstetrics & Gynaecology, Vancouver
"I am really excited to be joining UBC's OBGYN Residency Program, where I'll have the opportunity to train at Royal Columbian, Vancouver General, St. Paul's and BC Women's. I'll also have an opportunity to gain experience during rotations around the province. The field offers so much variety, and I love how everyone works together — it's a really collaborative field of medicine."
Meet Megan Enos
Matched to: Family Medicine, Prince George
"Before entering medical school, I knew I wanted to be a family doctor. I have always been attracted to the diversity of family medicine and the longitudinal relationship you form with patients. When I started med school at the Northern Medical Program I was influenced by so many wonderful family doctors in the community and knew this was the career for me. I have a passion for women's health and plan to have a full service practice with a focus in that area."
Meet Carson Gill
Matched to: Pediatrics, Vancouver
"I lived in Vancouver for several years before medicine while attending SFU, so I am excited to return to my 'home-away-from home.' I am also happy to remain close to the Okanagan where my family is and look forward to training in BC where I ultimately hope to remain and give back to the communities that have given so much to me. BC Children's is an amazing institution and I am excited for what lies ahead."
Hannah Duyvewaardt
Matched to: Family Medicine, Rural Okanagan
"I really like the style of curriculum, with the first year block rotation followed by the rural placements after I have gotten my feet wet. I plan on practicing in Kelowna and I am excited to build connections to the community during residency for future practice."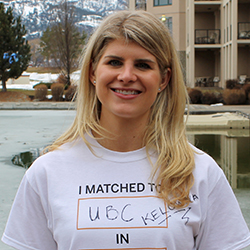 Meet Sam Brophy
Matched to: Emergency, Victoria
"Emergency medicine and acute care have always been very close to my heart. I started by getting my basic first aid, which I then taught before becoming a paramedic with BC Ambulance. I love to comfort people in critical situations. I couldn't be happier with my placement. I was born and raised in Victoria, so it's a huge privilege to stay here and give back to my community, including the Island Medical Program, which has given me so much. I'm excited to enrich emergency medicine across Vancouver Island and, one day soon, take part in a teaching role with the Faculty of Medicine."
Meet Christine Kennedy
Matched to: Psychiatry, Prince George
"During my third-year rotation in psychiatry with the Northern Medical Program, the passion, commitment and mentorship of our psychiatry preceptors was inspiring. Psychiatry uniquely aligns my passion for working with marginalized populations. To learn here in Prince George and continue to strive to be of service to the North is an amazing privilege! I am so grateful."
Meet Parmveer Brar
Matched to: Family Medicine, Surrey
"Surrey Memorial Hospital is family-doc run hospital with a very high volume of patients. Surrey itself is very rapidly growing with a large Punjabi speaking population so that will allow me to practice conducting interviews in both Punjabi and English."
Meet Sidney Morrison
Matched to: Family Medicine, Nanaimo
"I love the variety that family medicine enables you to practice, from emergency medicine to palliative care. I also love the relationships you can build with not only your patients but the community as well. I love the Island and I'm so excited to be going to Nanaimo. The residency is generally referred to as having the happiest residents in BC. The support and teaching, as well as the community of the program make me so grateful for the opportunity to train there."
Explore more photo highlights from the match day.