Two members of the UBC Faculty of Medicine have been recognized with UBC Killam Research Prizes for their outstanding research and scholarly contributions, including:
Shoukat Dedhar
Professor, Department of Biochemistry and Molecular Biology
Dr. Shoukat Dedhar's research focuses on cancer biology and cell adhesion mechanisms, particularly on in vivo approaches to cancer treatment.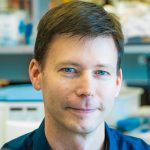 Timothy Kieffer
Professor, Department of Cellular and Physiological Sciences
Dr. Timothy Kieffer's research focuses on innovative approaches to treat diabetes, including the use of gene therapy and stem cells.
The Office of the Vice-President Research & Innovation will host an awards reception on April 10, 2019 at the Jack Poole Hall of the Robert H. Lee Alumni Centre.
Recipients were selected by UBC's Faculty Research Awards Committee, which includes arts and humanities, business, applied science, science, and medicine.
For a list of all Faculty Research Award recipients, visit https://research.ubc.ca/research-excellence/awards-honours/faculty-research-award-winners