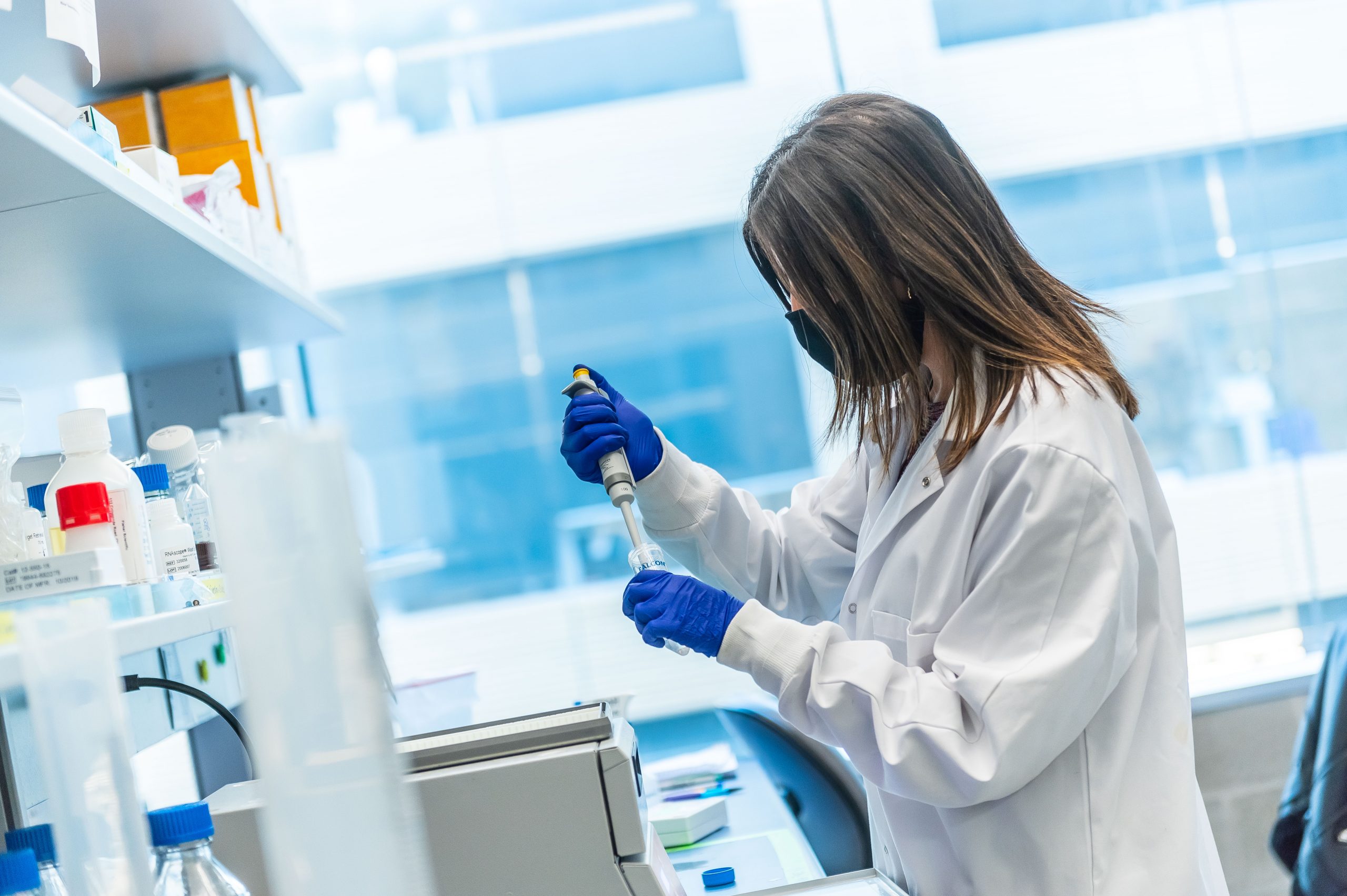 Faculty of medicine researchers are among the awardees of funding through Genome Canada to launch new projects within the Genomic Applications Partnership Program (GAPP). The projects will mobilize cutting-edge genomics research and innovation to improve the health of Canadians.
The GAPP program leverages world-leading expertise and diversified partnerships to accelerate the translation of scientific aknowledge into broad economic and societal benefits for Canada.
The Honourable François-Philippe Champagne, Canada's Minister of Innovation, Science and Industry, announced $18.1 million in federal support through Genome Canada for 13 late-stage research and development projects. With an additional $38.6 million provided by provincial governments, businesses and other research partners across Canada, this announcement represents a total investment of $56.7 million for Canadian genomics research and development.
"Genomics is a key technology that is instrumental in responding to national and global challenges," said the Honourable François-Philippe Champagne, Minister of Innovation, Science and Industry. "Projects like the ones announced under the Genome Canada's Genomics Applications Partnership Program are central to make sure the Canadian research system grow and remain at the forefront globally, leading to more cutting-edge genomics science that delivers real impacts for the health and economic growth of Canadians."
Faculty of medicine-led projects:
Title: Parent-of-Origin Aware genomic analysis
Academic Leader: Steven Jones and Peter Lansdorp, Department of Medical Genetics
Receptor Leader/Organization: Kasmintan Schrader, BC Cancer (Department of Medical Genetics)
Genome Centre: Genome BC
Total Funding: $6,102,150
Around 300,000 unidentified Canadians are at high risk for developing hereditary cancers. Although current genetic testing can inform a patient's inherited risk for disease, it does not predict which side of the family an autosomal variant comes from. This project will validate a new technology, Parent‐of‐ Origin‐Aware genomic analysis (POAga), in real-world hereditary cancer patient samples in B.C. and the Yukon. Preliminary data demonstrates that this technology offers 99 per cent accurate prediction of the parent‐of‐origin, using only the child's blood sample. The anticipated benefits of POAga include a 50 per cent increase in the efficiencies in cascade genetic testing, in the number of carriers identified, and in mutation detection rates, as well as reduced financial and emotional benefits for patients and their families.
---
Title: RapidOmics 2.0: Long-read genomic sequencing for urgent genetic disease diagnosis
Academic Leader: Jan Friedman, Department of Medical Genetics
Receptor Leader/Organization: Craig Ivany, Provincial Health Services Authority (Department of Pathology & Laboratory Medicine)
Genome Centre: Genome BC
Total Funding: $3,645,141
Genetic disorders are a leading cause of major illness and death in infancy. Although precise diagnosis is necessary, access to genome‐wide sequencing is limited. This is a particular problem in the fetal and neonatal period, when making a genetic diagnosis can profoundly influence clinical management and have lifelong consequences.
Over three years, RapidOmics will use rapid long-read sequencing to test 100 patients, either acutely ill infants or pregnant women with a fetus at very high risk of genetic disease, in BC Children's Hospital or BC Women's Hospital & Health Centre. The project will assess the clinical value, limitations, costs and benefits of this type of sequencing as a diagnostic test. If successful, it may lead to establishing a provincially funded clinical reference laboratory for rapid long‐read sequencing. The research will ultimately improve the quality of genetic healthcare provided to babies with genetic diseases and their families in B.C., with the hope to one day extend this service to more than 3,000 pregnancies or infants annually across Canada.