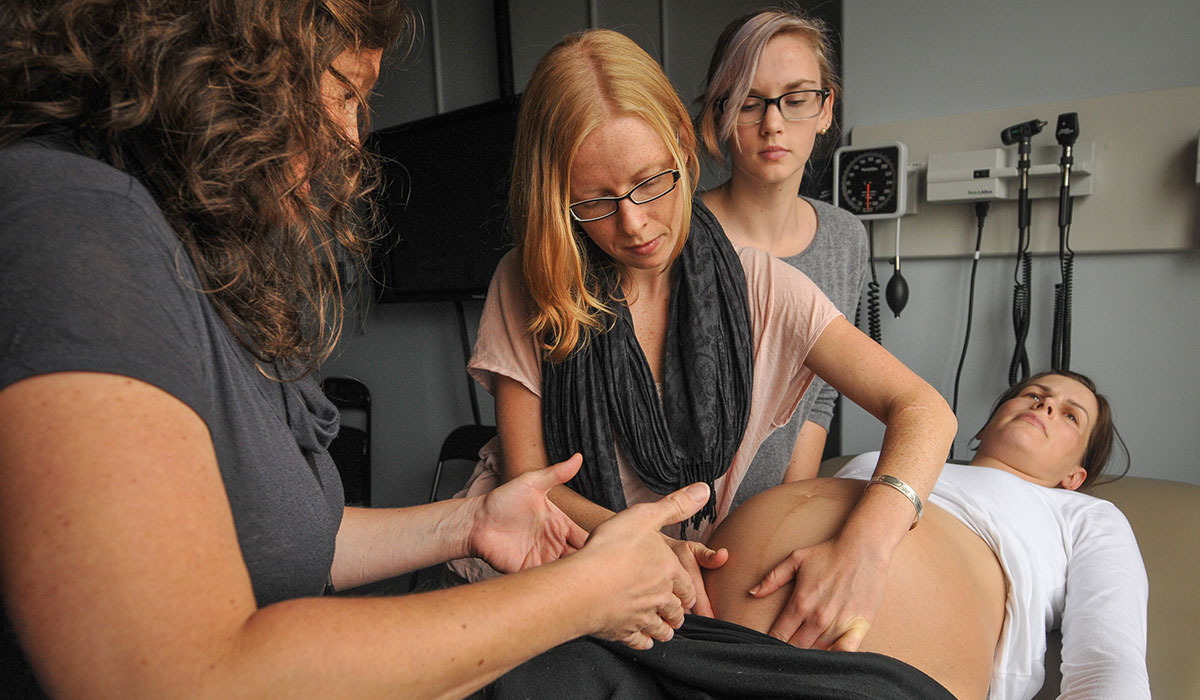 The Government of B.C. recently announced that UBC's midwifery program is set to expand by more than 70 per cent.
---
UBC will graduate more midwives to provide care for B.C. families, thanks to an increase in midwifery program seats announced by the Government of B.C.
The expansion adds 20 new seats to UBC's midwifery program, bringing the total annual intake to 48. This includes 12 new seats in the bachelor of midwifery program, and eight new seats in the Internationally Educated Midwives Bridging Program (IEMBP). The IEMBP is an eight-to-10- month program that allows internationally educated midwives to become registered to practise in B.C. and is the only program of its kind in Canada.
"In recent years, there has been increasing demand for midwifery services in B.C," said Adrian Dix, Minister of Health. "This expansion at UBC will help more people pursue a rewarding career as a midwife and, in turn, allow more people to access midwifery care during an exciting time in their lives."
Four of the bachelor of midwifery seats were added in September 2022 and the remaining eight seats are being added in September 2023. The IEMBP seats were added in January 2022.
UBC's midwifery program launched in 2002 and is the only midwifery program in B.C. Throughout the program, students complete clinical placements in communities across the province, learning alongside practicing midwives in places such as Port Hardy, Prince George, Chilliwack and Cranbrook.
"For two decades, UBC has been providing people with the education and training they need to become midwives and support British Columbians as they grow their families," said Selina Robinson, Minister of Post-Secondary Education and Future Skills. "Now, even more people will be able to access this educational experience and help even more British Columbians. This seat increase for the midwifery program is part of our Future Ready plan, which is preparing people for the jobs of today and tomorrow by expanding access to post-secondary education and skills training."
Registered midwives provide primary maternity care to healthy pregnant clients and their newborn babies through pregnancy, labour and birth until about six-weeks postpartum. There are approximately 536 registered midwives in B.C., and in 2020-21, midwives assisted in more than 12,000 births, or approximately 27% of births in the province, the highest proportion in Canada.
"I set out to become a midwife in order to empower families with evidence-based knowledge and culturally safe care," said Simrat Dial, second year UBC midwifery student. "Through a combination of case-based theory and practicum experiences in communities, UBC midwifery has enabled me to bridge the gap between theory and reality and build my confidence in my skillset as I do it. Expanding UBC's midwifery program will result in new learning opportunities for students while reducing barriers to midwifery care and the program."
"Expanding midwifery education at UBC will contribute to increased access to compassionate and culturally safe care."
Dr. Dermot Kelleher
UBC's midwifery program supports Indigenous learners in its admissions process and by incorporating cultural learning experiences and mentorship provided by Indigenous midwives and Elders throughout the four-year program. On average, 10% of students enrolled in the program self-identify as Indigenous.
"For 20 years, graduates of UBC's midwifery program have been providing respectful and responsive birth care for diverse families across B.C., including rural and remote communities," said Dr. Dermot Kelleher, dean of the faculty of medicine and vice-president of health, UBC. "Expanding midwifery education at UBC will contribute to increased access to compassionate and culturally safe care so that more British Columbians can plan and have the birth experiences that they need and want closer to home."
The Ministry of Post-Secondary Education and Future Skills has provided UBC with initial funding of $1.7 million to establish the additional seats and is providing $1.7 million annually, starting this year.
Celebrating 20 years of midwifery education
In November 2022, UBC's midwifery program celebrated its 20th anniversary. Read more