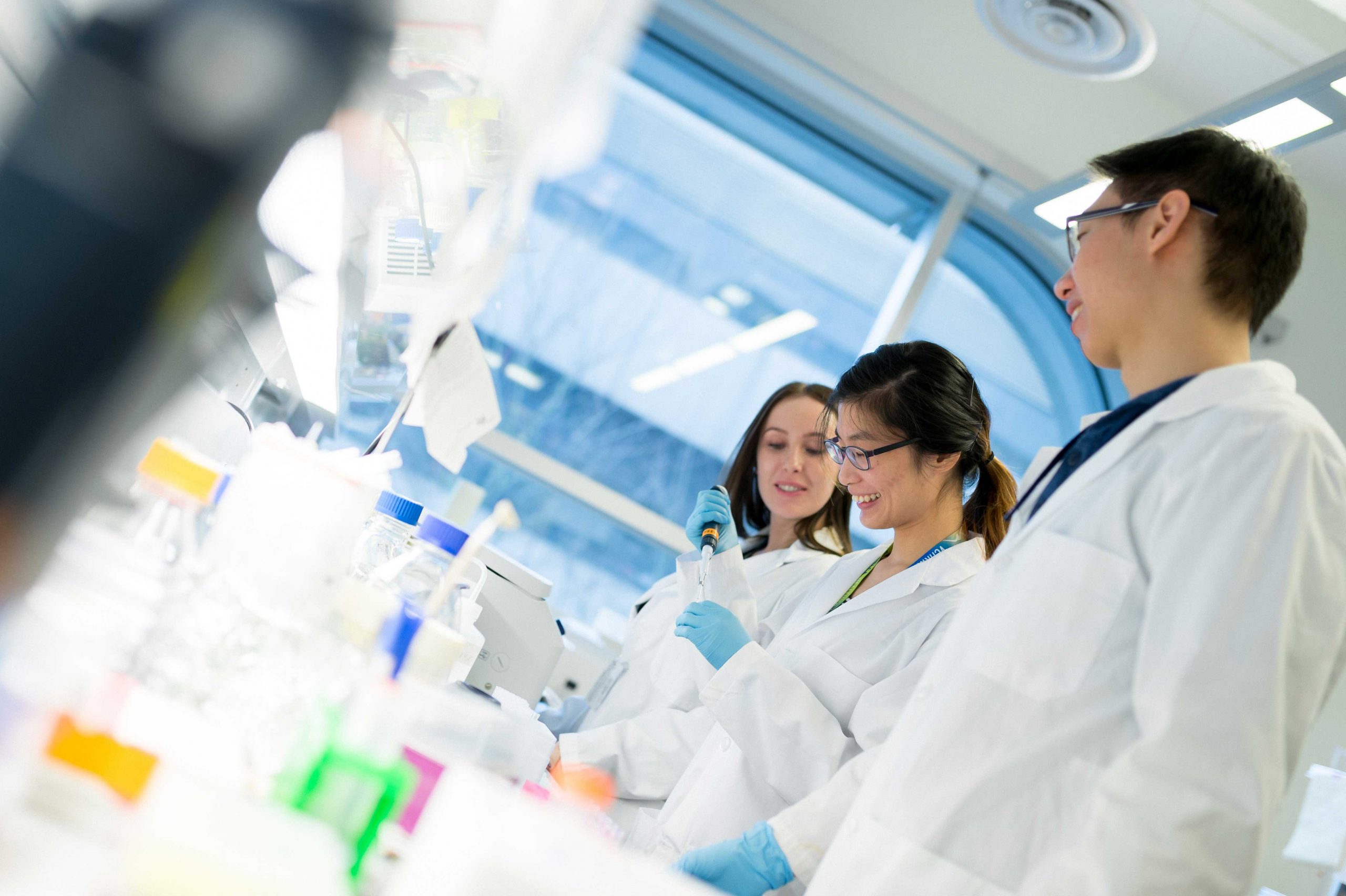 Faculty of Medicine researchers are receiving more than $3 million in federal funding for two new training initiatives that will enable the next generation of Canadian scientists to address important health challenges.
The training programs, supported by the Natural Sciences and Engineering Research Council of Canada's (NSERC) Collaborative Research and Training Experience (CREATE) program, will prepare students and postdoctoral fellows through innovative, collaborative and multidisciplinary training opportunities. They focus on emerging fields of medical research that have potential to greatly improve the health and wellbeing of Canadians, including artificial intelligence-based approaches to health, and medical applications of charged molecules called polyelectrolytes.
The CREATE program is designed to help Canadian researchers develop their professional and technical skills for future careers in academia, industry, government and beyond. Announced today, each initiative is receiving a total of $1.65 million in federal funding over the next six years.
MUSIC training program
Building on UBC's Biomedical Imaging and Artificial Intelligence research cluster and its extensive connections with Canada's biotech industry, the MUlti-Scale multi-modal Image and omics Computing for health (MUSIC) program will train a new generation of biomedical engineers with expertise across biology, biotechnology and artificial intelligence-based approaches to data analysis.
The MUSIC training program will train researchers to measure, manipulate and analyze biomedical data using advanced artificial intelligence techniques. This will foster a deeper understanding of the biological processes that lead to disease and accelerate the pace of development in areas such as drug discovery, diagnostics and more.
"Our unwavering commitment lies in creating lasting impacts on the lives of our patients," says project lead Dr. Ali Bashashati, an assistant professor in UBC's Department of Pathology and Laboratory Medicine and the School of Biomedical Engineering. "As the healthcare landscape continues to shift towards generating and harnessing massive amounts of data, we aim to lead the charge in nurturing the next generation of AI scientists. Together, we can empower our vision for revolutionizing patient care and making a tangible difference in the world."
MUSIC will meet an important need for biomedical engineers with a deep and multidisciplinary understanding of machine learning, biotechnology and disease biology. The initiative will create two new courses that cover various approaches to biological and medical imaging data, as well as an applied machine learning course that provides hands-on experience developing algorithms using real datasets.
Charging into the Future
UBC researchers are partnering with McGill University and Freie Universität Berlin on Charging into the Future, a new training program in polyelectrolyte biosystems aimed at addressing future health challenges and supporting the growth of Canada's medical devices and therapeutics sector.
Polyelectrolytes are charged macromolecules that have a range of potential medical applications, including in drug delivery systems, medical device coatings, biomaterials and beyond. This unique international training initiative will equip students with technical and entrepreneurial skills for the development of polyelectrolyte-based materials for applications in health.
"We are very excited about this new international collaboration," says project lead Dr. Jayachandran Kizhakkedathu, a professor in the Department of Pathology and Laboratory Medicine and the School of Biomedical Engineering at UBC. "This interdisciplinary training program will expand and strengthen existing collaborations between three leading universities to provide new directions in polyelectrolyte research and its applications to address health challenges. This program will also provide unique international training opportunities and exposure to our trainees."
The CITF program will include innovative research programs, joint course offerings, workshops, seminars, as well as a focus on the science of entrepreneurship and professional development. Trainees will participate in industry internships to share their valuable scientific and business expertise, and help translate innovations to commercial reality.