L-R: James Andrew, Year 1 MD student Kara Ruff, Dr. Dermot Kelleher and Year 2 MD student Haedan Turner
Celebrating 20 years of Indigenous excellence in medicine
On November 8, the UBC faculty of medicine community celebrated 20 years of the Indigenous MD Admissions Pathway (the Pathway) and the Indigenous Family Medicine Residency Program during an event where learners, alumni, family, faculty, staff and Indigenous community members gathered together to honour the achievements of the past two decades.
Since the Pathway launched, more than 120 Indigenous doctors have graduated from the Indigenous MD Admissions Pathway and are now serving communities across the province as family doctors, surgeons, pediatricians, psychiatrists and more.
Today, the Pathway continues to serve a pivotal role in encouraging, attracting and creating new opportunities for more Indigenous learners to study medicine, while supporting them on their journey to becoming doctors.
A growing number of UBC medical graduates are also choosing to complete their medical training through the Indigenous Family Medicine Residency Program, where resident doctors train and enhance the delivery of culturally safe care in Namgis, Snuneymuxw, Musqueam, Tsleil-Waututh, Penelakut, Pacheedaht, Tsartlip and Carrier-Sekani.
Meet some of the current learners and alumni of the programs.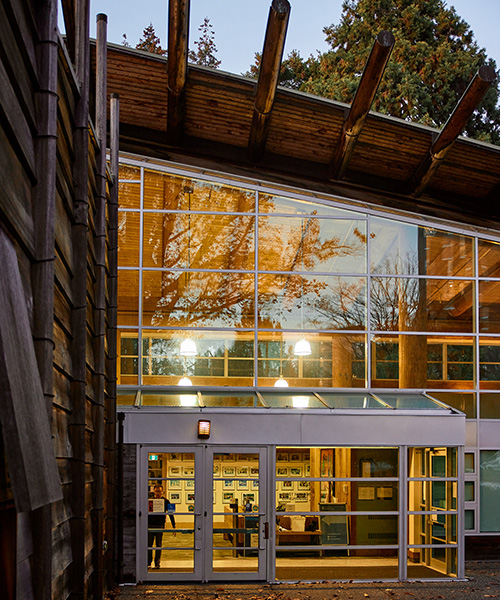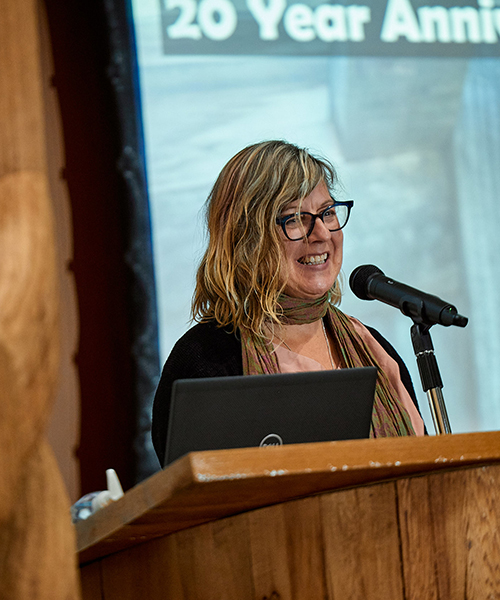 Guests gathered in the Sty-Wet-Tan Hall in the UBC First Nations Longhouse. Leah Walker, Executive Director, Kilala Lelum, Urban Indigenous Health & Healing Cooperative, greeted learners, alumni, family, faculty, staff and community members and guided the evening's proceedings.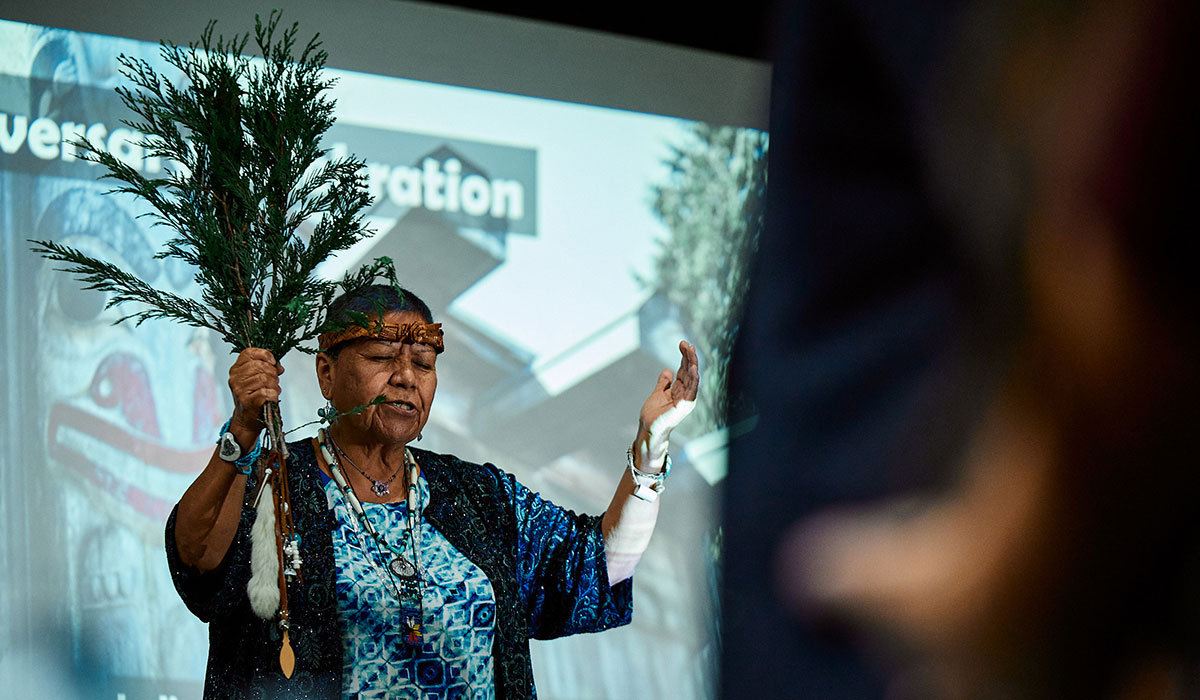 Elder Roberta Price provided a blessing and spoke to the inspiring strength of the programs. She also shared prayers for communities who are struggling in British Columbia, across Canada and around the world.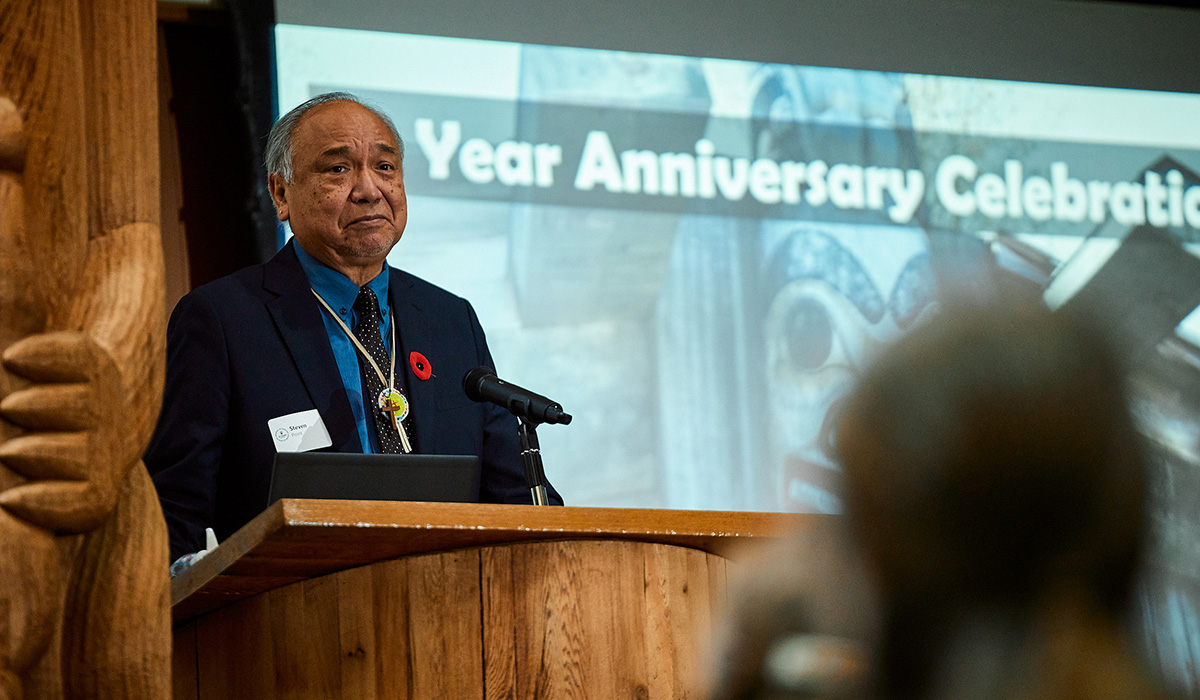 The Honourable Steven Point, member of the Skowkale First Nation and Chancellor at UBC, reflected on the growing number of Indigenous peoples working and learning across faculties and programs at UBC since he first attended the university in the 1970s and championed the need for continued growth and representation.
"Programs like these are important not just to the university, not just to Canadians but most importantly to Indigenous people."
— Steven Point
Chancellor, UBC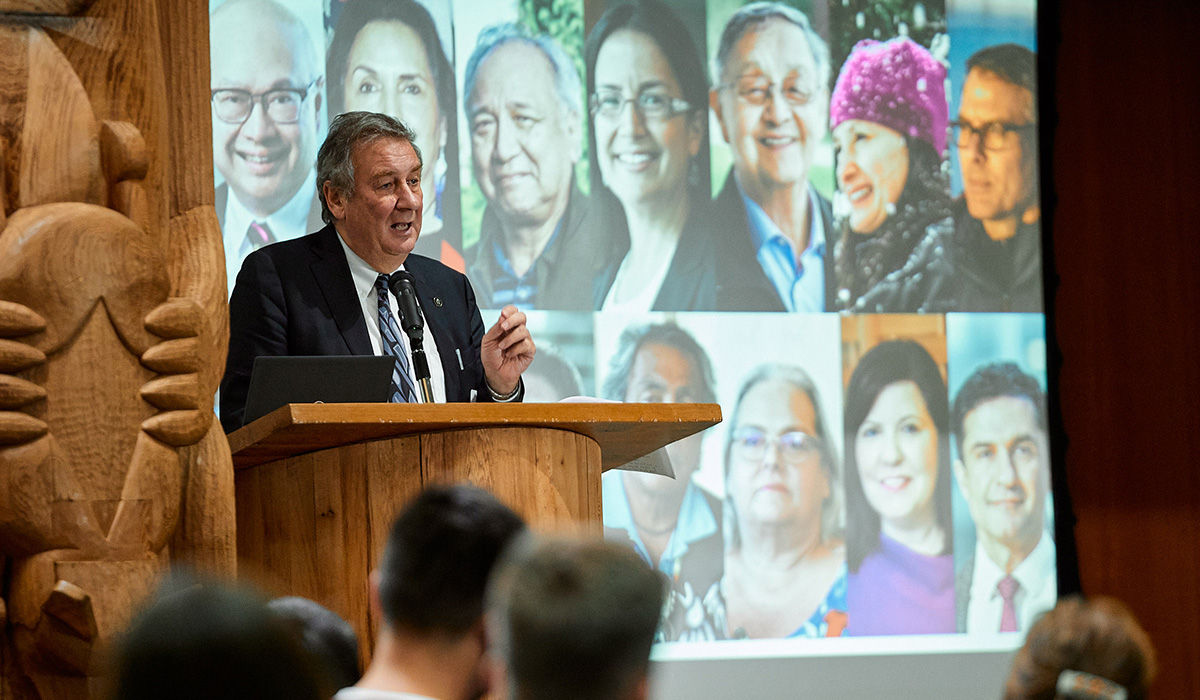 Dr. Dermot Kelleher, Dean, Faculty of Medicine and Vice-President, Health, UBC, reflected on the impact the programs are having on improving health systems and education across British Columbia. He thanked the incredible Indigenous faculty and staff for their leadership, including learners and alumni for inspiring and mentoring the next generation of Indigenous doctors.
"You enrich our classrooms with unique perspectives, experiences and ways of knowing, and you have been courageous and passionate in sharing your stories so that we can continue to confront racism and discrimination in our Faculty, and shape educational experiences that are more inclusive and safe for Indigenous students going forward."
— Dr. Dermot Kelleher
Dean, Faculty of Medicine and Vice-President, Health, UBC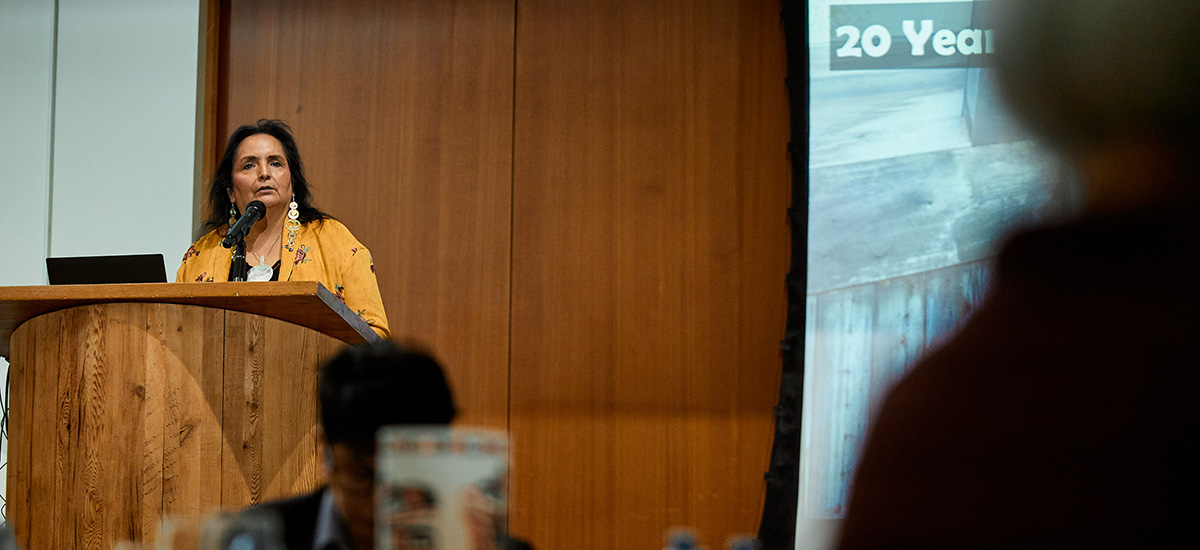 Following a beautiful feast of smoked salmon, bannock and vegetables prepared by a local Indigenous company, Salishan Catering, Elder Doris Fox opened the second half of the evening and spoke to the guests about the traditional ancestral land of the Musqueam people. She encouraged guests to go home to their communities and tell them about the night's events.
Next, Dr. Bob Woollard, former Head, Department of Family Practice, reminisced about the early days of consultation for the program which took place more than twenty years ago in the same great hall where guests gathered for the evening. This was followed by Dr. Yotakahron Jonathan, a resident doctor in the Indigenous Family Medicine Residency Program, who spoke about her experience and gratitude for the program, which integrates Indigenous values, teachings and ways of knowing.
Guests enjoyed entertainment courtesy of Musqueam vocal artist Christie Lee Charles who performed personal and powerful spoken word pieces and hip-hop songs.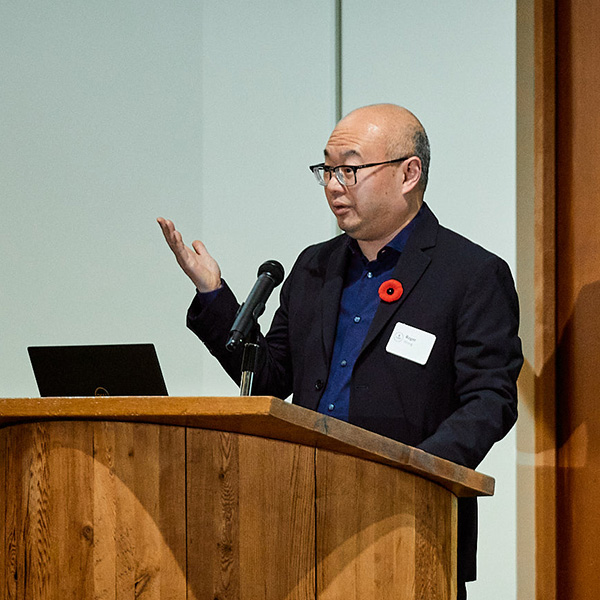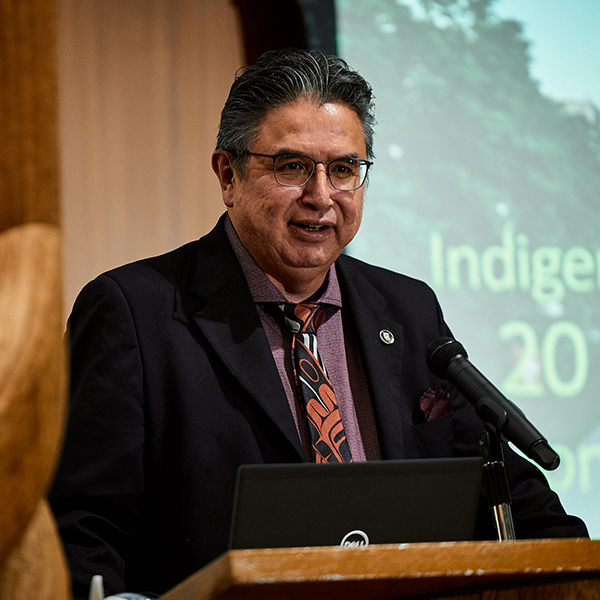 Dr. Roger Wong, Vice Dean, Education, Faculty of Medicine, congratulated learners and alumni on all of their achievements and thanked faculty, staff and Indigenous leaders for their significant contributions to the programs.
"You are leading and bringing about great and needed change in our health systems."
— Dr. Roger Wong
Vice Dean, Education, Faculty of Medicine
James Andrew, Associate Director, Indigenous Initiatives, reflected on the early days of the Pathway and the founders of the program, which continues to inspire Indigenous learners from across Canada to pursue their dreams of becoming doctors.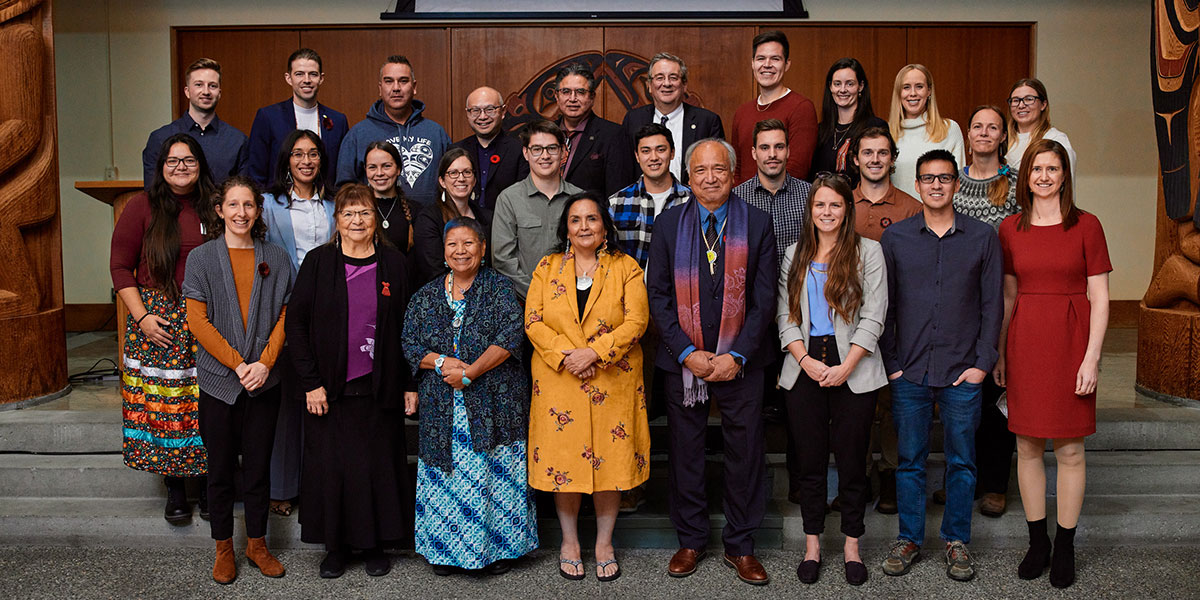 After the event, learners and alumni gathered together with faculty, staff and Indigenous leaders to celebrate and snap photos to capture the moment, and to share memories of their time in the programs.
Every year, more Indigenous learners are graduating from the programs and are expanding the network of strong Indigenous doctors across the province who are providing compassionate and culturally safe care to people and their families.
---
Meet the learners and alumni
---
Share this Page
Published: November 15, 2022