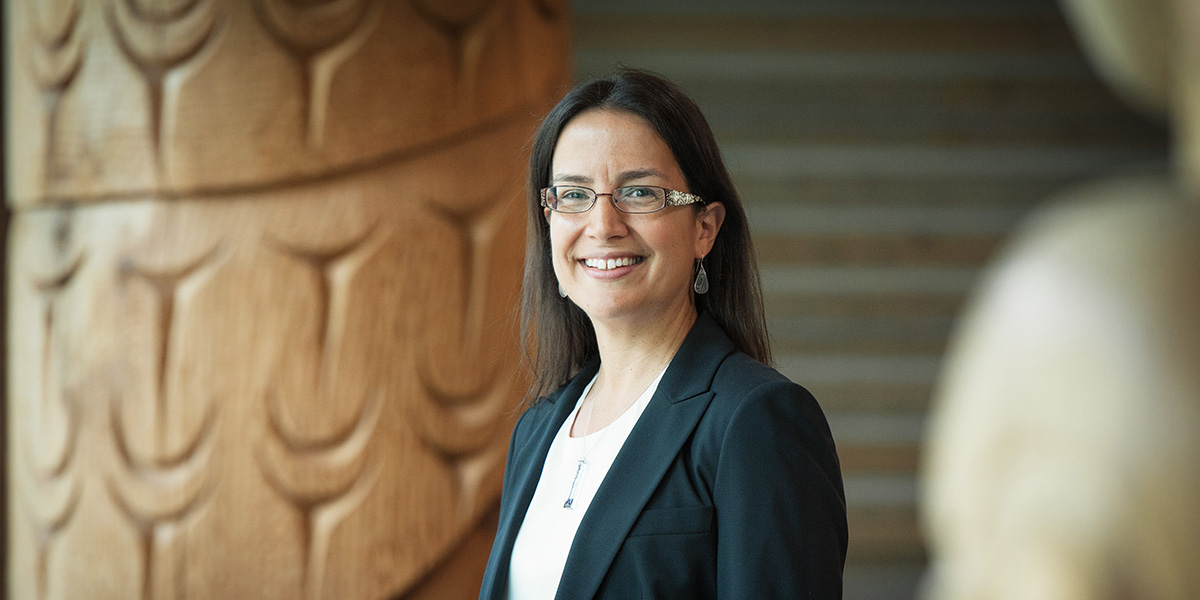 Dr. Nadine Caron, co-director of UBC's Centre for Excellence in Indigenous Health at the faculty of medicine, has been awarded the Canadian Cancer Society's inaugural Inclusive Excellence Prize.
She is one of seven prominent Canadian researchers recognized today by the Canadian Cancer Society (CCS) with a 2020 CCS Award for Excellence for bold leadership and trailblazing contributions to drive progress in multiple areas of cancer research.
The first-ever Inclusive Excellence Prize, which honours individuals who have demonstrated leadership in the advancement of equity, diversity and inclusion in the Canadian cancer research ecosystem, is jointly awarded to Drs. Nadine Caron and Juliet Daniel.
"I am incredibly honoured to receive this inaugural award, particularly as it focuses on equity in research," Dr. Caron says. "With all of us working together to bring Indigenous voices and perspectives forward, the future of cancer research looks promising."
Dr. Caron is also the First Nations Health Authority Chair in Cancer and Wellness at UBC and a professor in UBC's department of surgery. As a surgeon, researcher and a member of the Sagamok Anishnawbek Nation, she has passionately and tirelessly advocated for the rights of marginalized and Indigenous peoples in Canada in cancer research and care.
"Cancer affects everyone but we know that not every person has the same access to the results of cutting-edge research and the care that they deserve," says Dr. Stuart Edmonds, Executive Vice-President, Mission, Research and Advocacy at CCS. "That's why we are excited to introduce the Inclusive Excellence Prize this year and present it to Dr. Caron. Through her research, outreach and advocacy work, Dr. Caron has been a steadfast champion for the rights of Indigenous peoples in Canada to participate in cancer research and benefit from the tremendous progress that we've seen in the field."
In addition to four prizes for exceptional achievements in basic biomedical and cancer control research, this year's Awards for Excellence also includes the new Lifetime Contribution Prize.
A version of this story originally appeared on the Canadian Cancer Society website.