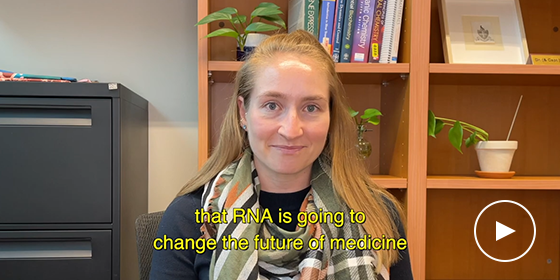 Before the COVID-19 pandemic, Dr. Anna Blakney's area of research expertise—messenger RNA technology—wasn't widely known by the general public.
Today, billions of people around the world have rolled up their sleeves for mRNA vaccines to protect themselves from the novel coronavirus.
Scientists including Dr. Blakney are now turning their attention to the future of mRNA technology and how it could transform how we treat and prevent a wide range of diseases such as influenza and cancer.
Dr. Blakney's research team at the UBC faculty of medicine's School of Biomedical Engineering and the Michael Smith Laboratories is currently investigating self-amplifying RNA, a type of messenger RNA that's more potent and triggers a more robust, longer-lasting immune response.
As part of Dr. Blakney's commitment to speaking about science and vaccines in easy to understand ways, she has become a TikTok sensation, reaching hundreds of thousands of people through social media.
Dr. Blakney made a video specifically for the UBC faculty of medicine's donor community to share her excitement about three ways mRNA technology could change the future of medicine and express her gratitude for philanthropic support that makes basic science and discovery research possible.