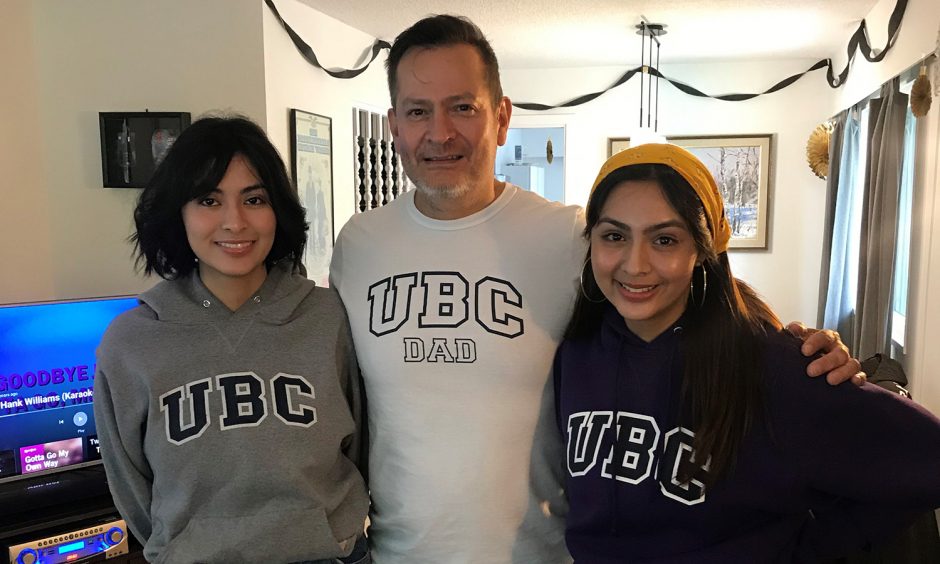 Ask Dr. AE Dennis Wardman his greatest source of pride and, without skipping a beat, he will name his two daughters, Yazmeen and Medina—both UBC students.
Education and community service are deeply held values in the Wardman family, and both Yazmeen and Medina plan to follow their father in working with Indigenous communities after graduation. Dr. Wardman has provided leadership in urban and rural Indigenous communities around substance use disorders and public health as both a medical health officer and an addiction medicine physician for over 20 years.
"I've received so much support from the Indigenous community over the years," says Dr. Wardman, "Without these passionate, concerned individuals helping me through the ups and downs, I wouldn't have had the confidence or opportunities to hold the position I have now."
To continue this legacy, Dr. Wardman and his family established a scholarship to recognize top Indigenous students pursuing medicine at UBC. "It's nice to see the next generation of Indigenous physicians building on the work that has been done by people before them, both Indigenous and non-Indigenous."
More than a financial incentive, he hopes the scholarship signals to students that there is a supportive community surrounding them who wants to help them find a way to share their unique talents and improve health outcomes for communities across Canada.
Keegan Marchand, one of the first Wardman Family Scholars, knows the importance of strong role models to success. As a high school student growing up in the Okanagan, he was inspired by his grandfather, the Honorable Leonard Marchand, and older brother Miles Marchand, MD'18.
"I knew I wanted to work with and for people, and through their stories I began envisioning how I could be an advocate for Indigenous peoples."
When Keegan imagines the type of clinic he wants to lead, he has no shortage of inspiring examples. He has spent time at Lu'ma Medical Centre in East Vancouver, witnessing how a trauma-informed, Indigenous-focused clinic can transform the health care experience.
"For some Indigenous people, hospitals and clinics have been places of harm rather than healing. Lu'ma is so special because it is intentional about creating a space where people can feel safe, heard and respected."
During his rural placement in Massett, Haida Gwaii, Keegan witnessed the healing work performed by a multidisciplinary team of elders, nurses, dieticians, social workers and midwives at the Haida Health Centre and felt affirmed in his career aspirations.
"Being in that clinic, I could see its positive impact. They were treating the patient, not just the disease. It was one of the most special moments in my training so far," he recalls. "Just to realize places like this are possible. Being there reminded me why I started down this path."
Keegan knows he is fortunate to have strong role models in his family and hopes to join Dr. Wardman in encouraging future generations of Indigenous students to pursue a role in the health professions.
"I want them to know there are Indigenous people pursuing medicine, becoming doctors and wanting to effect positive change. We're here and it's possible for you too."