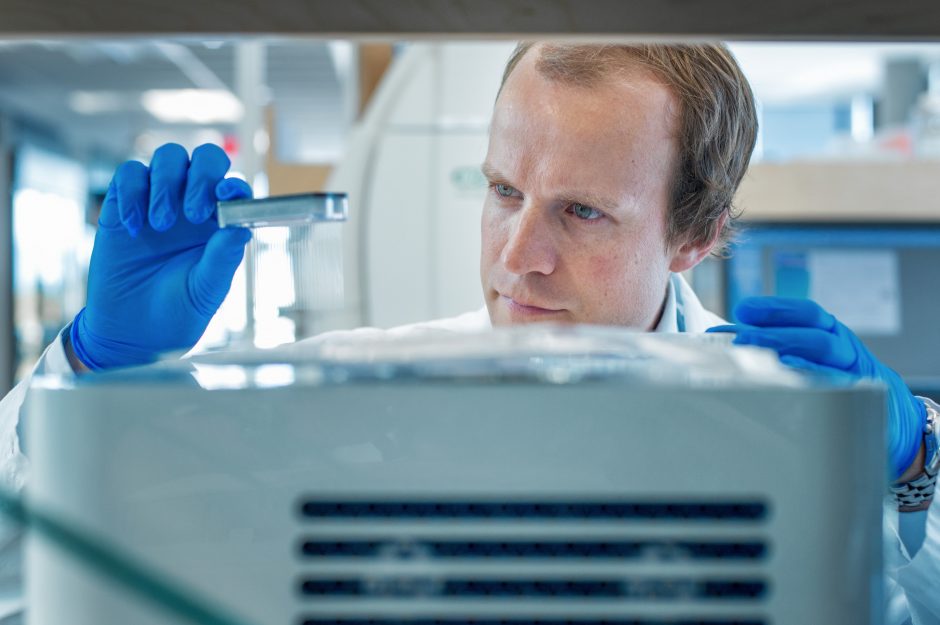 Each day in his clinic, neurologist Dr. Haakon Nygaard helps patients with Alzheimer's disease and their families navigate a relentless journey that often involves memory loss, changes in language, anxiety and depression.
Yet what patients need are new treatments that slow the rate of cognitive decline, so they have more time as their whole selves, living life to its fullest with their loved ones.
A clinician-scientist, Dr. Nygaard leads the Clinic for Alzheimer Disease and Related Disorders in the Djavad Mowafaghian Centre for Brain Health and is also the Fipke Professor in Alzheimer's Research at UBC. He works in both the lab and the clinic, identifying and testing promising new therapies.
He is a leader among the international Alzheimer's research community, which has collectively conducted more than 200 clinical trials of promising candidate drugs in the past 20 years, yet still no treatment is available.
"It is easy to become pessimistic with the dismal success rate for new drugs in Alzheimer disease so far, but behind it all is an ever-growing understanding of the disease, which I strongly believe will eventually lead to a breakthrough," says Dr. Nygaard. "New technologies are allowing research that was not possible even a few years ago, giving us a window into fundamental processes that could play a key role in causing Alzheimer's. It's very exciting."
Not far down the hall from Dr. Nygaard's lab, Canada Research Chair in Neuroscience Dr. Brian MacVicar develops and applies advanced imaging techniques to investigate how interactions between two types of brain cells, nerve and glial, maintain brain function, with the goal of protecting nerve cells from neurodegeneration.
Together, Dr. MacVicar and Dr. Nygaard are launching a new, five-year project that aims to identify ways to protect the brain as Alzheimer's progresses, thanks to a $3 million gift to the UBC Faculty of Medicine from the McArthur, Aune and Copland families. This gift is strengthening collaboration between fundamental and clinical scientists to accelerate the development of new therapies.
The collaborators will investigate the processes that lead to oxidative stress, which is caused by neuroinflammation and is associated with cell damage that is a hallmark of Alzheimer's.
Scientists have long known inflammatory processes in the brain are highly active in people with Alzheimer's disease, but they did not have the tools to understand how oxidative stress develops.
Dr. MacVicar and Dr. Nygaard will use human brain neurons created from stem cells to examine the roles brain cells play in oxidative stress. Then they will look for ways to reduce oxidative stress to protect brain nerve cells from dying in Alzheimer's patients.
"The cells we work with are derived directly from patients with Alzheimer's disease, so they also respond in ways that are directly relevant to the brain function of patients," says Dr. MacVicar. "Understanding the real processes that trigger oxidative stress is key to developing successful therapies for people with Alzheimer's."