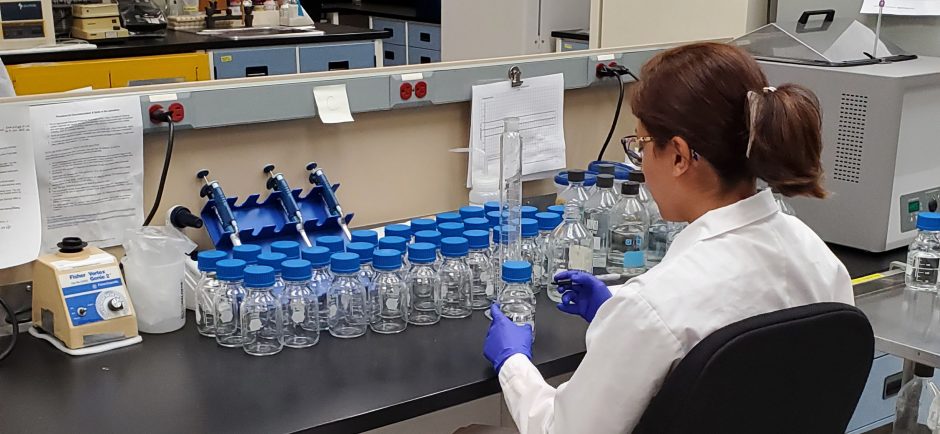 Early in his career as a family physician, Dr. Donald Rix, CM, OBC (1931-2009) recognized the importance of laboratory medicine. His initial fascination quickly grew into passion, realized through his contributions as a pathologist, educator, philanthropist, community volunteer, business leader and founder of Metro McNair Laboratory and later MDS Metro, the predecessor to LifeLabs Medical Laboratory Services BC, the largest private medical laboratory in Canada.
To honour Dr. Rix's legacy, the Rix Family Foundation has donated $1.5 million to the UBC Faculty of Medicine to establish the Donald B. Rix Professorship in Laboratory Quality at UBC.
"I'm happy to be able to honour my father's life work and first love, pathology, by contributing to this crucial and timely long-term professorship," says Laurie Rix, Dr. Rix's daughter and chair of the Rix Family Foundation. "My father had a longstanding association with UBC as my mother was an alumna. He would be proud to have his name associated with such a highly regarded university and laboratory."
New professorship to bring a world-class expert to the Faculty of Medicine
The first of its kind in Canada, the 10-year term professorship will enable UBC to continue improving the quality of laboratory services across Canada and internationally. UBC will recruit a world-class expert in laboratory quality research, education and training to succeed Dr. Michael Noble, professor emeritus in UBC's department of pathology and laboratory medicine.
Dr. Rix and Dr. Noble met three decades ago over their shared interest in lab quality and reconnected in the 2000s at LifeLabs, where Dr. Noble worked as a medical microbiologist and medical director for quality. At the time, Dr. Rix provided funding to UBC for a new certificate program in laboratory quality management. This was an expansion of the first pan-Canadian medical laboratory quality assessment program, which Dr. Noble started in 1983 and continues to lead. To date, this 22-week course has certified more than 425 technologists and managers from labs in Canada and around the world.
"The Rix Family Foundation didn't hesitate to support this new professorship, which is important because it means the programs I spent most of my career creating and building will be sustained," says Dr. Noble. "These are big deal programs that not only have importance for academic research interests and lab quality, but also protect patients by ensuring the accuracy of laboratory tests. We provide services all across Canada, Europe and America. There would have been a real risk if there wasn't another person to lead them."
Importance of timely, accurate and relevant laboratory testing
The quality of medical laboratory testing in British Columbia ranks among the highest in the world, thanks to the well-established network of activities focused on strengthening diagnostic processes.
"Lab quality is more important today than ever before. Increasingly, people have silent illnesses like high cholesterol and Type 2 diabetes that can only be detected by an accurate laboratory," says Dr. Noble. "Tests can detect the problem and therapy can start long before someone falls ill. This changes the course of people's lives."
During the COVID-19 pandemic, the quality of laboratory testing is heavily relied upon. A positive result sets off a series of events that includes self-isolation and often treatment, limiting a person's ability to work and care for their family. A negative result means life continues as usual. The consequences of even a single sample being tested in a manner that results in a false positive or false negative can impact the lives of many.
"Laboratory testing must be timely, accurate and relevant. It gives the health care providers making decisions about your health a huge advantage," says Dr. Noble, who is currently involved in the development of a coordinated provincial quality assurance program for COVID-19 testing.
"The Donald B. Rix Professorship in Laboratory Quality will bring renewed energy and innovation to the outstanding people and programs already in place at UBC," says Dr. Don Brooks, professor and interim head of the department of pathology and laboratory medicine. "I am grateful for the generous support of the Rix Foundation, which will enable us to uphold Dr. Rix's legacy and lifelong belief in the importance of laboratory proficiency to a sustainable health care system."