We raise our hands up to the UBC Indigenous medical graduates of 2023!
This week, nine new Indigenous medical students graduated from UBC's medical school.
On May 23, Indigenous elders and community members, alongside family members, friends, faculty and staff, gathered at UBC's First Nations Longhouse to honour and celebrate the incredible achievements of this year's Indigenous medical school graduates.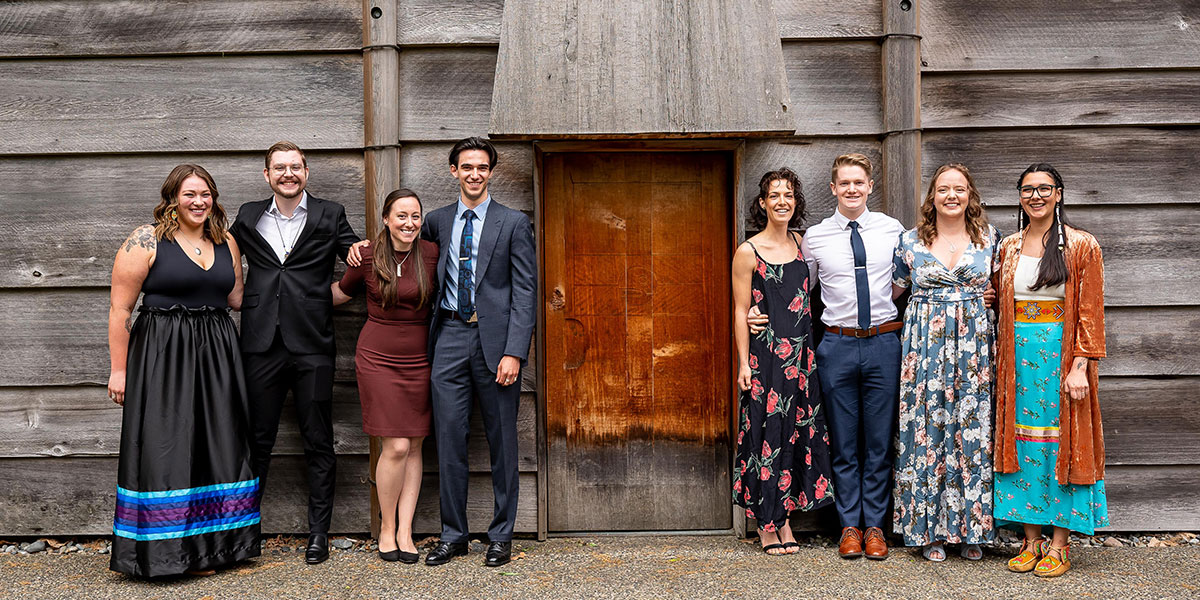 This year's graduates are joining a strong community of more than 130 UBC Indigenous medical alumni who have also graduated from the Faculty of Medicine's Indigenous MD Admissions pathway and are now providing culturally safe and accessible health care for families and communities across British Columbia (B.C.) and beyond.
The pathway, which began in 2002, serves a pivotal role in encouraging and creating new opportunities for more Indigenous students to study medicine while supporting them on their journey to becoming doctors.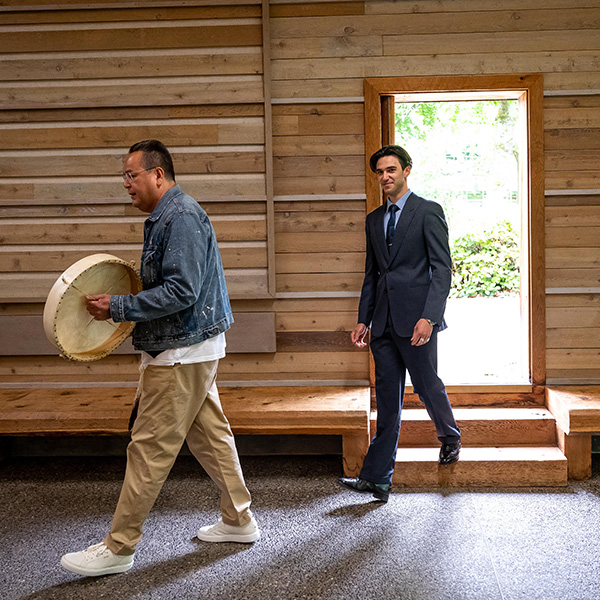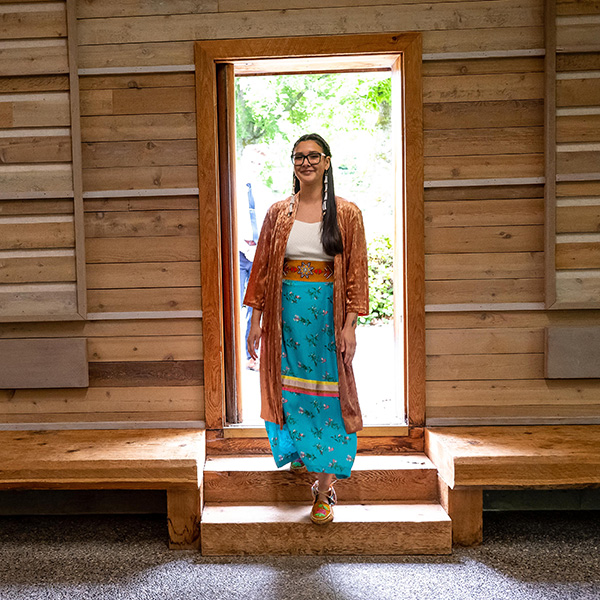 At the start of the ceremony, Derek Thompson – Thlaapkiituup, Indigenous Initiatives Advisor, Office of Respectful Environments, Equity, Diversity & Inclusion, Faculty of Medicine, led the procession of graduates through the ceremonial door while drumming and performing an honoring song.
The ceremonial door is only opened a few times each year in celebration of First Nations, Métis and Inuit graduates. For Indigenous medical graduates at UBC, crossing the threshold into the Longhouse marks a significant milestone on their journeys to becoming doctors.
Elder Doris Fox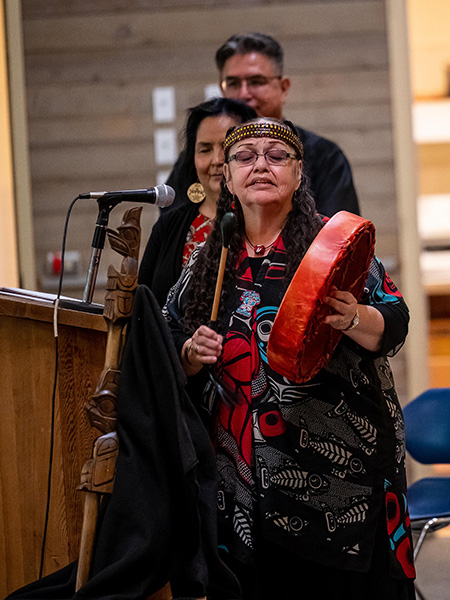 Elder Glida Morgan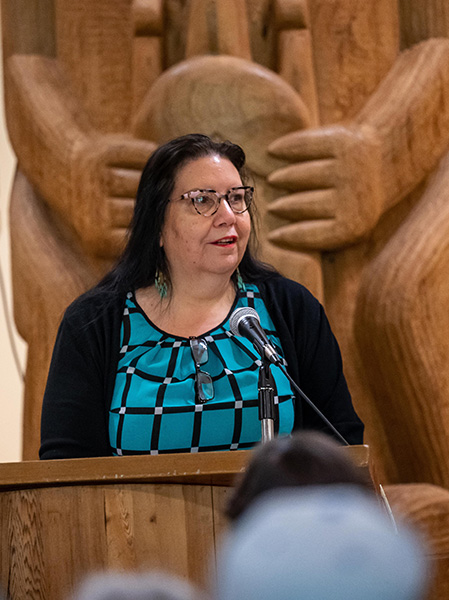 Dr. Margaret Moss, Director, First Nations House of Learning
Elder Doris Fox welcomed graduates and guests to her home – the traditional, ancestral and unceded territory of the Musqueam People. After the blessing, Elder Glida Morgan congratulated the graduates and performed a beautiful song reflecting the importance of giving thanks and of compassion. Dr. Margaret Moss, Director, First Nations House of Learning, spoke about the significance of the Longhouse for Indigenous students and the history behind the beautifully carved house posts and beams which can be seen in the Sty-Wet-Tan Great Hall.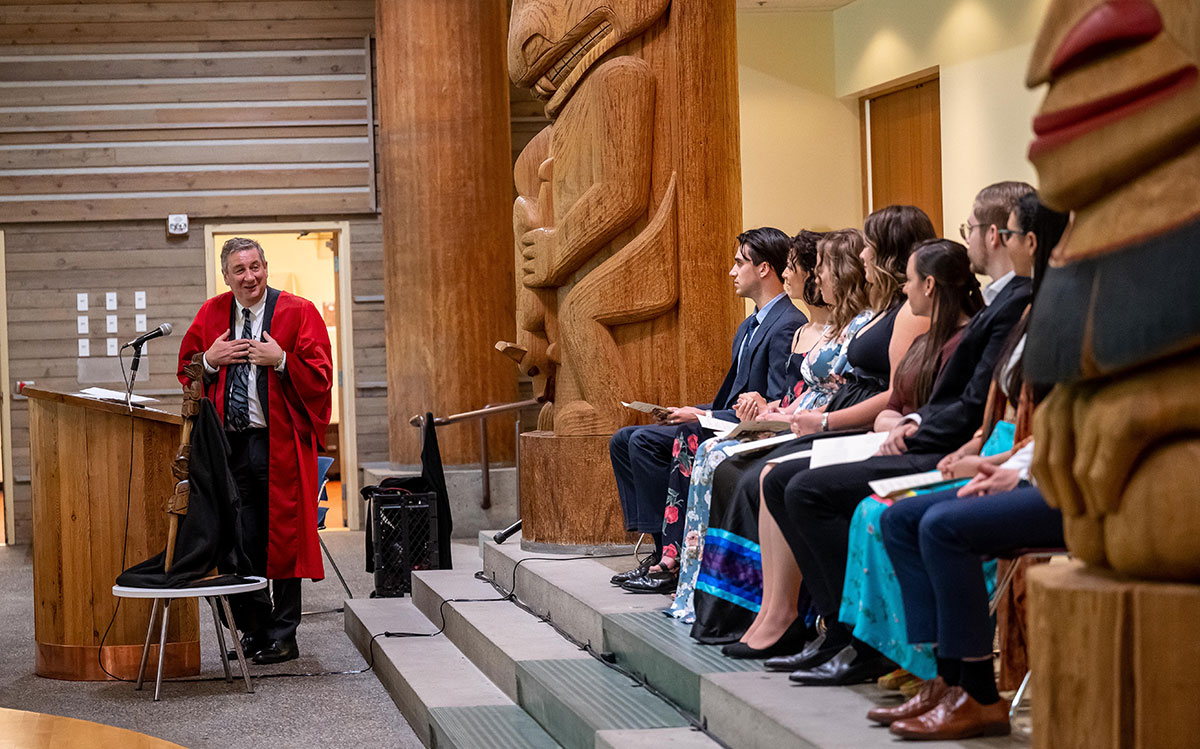 Dr. Dermot Kelleher, Dean of the Faculty of Medicine and UBC's Vice President, Health, congratulated the graduates and commended them on their incredible resilience, strength and ingenuity in overcoming the unprecedented challenges brought on by the COVID-19 pandemic while supporting their peers and communities throughout medical school.
He also spoke about the incredible change in healthcare that graduates from UBC's Indigenous MD Admissions pathway are leading to improve the health of Indigenous communities across Canada.
"Looking forward, we know that more Indigenous medical graduates are needed and that this is just the beginning. By increasing Indigenous student enrollment across our programs, including the health professions, we will begin to see long-lasting and beneficial change."
— Dr. Dermot Kelleher
Dean, Faculty of Medicine &
Vice President, Health, UBC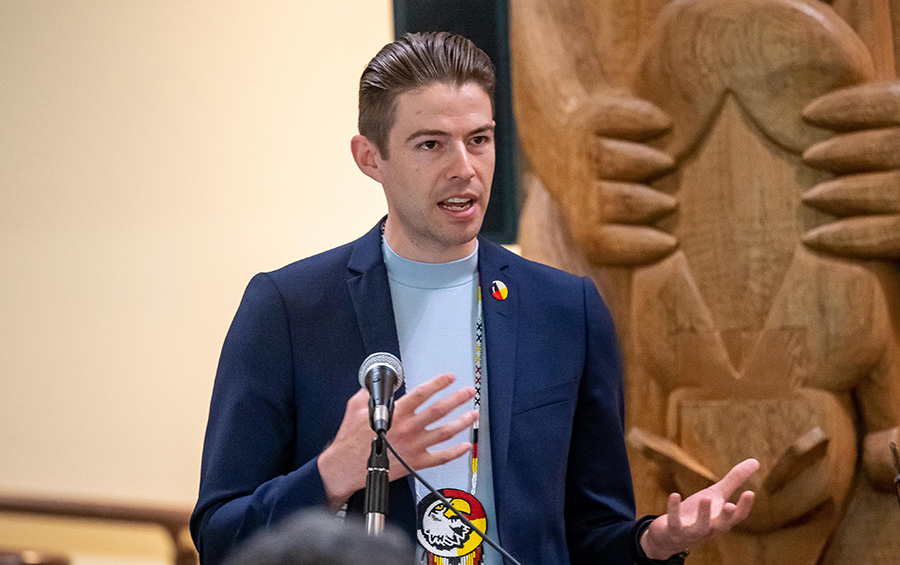 Dr. Michael Dumont, Vice President of the Indigenous Physicians Association of Canada and a UBC MD alumnus, shared words of inspiration and encouraged graduates to connect with their ancestral story and remember what first inspired them to become doctors.
"Remember how that articulation of your dream helped manifest this day – becoming a graduate, a doctor, a disrupter and an agent of change."
— Dr. Michael Dumont
Vice President, Indigenous Physicians Association of Canada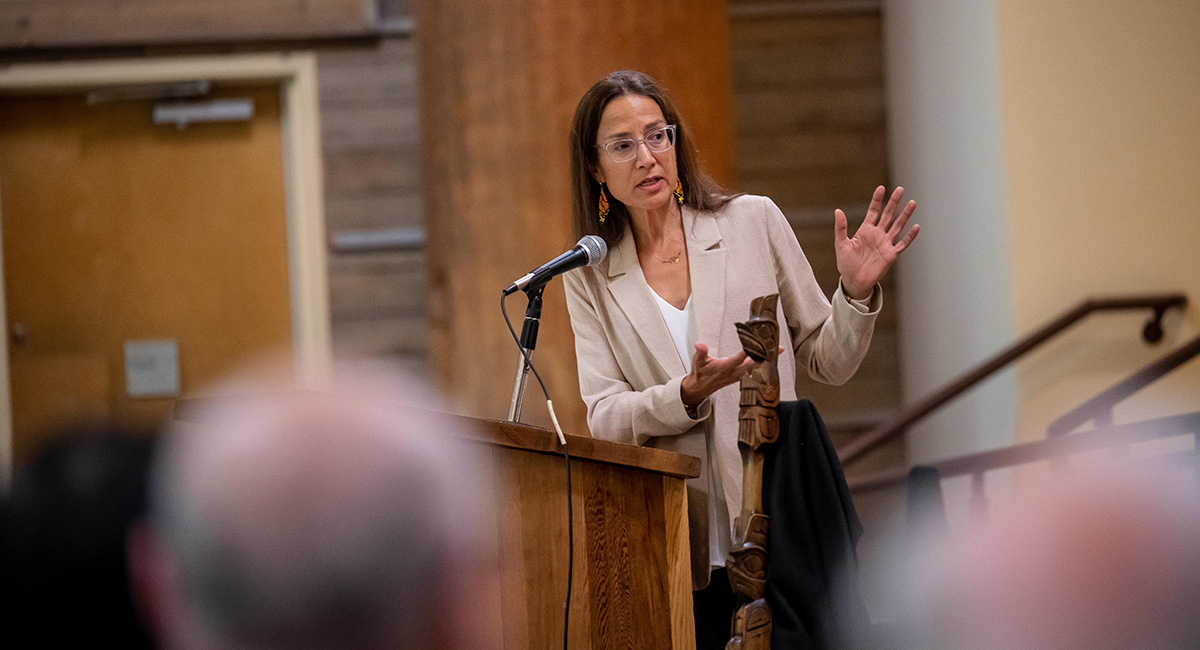 Dr. Nadine Caron, Co-Director for the Centre of Excellence in Indigenous Health and Associate Professor at the Department of Surgery, Faculty of Medicine, gave the keynote address, where she reflected on her own journey into medicine and how she also celebrated her graduation at UBC's Longhouse.
During her remarks, she welcomed the graduates as esteemed colleagues and encouraged them to think about the Indigenous medical graduates who will come after and how their presence will help inspire future generations of Indigenous doctors.
"Think about all the kids that you are going to cross paths with or who heard about you in their communities and are now thinking that they want to become doctors too. Remember how they will look up to you."
— Dr. Nadine Caron
Co-Director, Centre of Excellence in Indigenous Health &
Associate Professor, Department of Surgery, Faculty of Medicine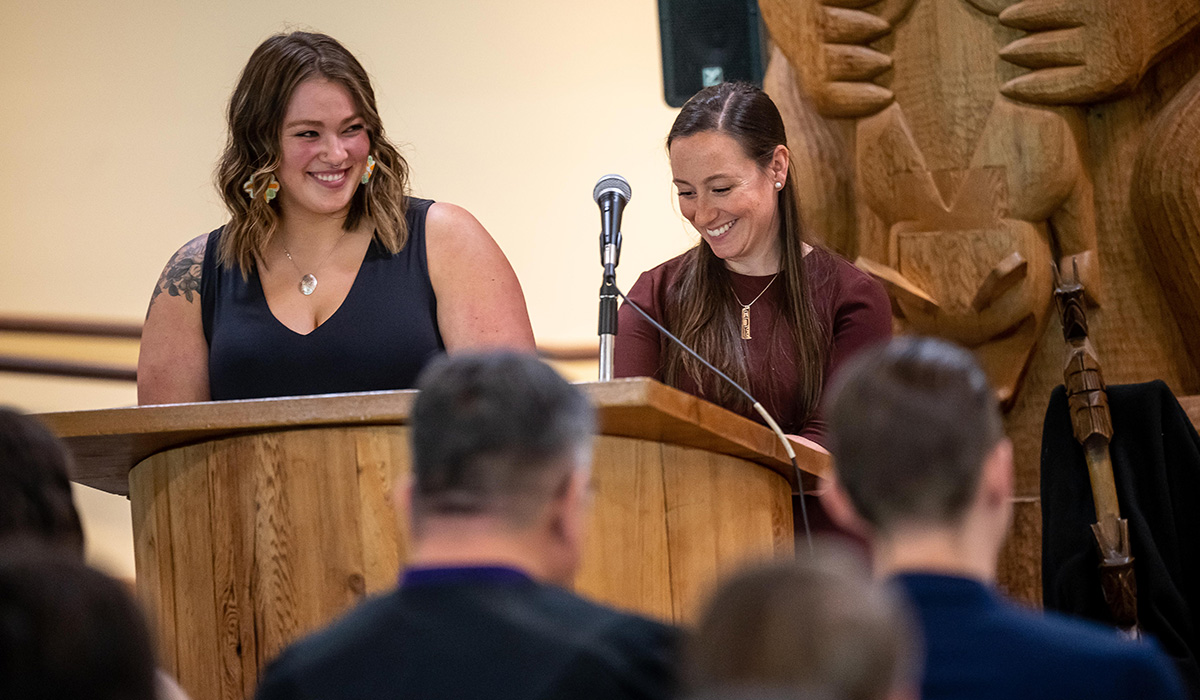 On behalf of their classmates, Dr. Hannah Minnabarriet and Dr. Ciara Morgan-Feir, graduates from the Vancouver Fraser Medical Program, spoke about the triumphs and challenges of medical school and expressed their gratitude for all of the support and guidance their fellow graduates received from family, friends, community, faculty and staff.
"We are powerful, we are resilient and we are our ancestors' wildest dreams."
— Dr. Ciara Morgan-Feir
UBC MD graduate
James Andrew, Associate Director, Indigenous Initiative, and Meghan MacGillivray, Indigenous Students Initiatives Manager, congratulated each graduate, while offering them a gift to commemorate the special day.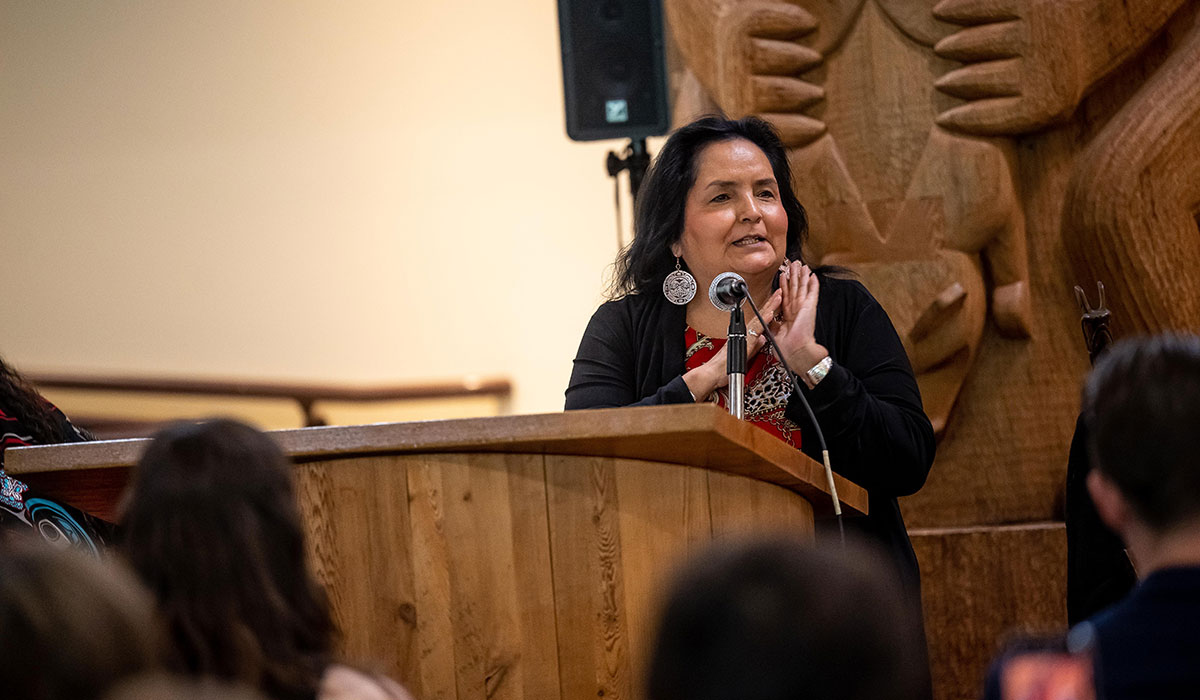 Elder Doris Fox provided the final remarks and shared words of wisdom about the importance of family, culture and the powerful role that their ancestors played throughout their journey and successes.
"You are nine amazing warriors who are here to change the world. To change the medical system and to make it a better place," she said.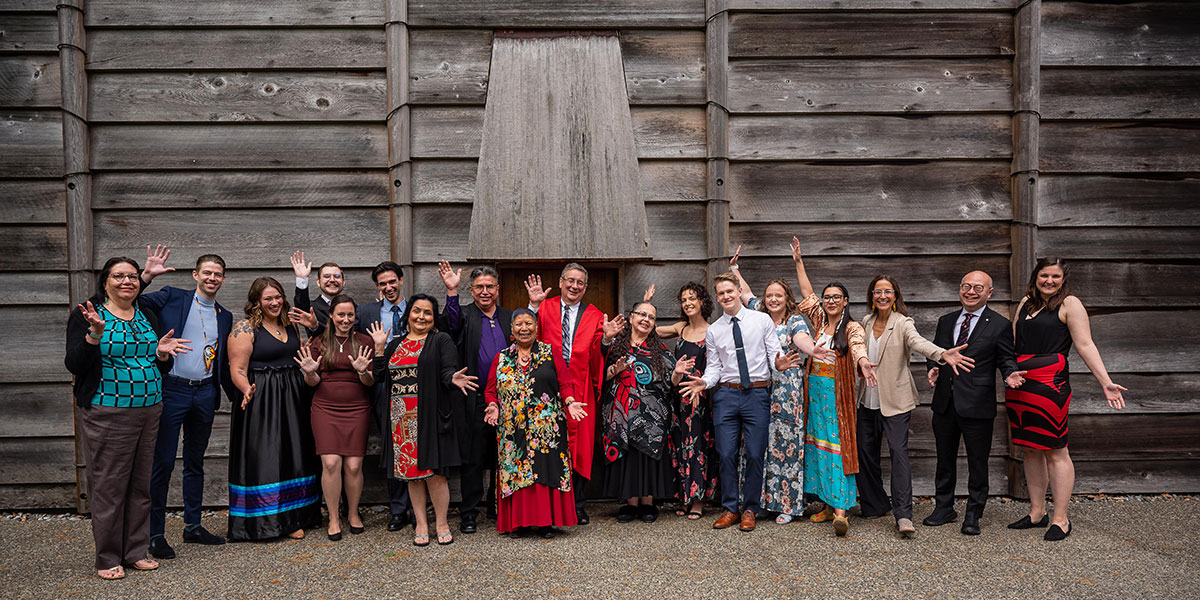 After the ceremony, the graduates gathered outside with Elder Doris Fox, Elder Glida Morgan, Elder Roberta Price, Dr. Moss, Dr. Kelleher, Dr. Roger Wong, Vice Dean, Education, Dr. Caron, Dr. Dumont, James Andrew and Meghan MacGillivray to celebrate, while family and friends watched and took photos to capture memories of the event.
Starting this July, the graduates will begin the next chapter of their journey as resident doctors, training in areas such as family medicine, internal medicine, radiation oncology, anesthesiology, neurology and more across B.C. and Canada.
---