UBC telerehab program brings care closer to home
After spraining her arm, Stephanie was left in chronic pain with limited access to services that could help her regain the strength and motion she lost. At the time, health care providers across British Columbia (B.C.) temporarily closed their clinics in response to the COVID-19 pandemic.
Through her family doctor, Stephanie was introduced to virtual physiotherapy — commonly referred to as telerehab — and began working with Marcela Botero, a second-year UBC physical therapy student currently completing her training at a local clinic.
Under the guidance of a clinical faculty member, Stephanie is one of many patients Botero meets virtually to go over any exercises they may need help with and to monitor their progress.
"A lot of thought and planning goes into a virtual session," says Botero. "Communication is key because you can't physically help the client so you have to deliver clear and concise instructions."
Virtual care is a dramatic change for physical therapy — a traditionally hands-on profession — but one that represents an important shift as the world continues to grapple with a pandemic that is requiring health care providers to adapt to the realities of delivering care during the pandemic.
Fortunately, a lot of information can be gained during a virtual session to support a patient's recovery such as gait speed, balance, strength and risk of falling. Descriptive questions allow learners and practitioners to know whether a patient's tissue feels "tight" or "knotted" and digital measuring tools allow for a more thorough assessment.
For Botero, the transition to learning how to deliver telerehab has been made easier by an innovative program delivered by the Faculty of Medicine.
A "made in B.C" training model
The Faculty of Medicine's Program for Excellence in Telerehabilitation Education and Research (PETER) was launched in 2018 to educate and train clinical faculty and physical therapy students — as well as the Faculty's other rehabilitation programs including occupational therapy, midwifery, audiology and speech therapy — in virtual care to expand access to services in rural and remote areas across British Columbia (B.C.).
Today, all physical therapy students complete the training as part of their clinical education.
Dr. Alex Scott, UBC professor in the department of physical therapy, and Dr. Joseph Anthony, associate dean, health professions, are the driving force behind the program, which got its start through a grant from the Faculty's Strategic Investment Fund.
At the time the program was launched, telerehabilitation for physical therapy — popular in Australia — was not yet widely practiced in Canada. As such, UBC found itself at the forefront of developing the expertise and tools needed to train current and future physical therapists on how to deliver virtual care in the Canadian context.
"Telerehab makes sense in a province like B.C., where people are geographically dispersed," Dr. Scott explains. "For people who don't have access to physiotherapy services and are living in pain, we can help bridge that gap by providing virtual care closer to home to enable their recovery."
The impact of education and collaboration
To help build the program from the ground up, Dr. Scott enlisted the expertise of Jeremy McAllister, a practicing physical therapist and digital health manager for the Physiotherapy Association of B.C.
Using software designed by physical therapists in Australia, McAllister and the PETER Education Working Group built a model that was integrated into the UBC department of physical therapy's curriculum.
What neither Dr. Scott nor McAllister could have known is how invaluable telerehab would become in 2020.
Since the pandemic hit, Dr. Scott and McAllister were able to rapidly extend telerehabilitation training to any physical therapist who needed it. It also allowed current students like Botero to put her training into action.
"One of the biggest benefits of the program was preparing the profession for a pandemic without even realizing it."
— Jeremy McAllister
Digital Health Manager, Physiotherapy Association of B.C.
"One of the biggest benefits of the program was preparing the profession for a pandemic without even realizing it," says McAllister. "The UBC program provides an opportunity for the continuum of care and an evidence-based example that telerehab works."
Dr. Scott echoes McAllister's sentiment, pointing to the need for early training.
"It's critical that we already have this in the curriculum," says Dr. Scott. "Because it's going to be a part of our student's experience now and in the future."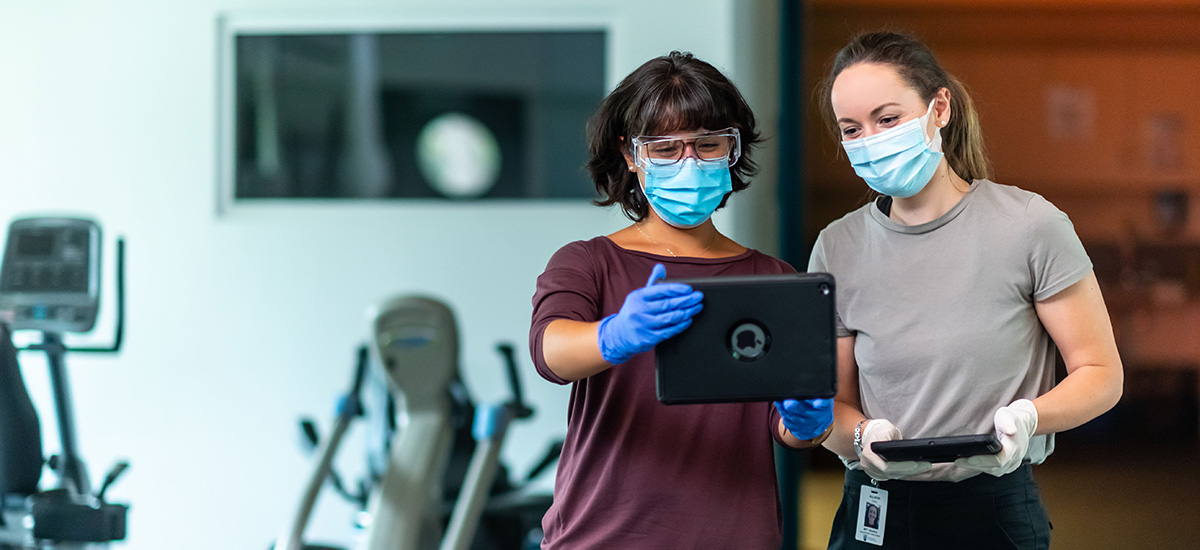 Second-year physical therapy students Marcela Botero (left) and Allison Evers are training to deliver virtual care through the PETER program.
Transferring education into practice
Allison Evers, also a second-year physical therapy student at UBC and classmate of Botero's, is confident that the demand for virtual care will continue long after the pandemic.
"Even before COVID-19 there was a need for telerehab," she says. "It makes a huge difference for patients who have mobility issues or who live far away and can't access physiotherapy."
Evers emphasizes that while telerehab is not a replacement for hands-on therapy, it is an effective tool.
"Telerehab is a perfect example of patient-centered care," she says. "The program has taught us how to tailor care for patients, specific to what resources they have at home and encouraging them to be more active in their rehabilitation."
"Telerehab is a perfect example of patient-centered care."
— Allison Evers
Physical therapy student
As Botero and Evers look towards graduation later this fall, they know that virtual care will be part of their future practice as physical therapists.
"It's picking up speed and being used more across the spectrum of private and public sectors," says Botero. "Telerehab isn't going anywhere — it's here to stay."
---
Learn more about the expansion and distribution of UBC's occupational and physical therapy programs to northern B.C. and B.C.'s Fraser.
---
Share this Story
Published: August 28, 2020