UBC biotech spin-off raises $75M to bring cancer treatments to patients
With roots in UBC research, Alpha-9 Theranostics is developing cancer radiotherapies that target tumours while avoiding healthy tissues.
Alpha-9 Theranostics, a UBC spin-off company founded by three university researchers, has raised $75 million to develop next-generation radiopharmaceuticals that promise to meaningfully improve treatment for people with cancer.
Based on more than a decade of ground-breaking research at UBC and BC Cancer, the cancer drugs act like a homing device — seeking out tumours to deliver targeted radiation treatment, while having minimal impact on nearby healthy tissues. This precision targeting results in drugs that can be more effective and have fewer side effects for patients than traditional radiation treatments.
"We founded this company to turn the research we were doing at UBC and BC Cancer into treatments that will help patients thrive and, ultimately, save lives," says Dr. François Bénard, one of the company's co-founders, and a radiology professor at UBC's faculty of medicine and senior executive director of the BC Cancer Research Institute. "Seeing these treatments move into clinical testing following more than a decade of basic and translational research is inspiring and the result of a tremendous collaborative effort. This new financing will further accelerate development, bringing new cancer treatments to patients faster."
Alpha-9's radiopharmaceuticals are designed to treat a range of solid and hematologic cancers such as prostate cancer, breast cancer, leukemia and lymphoma. According to Dr. David Hirsch, chief executive officer of Alpha-9, the $75 million in Series B financing will enable the company to bring its first five treatments into clinical trials with patients over the next two years.
"Thanks to the cutting-edge research at UBC, these radiotherapies have tremendous potential to address a wide range of cancers," says Dr. Hirsch. "In the coming years, we plan to progress multiple treatments into first-in-human clinical trials, harnessing the potential of radiopharmaceuticals to realize more effective treatments for people living with cancer."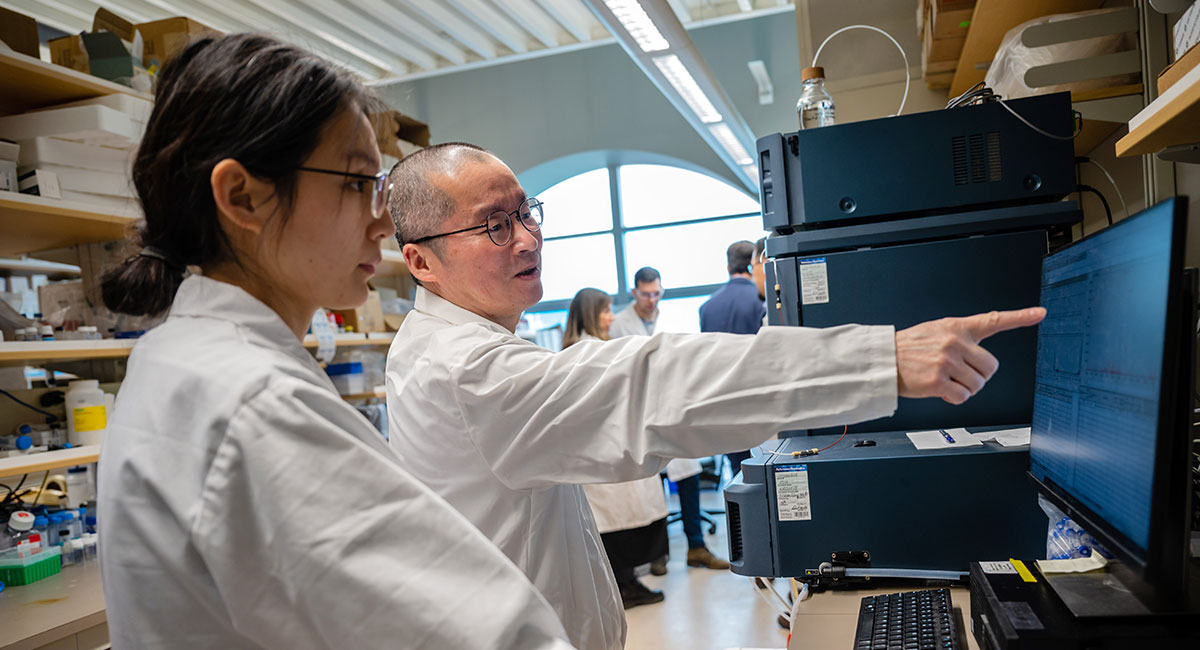 From UBC labs to successful start-up
Alpha-9 was founded in 2019 by Dr. Bénard alongside UBC professors Drs. Kuo-Shyan Lin and David Perrin. But it was a decade earlier that the trio first started working together.
Dr. Perrin, a UBC professor of chemistry, had invented a new method to easily tag molecules with fluorine-18, a radioisotope widely used for cancer imaging. He and Dr. Bénard started exploring how to use this method to label peptides — small molecules that seek out and attach to unique proteins that exist on the surface of tumours — to improve cancer diagnosis.
At the same time, Dr. Lin, a UBC radiology professor and senior scientist at BC Cancer, was developing new cancer-targeting peptides and working with Dr. Bénard to label them with therapeutic radioisotopes. Instead of emitting gamma rays used for imaging, these radioisotopes emit particles, called alpha and beta particles, that destroy cancer cells.
According to Dr. Lin, they each brought unique expertise from their respective disciplines that helped bridge the worlds of cancer diagnostics and therapy.
"Our work was very complimentary and we realized there was tremendous potential to apply it across both the diagnostics and therapeutics spaces. We knew we would need both components, because if we want to do therapy, we also need a diagnostic companion to identify patients who will benefit from therapy," says Dr. Lin.
"We founded this company to turn the research we were doing at UBC and BC Cancer into treatments that will help patients thrive and, ultimately, save lives."
— Dr. François Bénard
Professor of Radiology
Leveraging a team science approach, the researchers began developing peptides that home in on cancer cells, and combining them with diagnostic radioisotopes for cancer localization and treatment planning, and with therapeutic radioisotopes to seek and eliminate cancer cells.
The researchers filed a number of patents for the technologies they developed and worked with UBC's University-Industry Liaison Office and the Technology Development Office at BC Cancer to license the technology and eventually form Alpha-9. Dr. Bénard is quick to credit the success to their multi-disciplinary teams, saying that many of the research trainees continue to play a central role in the company today.
"UBC trainees and students were instrumental in the initial research and several have now taken up leadership roles within the company to lead the science," says Dr. Bénard. "It's one of the many benefits of doing business in B.C. There are many highly-skilled science trainees that come out of UBC, creating a rich environment for companies to thrive in Vancouver."
Dr. Julie Rousseau was one of those trainees, working as a postdoctoral fellow in Dr. Bénard's lab from 2015 to 2019. Now, she's Alpha-9's associate director of translational biology.
"During my UBC postdoctoral training with Dr. Bénard, I was trained in preclinical drug screening, target selection, as well as radiopharmaceutical development strategies. I also had the opportunity to hone my mentorship and leadership skills by training undergraduate and graduate trainees within the lab. This exceptional training period has allowed me to assume a leadership role at Alpha-9."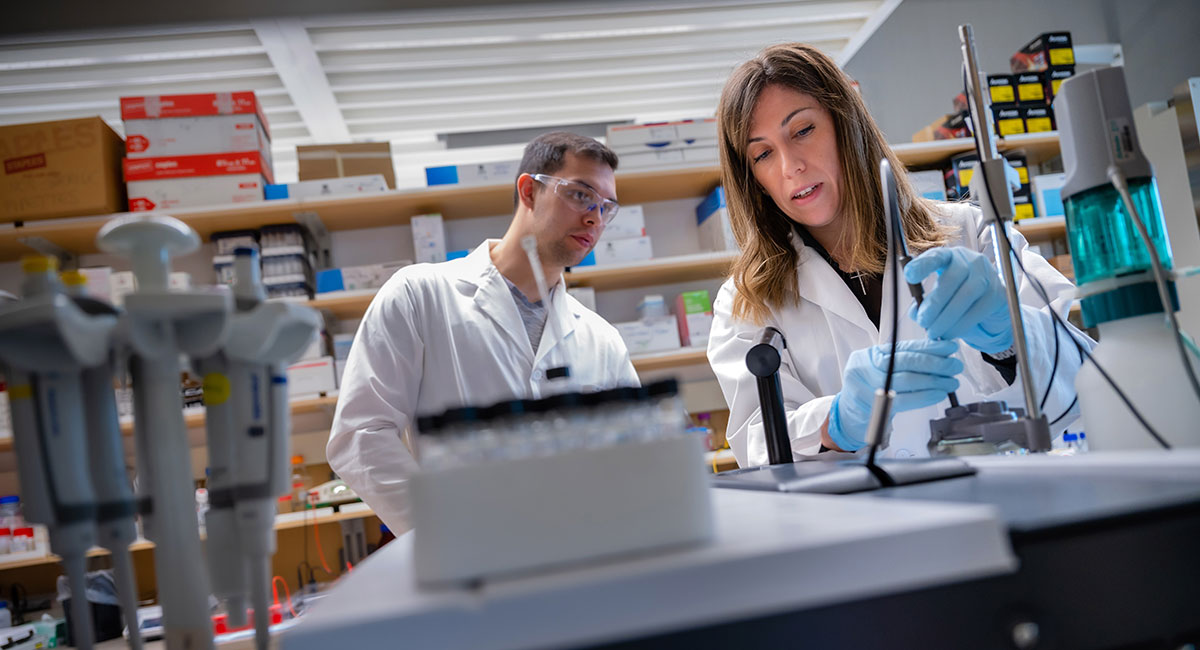 B.C. a leader in cancer research
Three years after being founded, Alpha-9 has grown to over 15 employees. The company has a research and development facility located in Vancouver as well as offices in Boston.
Alpha-9 plans to leverage the new round of investor financing to continue expanding over the coming year, growing its workforce to as many as 45 employees by the end of 2023. Construction is also underway on a new research facility in the Mount Pleasant area of Vancouver that will house the company's chemistry, biology, translational research and radiochemistry teams, as well as support product formulation.
According to Dr. Bénard, it's a testament to B.C.'s established leadership in cancer research.
"Vancouver is home to tremendous experience in radiopharmaceutical development and nuclear medicine that makes it an ideal location for these research labs," says Dr. Bénard. "There's a critical mass of expertise that is driving biomedical innovation, in part because of the rich talent and research coming out of UBC, and the broader ecosystem that includes world-leading organizations like BC Cancer and TRIUMF, as well as a range of established and emerging biotech companies."
For Dr. Dermot Kelleher, dean of UBC's faculty of medicine and vice-president, health, Alpha-9 is another example of how UBC researchers are driving innovation to tackle today's most pressing health challenges.
"UBC researchers are accelerating the discovery and development of new treatments for a range of diseases such as cancer, Alzheimer's and diabetes," says Dr. Kelleher. "Investors and companies are taking notice of the talent and expertise that exists here and its proximity to the university. They're increasingly choosing B.C. as a place to invest and grow their business, which is in turn, creating jobs and bringing new treatments to British Columbians sooner."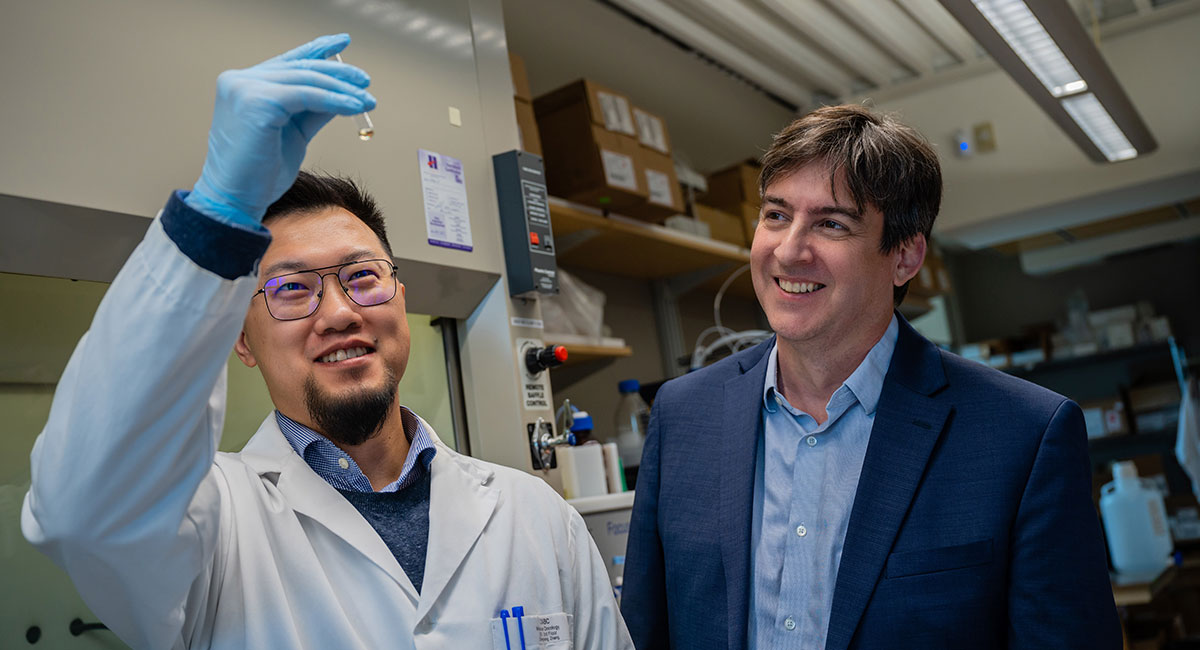 Improving patient outcomes
For Dr. Bénard, what's most exciting about Alpha-9's rapid growth is the potential to impact patients.
"We're not talking about 10 or 20 years down the road. There are real short-term objectives to open up multiple clinical trials with patients in the coming years."
"Thanks to the cutting-edge research at UBC, these radiotherapies have tremendous potential to address a wide range of cancers."
— Dr. David Hirsch
Chief Executive Officer, Alpha-9
Dr. Bénard says that Alpha-9's new radiopharmaceuticals will add an additional treatment option that is different, yet complementary, to existing approaches. And because the treatments are highly-targeted and designed to avoid healthy tissues, patients undergoing treatment could see fewer side effects and enjoy a greater quality of life.
"Patients are what this is all about. While there have been leaps and bounds in terms of cancer treatment options in recent decades, it remains the leading cause of mortality in Canada. We have a real opportunity to change that and improve outcomes for people living with cancer."
---
Share this Story
Published: January 26, 2023