Prioritizing women's health
It was 1994 and Jane was in trouble.
Pregnant, alone and living with HIV/AIDS, life felt overwhelming. She was terrified that she would pass the deadly virus circulating through her body to her newborn child.
Jane turned to the new Oak Tree Clinic at BC Women's Hospital, an innovative treatment centre created to support women with HIV, where she met Dr. Deborah Money, a recently UBC-trained doctor, researcher and women's health advocate.
"Before the clinic opened, there were significant numbers of women with living HIV, but they weren't the focus of the research, they weren't the focus of the attention in clinical care," says Dr. Money. "It was hard for them to get peer support. They were a bit lost in the system."
Twenty-five years later, Oak Tree remains the only clinic of its kind in Canada and Dr. Money — now Executive Vice-Dean of UBC's Faculty of Medicine and professor in the departments of Obstetrics and Gynecology, Medicine and the School of Population and Public Health — continues to advance groundbreaking research, mentoring the next generation of leaders in both the science and practice of medicine.
#InnovateForChange
March 8 is International Women's Day
Learn more
In the lead up to International Women's Day on March 8, Dr. Money says although great strides have been made, she and her colleagues must still advocate for more attention and resources to be directed to improving women's health.
"In many cases, women's health is still underfunded and understudied," she says.
Game changer
Inspired by the late Dr. Peter, Dr. Money's close friend and former UBC medical school classmate who lost his life to HIV/AIDS, she completed a clinical and research Fellowship in Infectious Diseases, becoming the first individual in Canada with this combined training.
She joined the Oak Tree Clinic to be part of a team of healthcare professionals who were dedicated to providing holistic treatment and care for women from across the province and their families in a safe and supportive environment.
One of the first things she did in partnership with Dr. David Patrick a professor in the School of Population and Public Health, was help convince the provincial government to institute universal testing for all pregnant women. She also continued her research into the use of anti-viral drugs to prevent the transmission of HIV from mothers to babies and ensuring the drugs are safe during pregnancy.
"Today, we haven't had a transmission… in more than 20 years, preventing more than 150 babies from being born with [HIV]."
"Universal testing seems quite ordinary now, but it was quite avant-garde at the time," Dr. Money says. "When I started at the clinic, one-quarter of pregnant women with HIV transmitted the infection onto their babies. Today, we haven't had a transmission in women engaged in care in more than 20 years, preventing more than 150 babies from being born with the disease."
Findings from researchers at the clinic have not only informed provincial and federal guidelines regarding the treatment and management of pregnancies for women with HIV, but have also impacted treatment protocols across the globe.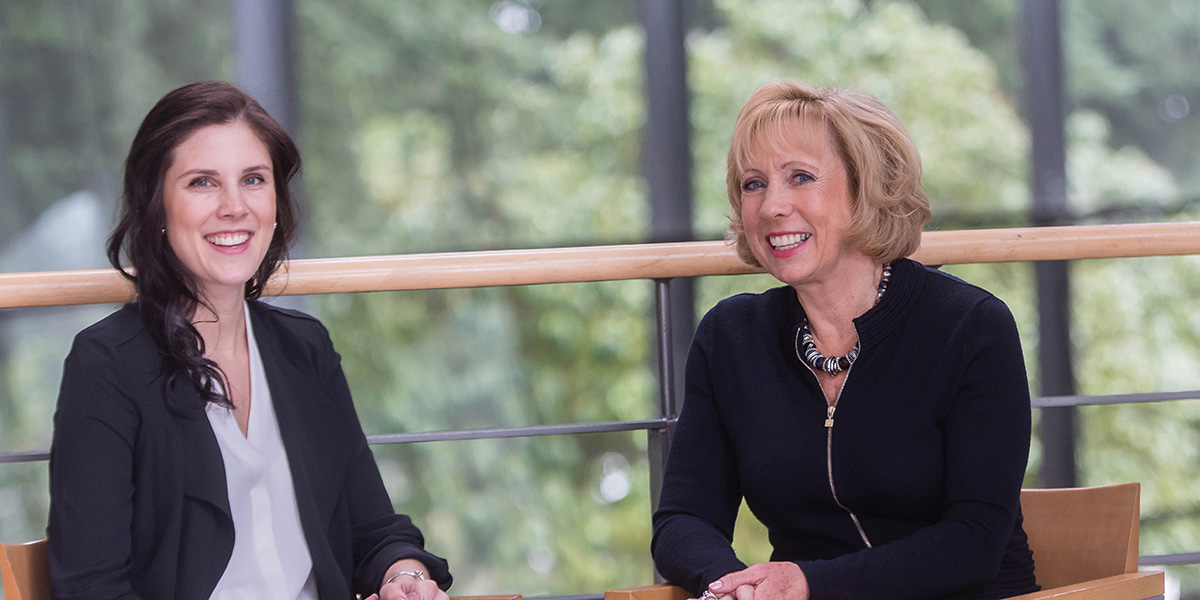 The power of mentorship
Dr. Money's passion for teaching and mentoring the next generation inspired her to do more, including establishing the first and only Fellowship in Reproductive Infectious Diseases in Canada. The program has graduated six fellows to date, who have all joined academic centres across Canada, including UBC.
"We now have this network across the country where we can be positioned to guide practice in a whole series of infection-related issues," she says.
Dr. Money also regularly mentors graduate students, like Elisabeth McClymont, a PhD student in Reproductive and Developmental Science at UBC.
"It's great to have connections with patients and see how your research is having a real-time impact."
Together, they have been conducting research on the prevention of cervical cancer in women living with HIV — just one of the many research studies taking place at the clinic, where UBC faculty members hold more than $4 million in active research grants centred on the health needs of their patients.
"Women with HIV are more susceptible to human papillomavirus (HPV) and cervical cancer," says McClymont who won the top student prize at the 2016 Canadian Immunization Conference for the research. "We found that the HPV vaccine reduces the incidence of HPV infection, but not quite to the same level as women without HIV."
McClymont values the critical connection of the research to the clinical care team embedded within the Oak Tree Clinic. She also relishes the opportunity to share her interim findings across this diverse team.
"It's great to have connections with patients and see how your research is having a real-time impact," she says. "Everybody gets to see what they're contributing to, and we all get to give feedback and learn from everybody else who works in the clinic."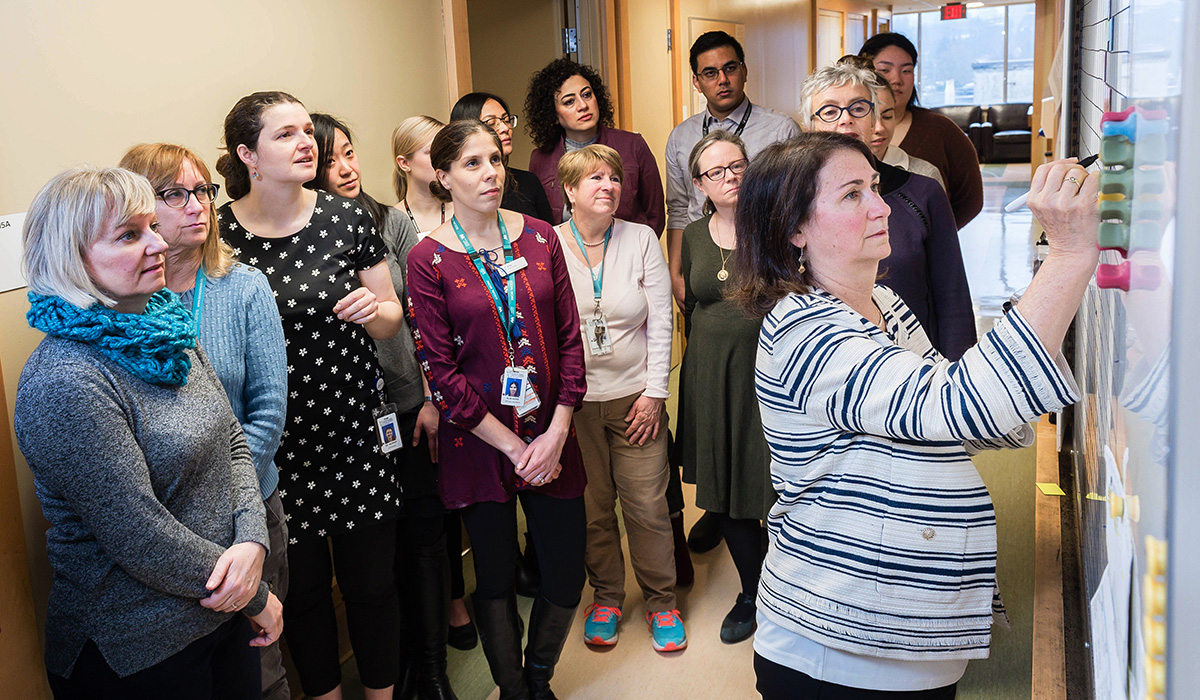 The huddle
The Oak Tree Clinic has practiced a team-based approach to care for 25 years, sharing this model with students like McClymont, who are provided with one-on-one teaching and mentorship.
It's embodied in the morning huddle where a team of collaborative interdisciplinary health care professionals crowd around a giant whiteboard to discuss the patients they'll see that day and strategize the best way to care for each of them.
Will the patient see the dietician, pharmacist, psychiatrist, trauma/addictions counsellor, social worker, nurse, pediatric doctor or obstetrician? The treatment plan for each is mapped out with a rainbow of colour-coded magnets — purple for pharmacist, orange for nurse, yellow for doctor.
"'Wow, I didn't think this was possible,'" is the most common remarked Dr. Neora Pick, the clinic's medical lead and clinical professor in UBC's Division of Infectious Diseases, hears from trainees.
"The experience offers a prime example of the kind of care UBC's Faculty of Medicine is working to create across the province," Dr. Pick says.
There's no need for patients or their children to visit another site for care. From childhood to senior-hood, pregnancy to menopause, HIV-positive women and their children receive holistic care in one place.
"We are what women want," adds Dr. Pick. "I'm proud of that."
While the Oak Tree Clinic continues to address all aspects of health for women living with HIV, Dr. Money says a greater focus on women's health is needed worldwide.
"Women's health, both locally and globally, is the key to societal health."
"Women's health, both locally and globally, is the key to societal health," she says. "If you can get a community with women who are healthy and well and well cared for, your families are healthier, your society is healthier — it's something we need to pay more attention to."
Special thanks to the dedicated staff at the Oak Tree Clinic for providing 25 years of women-centred care. For more information about research, training and care, visit the Oak Tree Clinic website.
---
Share this Story
Published: March 2019