*This photoshoot took place before the COVID-19 pandemic and before physical distancing guidelines were in place. From left to right, Maryam Tayyab, Alaa Heshmati, Dr. Roger Tam, Sukhjinder Singh.
Patient care through invention
Twenty-nine years ago, Penny Clarke-Richardson was paralyzed when her body's immune system attacked her nerves. While she mostly recovered from the disorder – called Guillain-Barre syndrome – hand paralysis still causes her daily difficulties.
Now, a seatbelt device invention called AccessiBelt from a team of students at UBC's School of Biomedical Engineering (SBME) — a partnership between the faculty of medicine and the faculty of applied science — has the potential to help.
Clarke-Richardson believes the device could drastically improve the quality of life for those recovering from a stroke or hand injury, or living with arthritis.
"It's hard to believe there was a time when we only had buttons and no zippers on clothing," she says. "These are adjustments we take for granted until you sprain a wrist, develop arthritis or have a spinal cord injury. This seatbelt device could have a similar, subtle, transformational impact."
Finding solutions through community collaboration
Alaa Heshmati, a UBC biomedical engineering graduate, spearheaded the AccessiBelt prototype development and testing as part of her master's work with the goal to improve health outcomes for people around the world.
"I asked individuals with limited hand function, like Penny, about the challenges they currently face using car seat belts," Heshmati says. "Then I videotaped them using the prototype and collected their feedback on AccessiBelt to inform the device's final design."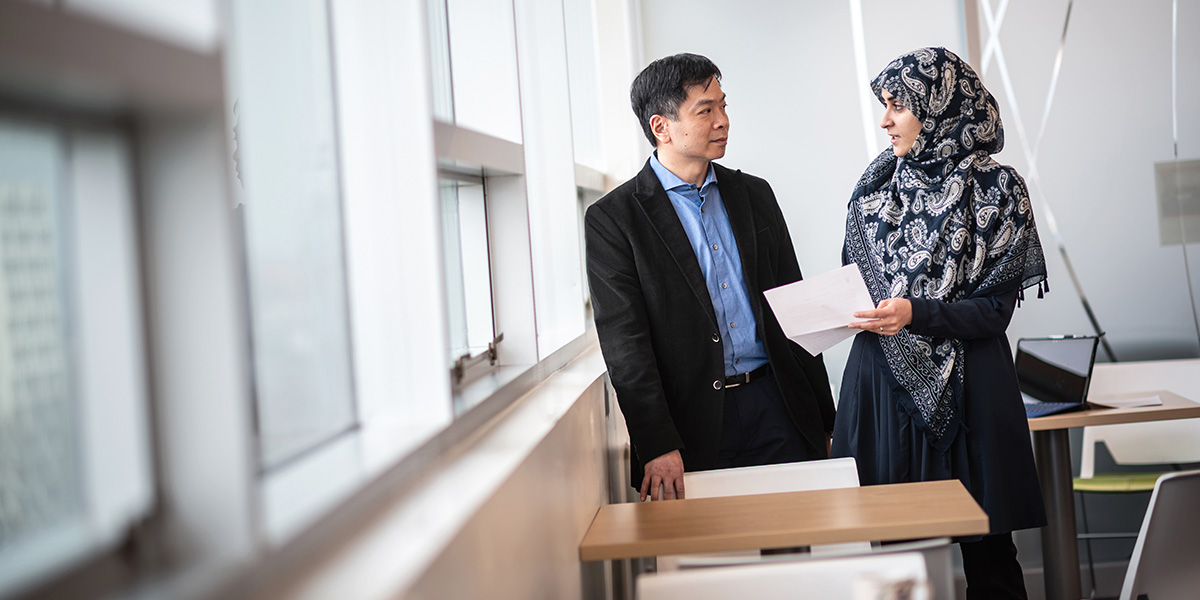 Alaa Heshmati (right) discusses the AccessiBelt with Dr. Roger Tam. This photoshoot took place before the COVID-19 pandemic and before physical distancing guidelines were in place.
The AccessiBelt is an attachment for car seat belts that can be transferred between vehicles. The device features a large flat surface for users to push down on with their palm or fist to buckle up. This design does not require individual fingers to grasp the buckle mechanism and will assist people with limited hand dexterity.
For Clarke-Richardson, the medical device is an innovative solution.
"My hands are crooked, and many people like me have dexterity challenges because of arthritis or muscular issues," says Clarke-Richardson, now director of strategic implementation at Praxis Spinal Cord Institute in Vancouver. "Fastening a seatbelt involves flexibility and seven or eight complex movements. It takes me anywhere from 40 seconds up to two minutes to fasten my seatbelt. With the AccessiBelt prototype I can fasten my seatbelt in four seconds."
"Every project we work on has great potential for clinical impact."
— Roger Tam
Director, Engineers in Scrubs
Dr. Roger Tam, director of the Engineers in Scrubs program and an associate professor in the faculty of medicine's department of radiology, advised the AccessiBelt team, originally comprised of Heshmati, Maryam Tayyab, and Sukhjinder Singh. He says the concept for the device comes from close collaboration with community members and partners like Clarke-Richardson, as well as health care providers, with the goal of creating better approaches to health care delivery.
"We're the first biodesign program in Canada," says Dr. Tam. "Students in the program work closely with clinicians in a formal design process. The core of the program is translational. Every project we work on has great potential for clinical impact."
---
122
Engineers in Scrubs program alumni
---
Moving technologies from the lab to the clinic
Lisa Kristalovich, a clinical instructor in the faculty of medicine's department of occupational science and occupational therapy, specializes in driver rehabilitation at GF Strong Rehabilitation Centre and advised the AccessiBelt team.
"Alaa and I reviewed a prototype design that her team created," she says. "We discussed the challenges that people experience to more precisely identify the barriers for fastening a seatbelt. This includes those who have experienced a spinal cord injury or stroke, or live with cerebral palsy, spina bifida, arthritis or amputations."
Kristalovich, also an alumna of the faculty of medicine's rehabilitation sciences program, says the device has the potential to transform the lived experience for people with limited hand dexterity.
"Seatbelts save lives," she says. "As rehabilitation professionals, we know that if it's easy for someone with limited hand function to put a seatbelt on, then they are more likely to wear it. This increases their safety in the vehicle and can reduce the risk of injuries or fatalities."
This process of translating an idea to the real world and improving the quality of life for communities is what drew Heshmati to UBC.
"One of the main reasons I applied to the biomedical engineering graduate program at UBC was because of Engineers in Scrubs," she says. "I also did my undergraduate degree in biomedical engineering and I always liked the collaborative process where you work with different stakeholders and medical professionals and the people who will use the device, to develop the product."
Heshmati has now finalized the AccessiBelt's design after prospective users tested the device. Next, she will look to partner with organizations to make the devices available for purchase.
Through UBC's Engineers in Scrubs program, Heshmati, supported by a Mitacs Accelerate Internship grant, the Praxis Spinal Cord Institute and the Make+ program at BCIT, used a 3-D printer to create multiple prototype iterations for testing. In 2019, the AccessiBelt won the Innovation Award at the Medical Device Development Centre competition.
Are you interested in joining the UBC School of Biomedical Engineering? To learn more, visit the school's website.
---
Share this Story
Published: August 17, 2020