Dr. Seonaid Nolan and Dr. Julia Zazoulina
Making health care work for people with opioid use disorder
Every morning, BeeLee visits the Molson Overdose Prevention Site on Vancouver's Downtown East Side to receive injectable opioid agonist treatment (iOAT) for her opioid use disorder. She takes a seat inside the clinic and a nurse practitioner administers a prescription dose of hydromorphone.
Chatting with the staff, BeeLee waits a few minutes for the dose to take effect. She likes the people at the clinic. They are supportive and treat her with respect.
"They're like family," she says.
Equipped with a 'carry' — a second dose that she will self-inject later in the afternoon — BeeLee leaves the clinic with her dog Sadie, a beautiful lab-husky-shepherd mix. Her days are busy: She might spend time with her grandsons, attend a meeting of one of the advocacy groups she's involved with, or go to work. BeeLee works 30 hours per week as a support worker at a supervised injection site, offering support and sharing her experiences of the iOAT program.
"The difference now is that drugs aren't the main thing in my life. I have time to take care of my health. I can do other things," BeeLee says.
With British Columbia recording its highest-ever number of drug deaths in 2021, treatment programs like iOAT have never been more important.
"Untreated opioid use disorder is a public health emergency — compounded by the toxic drug supply in Canada. Unfortunately, resources for evidence-based solutions have been scarce," says Dr. Nadia Fairbairn, the UBC Philip Owen Professor in Addiction Medicine and lead author of the first-ever national injectable opioid agonist treatment guidelines.
Dr. Fairbairn and her colleagues at UBC's Faculty of Medicine and the B.C. Centre on Substance Use (BCCSU) are leading a push to make the health care system more responsive to people who use substances, including those with an opioid use disorder (OUD) — through a combination of innovative treatment approaches like iOAT, harm reduction initiatives, addiction medicine training for healthcare professionals, and research.
The challenge they face is that there are no comprehensive, real-world models for tackling the overdose crisis — yet. Addiction medicine specialists like Dr. Fairbairn aren't following a path, they're forging a new one. And the stakes couldn't be higher.
A push toward evidence-based treatment and care
Before BeeLee started the iOAT program three years ago, she relied on the illicit drug supply, spending much of her time living from dose to dose, worrying that the next one would be laced with a dangerous amount of fentanyl.
"The fear was always there. I was isolated and using alone, buying heroin from dealers and wondering what I was getting. I overdosed a bunch of times," she says.
The overdose crisis in B.C. and across North America is fuelled in large part by a toxic and unpredictable illicit drug supply, with potent synthetic opioids like fentanyl implicated in an estimated three-quarters of overdose deaths.
The challenge they face is that there are no comprehensive, real-world models for tackling the overdose crisis — yet. Addiction medicine specialists like Dr. Fairbairn aren't following a path, they're forging a new one. And the stakes couldn't be higher.

Research shows that for people with severe OUD, access to a prescribed substances under the care of health care professionals can be both life-saving and life-changing. However, that access has been limited in large part to a lack of prescribers.
"One of the greatest barriers to access for iOAT is training," says Dr. Fairbairn. "We recognized that many clinicians and healthcare providers wanted to help, but they felt like they didn't know where to start."
The guidelines developed in 2019 provide a set of evidence-based standards for the treatment of people with severe OUD, recommending dosing tailored to the individual patient to manage cravings and an open-ended treatment window to allow patients to engage in recovery on their own terms. These guidelines also — by marshalling evidence from landmark research studies — make a compelling argument for iOAT as a key part of the response to the overdose crisis.
The benefits of iOAT go well beyond the treatment itself. The data shows that iOAT reduces overdose risk, increases patients' likelihood of addiction recovery, and has a positive impact on their overall health.
"It's important to recognize that many people with severe OUD only present to the ER when they have severe complications, like infected joints or heart valves," explains Dr. Seonaid Nolan, the UBC Steven Diamond Professor in Addiction Care Innovation and a clinician-scientist at the BCCSU.
"Programs like iOAT act as a mechanism to engage patients in the health care system generally, creating opportunities to provide treatment and support earlier on."
But bringing people into the health care system is one thing. Keeping them engaged is another — as BeeLee knows from her own experience.
"I've been talked down to by doctors. That kept me away from getting treatment," she says. "What we need are more healthcare workers who have the medical expertise, compassion, and a willingness to ask questions and listen."
Changing the health care system from within
This is where programs like the Addiction Medicine Fellowship, offered by the BCCSU in partnership with UBC and St. Paul's Hospital, come into play.
Open to UBC postgraduate medical residents and practicing doctors across B.C., the one-year Fellowship is part of a growing suite of addiction training. The curriculum includes rotations in detox, in-patient medicine, outpatient addiction care, concurrent disorders and residential treatment.
For Dr. Julia Zazoulina, a resident in UBC's internal medicine program and 2021-22 fellow, the value of the program lies in its flexibility — fellows can tailor their electives to the needs of their speciality — and the depth of the training it offers.
"One of the things the Fellowship gives you is a new lens through which to understand people's lived experiences of addiction," says Dr. Zazoulina.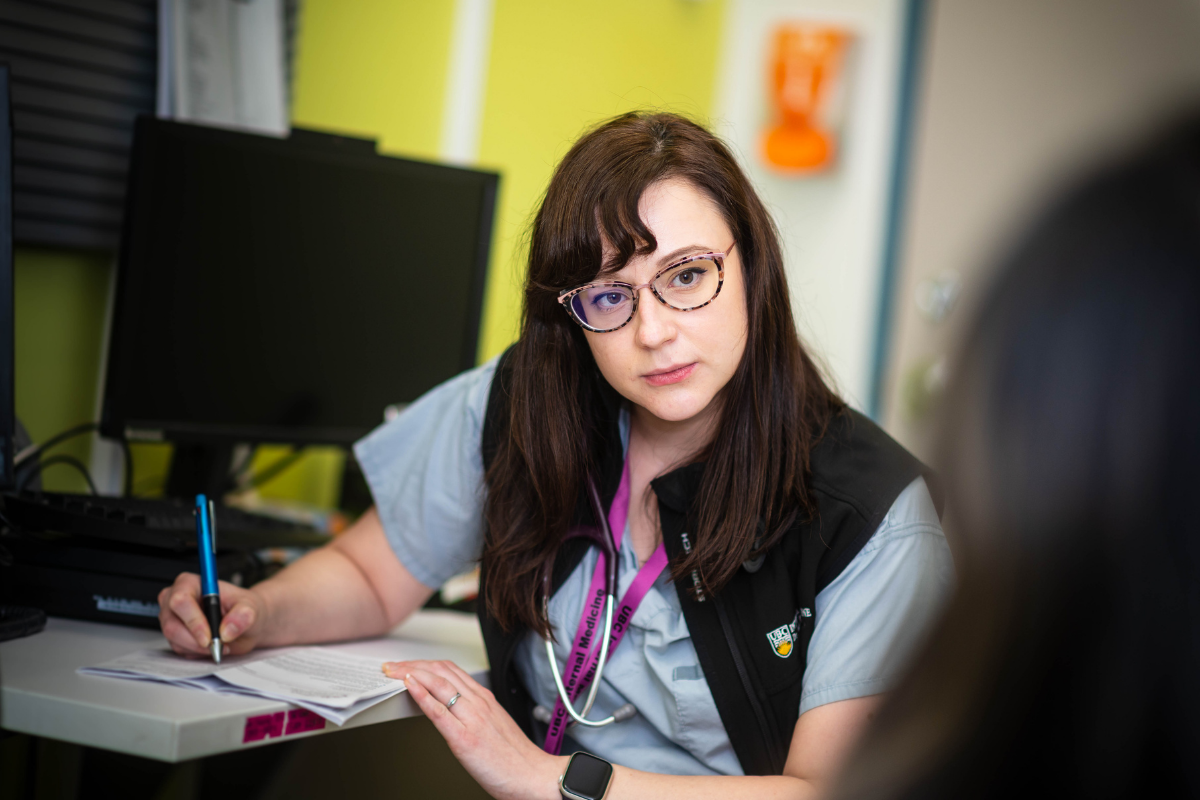 Addiction Medicine Fellow Dr. Julia Zazoulina
"It gives you the framework to ask questions like, what is this person's experience of trauma? What have their past experiences of health care looked like? What concurrent disorders might be at play? You leave the program equipped to work together with patients for their best outcome."
The idea is that current and future doctors will integrate addiction medicine into their clinical practice, whether they are general practitioners, internists, ER doctors, psychiatrists or specialists of any kind.
"After the fellowship, everyone takes that training and knowledge with them wherever they go. Collaborative, compassionate, evidence-based addiction treatment and care at all levels of the health care system — that's the ultimate goal," says Dr. Nolan.
The Addiction Fellowship program includes parallel streams for nurses, nurse practitioners, pharmacists, and social workers.
Hope for the future
Dr. Fairbairn and her colleagues are now undertaking an in-depth study of patient experiences in iOAT programs. The results, due next year, could lead to transformational changes across existing treatment programs, making them even more responsive and effective — and provide another valuable tool for the creation of future ones.
The number of iOAT programs across Canada has increased from 11 to 15 over the past three years, though Dr. Fairbairn points out that access remains limited and more resources are needed to meet demand.
"We need to continue to scale up. We need to close the gap between evidence and practice. Lives depend on it."
When we make health care work for people with substance use disorders, we create new space and time for them to begin a journey of healing, to build relationships, set goals, and ultimately, think about the future.
For BeeLee, iOAT has given her the space to rebuild her health and her life. Lately she's even started to think about taking the next step in her recovery: getting off opioids altogether.
"Slowly, when I'm ready. I'm listening to my body," she says.

---
Housed within Providence Health Care, the B.C. Centre on Substance Use is a UBC Faculty of Medicine centre focused on substance use and addiction medicine research. It is also affiliated with the Vancouver Coastal Health Research Institute and Providence Research.
Share this Story