Communication at the core
Everything changed the moment Grace Shyng turned on the switch.
"I remember inserting the hearing aid and adjusting the volume for my elderly client — her eyes went wide as she looked over to her daughter, and then they both began to cry. It was the first time she had heard her daughter's voice in that way," recalls Shyng, an audiologist.
Reducing barriers for people with hearing loss and deafness has been a primary focus of Shyng's career for more than two decades.
A graduate of UBC's School of Audiology and Speech Sciences, she's one of nearly 1,000 alumni actively supporting people with hearing difficulties and speech and language disorders throughout B.C. and across Canada.
This year, the School — which houses the only program educating audiologists and speech language pathologists in the province — is celebrating its 50th anniversary.
"For half a century, we have been a leader in training the next generation of communication health professionals to not just serve, but advocate for the needs of those with communication disorders," says Dr. Jeff Small, director of the School.
Today, the School, which is home to 18 full and part-time faculty members, welcomes 48 new MSc students each year, in addition to PhD students and postdoctoral fellows pursuing research in the field. More than 500 clinical faculty members across B.C. are involved in educating and training students over the course of their time in the program.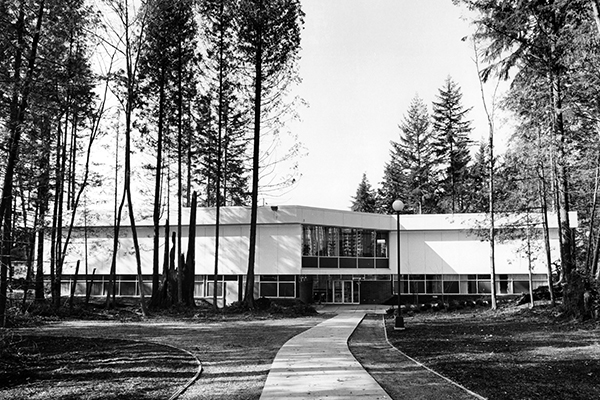 Mather Building in 1974, where the School was based from 1972 to 2008. Credit: UBC Archives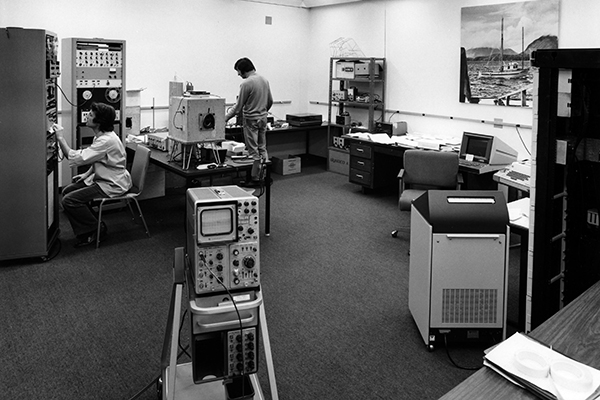 Speech and Hearing lab in 1973 in the Mather Building. Credit: UBC Archives
From humble beginnings
Like most speech and hearing programs in Canada, UBC's program had humble beginnings, with only six students and four faculty members when it launched in 1969.
Dr. Barbara May Bernhardt, one of the first graduates of the program, remembers the early days well.
The year was 1970.
Dr. Bernhardt was in her early 20s and in search of a career that would bridge her love of language with her passion for helping others.
"I wanted my work to help others in a very direct way," recalls Dr. Bernhardt.
She found her calling as a speech-language pathology and audiology student at UBC.
When Dr. Bernhardt started her studies, the program was only a year old, having been established under the leadership of Dr. John Gilbert. For a time, learning took place in two rooms above a convenience store and a dry cleaner in the University's Village.
In the ensuing years, the School would find a new home, first in the James Mather Building and then in renovated teaching and research spaces in the Friedman Building. But it wasn't until 2015 when — thanks to a boost in funding from the Government of B.C. — the program witnessed significant expansion in student numbers, growing to its current size.
Through the many years of change and expansion, Dr. Bernhardt remained a constant.
In the 1980s, she became the School's first PhD student, and in 1990 was hired as a professor, a position she held for nearly three decades until her retirement two years ago.
Given her long-standing connection to the program, Dr. Bernhardt can't help but get a little emotional about the School's milestone year.
"Fifty years of the School — that's the duration of my life in the profession," she says.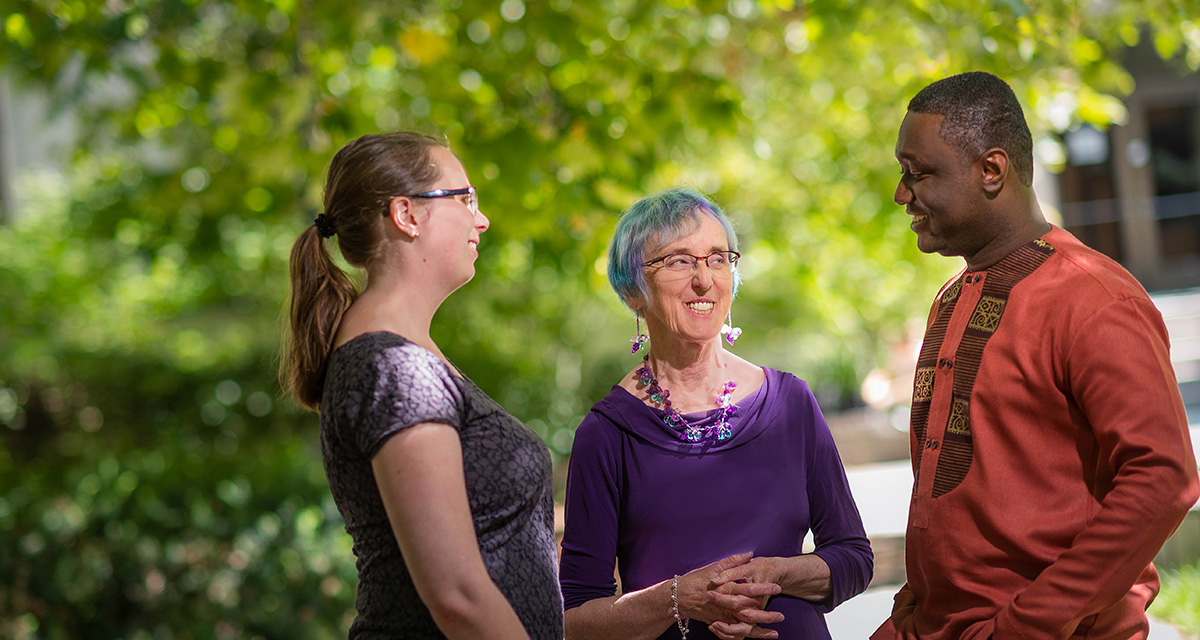 Collaborating with community
Over the course of her career, Dr. Bernhardt initiated a number of client-centred, community initiatives at the School — including the establishment of the Advancing Language and Literacy (ALL) Group, a network for young adults with a shared history of developmental delay associated with speech, language and literacy difficulties.
Today, the ALL Group — now led by Bosko Radanov and Sarah Ehl, also alumni of the School — has been operating for nearly fifteen years, giving participants an opportunity to continue building their language and literacy skills in a safe setting. In addition to making a direct impact on the lives of young adults and their families, the group has enabled a variety of clinical experience opportunities for graduate students, as well as volunteer experience opportunities for undergraduate students looking to pursue speech-language therapy as a career.
But Bernhardt's approach is not unique. Faculty, staff, learners and alumni of the School have made it their priority to engage with the patient community at a deeper level.
"We see patients and clients as our partners — it's our responsibility to learn from them and advocate for their needs," says Dr. Small.
"We see patients and clients as our partners — it's our responsibility to learn from them and advocate for their needs."
— Jeff Small
Director, School of Audiology and Speech Sciences
Today, the School is involved with a variety of community outreach initiatives, including the Aphasia Mentors Program, the annual Hearing Health Fair, the Special Olympics Health Athletes Program, and a Brain Camp for Kids.
Faculty members are also committed to giving students an opportunity to learn from and work with Indigenous populations. In 2009, it became the first audiology and speech language program in Canada with a dedicated Indigenous course as part of its curriculum. The School has also made it a priority to offer learning experiences in Indigenous settings, helping students to foster relationships and a deeper understanding of what culturally sensitive care looks like in practice.
---
500+
clinical faculty in communities across B.C.
---
Research informs practice at a provincial level
The School's community-centered approach extends to its commitment to advancing research to improve health outcomes for all British Columbians.
Over the course of its 50-year history, the School has built a strong reputation for research excellence — with faculty focused on exploring everything from communication strategies for Alzheimer's patients and the effects of auditory deprivation on brain development to the nature of swallowing disorders.
In partnership with clinical faculty, who are based at schools, private practices and hospitals across the province, the School's researchers are ultimately focused on translating new knowledge to clinical settings in order to improve quality of life for clients, patients and their families.
Faculty members including Drs. David Stapells, Susan Small, Tony Herdman, Lorienne Jenstad, and Navid Shahnaz have played a key role in shaping, and continue to inform the work of British Columbia's Early Hearing Program (BCHEP), the province-wide screening program that checks hearing for all babies born in B.C.
"Congenital and early childhood hearing loss is relatively common and if left untreated, results in significant disability. Fortunately, it is relatively easy to screen for, to subsequently diagnose and, for most hearing losses, there are very effective treatments and therapies," says Dr. Stapells, professor emeritus and a former director of the School, whose research informed the design of BCHEP's diagnostic audiology protocols.
Today, the screening program, delivered by health care professionals in B.C.'s six health authorities, assesses approximately 40,000 babies each year. In collaboration with BCEHP clinicians, the School's faculty continue to support the program, working to improve assessment protocols through their research. Alumni of the School are also now working as BCEHP audiologists, making a very direct impact on the future health of babies across the province.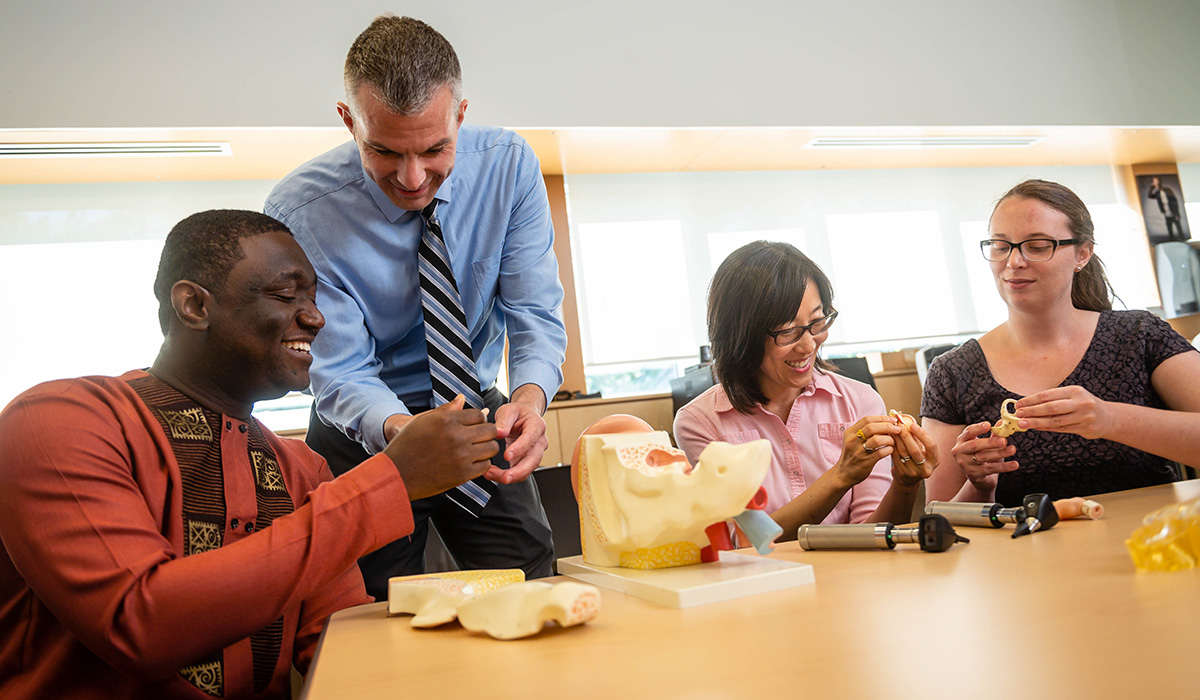 Looking forward
In the coming years, Dr. Jeff Small believes advances in technology will go a long way in shaping how the School educates students and conducts research. Advances in telehealth and novel technologies are already shaping professional practice by enabling audiologists and speech-language pathologists to provide assessment and intervention services to individuals living in remote communities.
But, at the heart of the School's impact will always be its graduates — individuals like Grace Shyng.
"It's about being able to break down communication barriers and help clients reconnect with their families."
— Grace Shyng
Clinical Assistant Professor, School of Audiology and Speech Sciences
"It's about being able to break down communication barriers and help clients reconnect with their families," says Shyng, who serves as the interim executive director of Wavefront Centre for Communication Accessibility, a charity that provides a full range of programs and services for deaf and hard of hearing people.
In addition to her work at Wavefront, Shyng serves as a clinical faculty member at the School, helping to mentor the next generation.
"I feel it's important to give back to the School. The program helped shape me to be the successful clinician I am today so that I can make a positive difference to my client and professional community. I feel very strongly about paying it forward to support future generations."
---
Share this Story
Published: September 2019