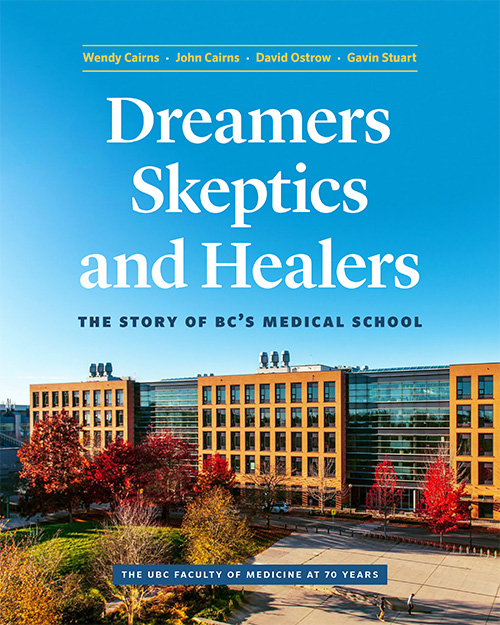 Dreamers, Skeptics, and Healers:
The Story of BC's Medical School
The UBC Faculty of Medicine at 70 Years
by Wendy Cairns, John Cairns, David Ostrow, Gavin Stuart
---
A legacy of care.
Hailed as one of the world's top-ranked medical schools, the UBC Faculty of Medicine is globally recognized as a leader in medical education and health sciences research. In celebration of its 70th anniversary, this richly illustrated history is an inspiring reflection on the Faculty's rise from humble beginnings to its standing today as a beacon of excellence.
This beautifully illustrated book documents the history of the UBC Faculty of Medicine, from its creation to the present day. Tracing the trials, tribulations, and triumphs of the many people who strove to first bring the Faculty into existence, and then to ensure its success, it is a testament to their work in transforming aspiration into reality.
Unlikely though it may seem today, the UBC Faculty of Medicine's creation was threatened from the moment British Columbia entered Confederation in 1871. Proposals for a provincial medical school encountered myriad challenges. There was no university until 1915, and it took eight decades from the early dream to enrollment of the first medical students. And yet, establishing the medical school was only the first of many milestones reached despite great odds.
Today, the Faculty's medical undergraduate program is the fourth largest in North America. Its faculty members have garnered numerous illustrious awards—including the Nobel Prize. Its province-wide, distributed undergraduate and postgraduate program, established in 2004 as the first of its kind in Canada, is developing a new generation of doctors, bringing health education to remote regions and communities, and enhancing the quality of health care. And its researchers continue to make breakthroughs in the priority areas of precision health, cancer, brain and mental health, heart and lung health, population health, and chronic diseases as well as across the breadth of health and life sciences.
---
About the Authors
Wendy Elizabeth Cairns was a UBC graduate who worked at the electronic library of the Canadian Centre for Occupational Health and Safety in Hamilton, Ontario. Returning to BC in 1997, she began a history of the Faculty of Medicine at UBC. Her extensive research, interviews, and eloquent prose languished following her premature death but were taken up and extended by Doctors Cairns, Stuart, and Ostrow, becoming the foundation of this book.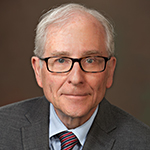 John Allan Cairns is an extensively published clinical and academic cardiologist and was Dean of UBC's Faculty of Medicine from 1996 to 2003. He led efforts, in conjunction with UBC and two provincial governments, to conceptualize, secure the funding for, and establish university partnerships to enable the doubling of medical student enrollment centred at UBC but distributed throughout the province.
David Neil Ostrow is Emeritus Professor of Respiratory Medicine at the University of British Columbia. In 1995 he chaired the development of the Faculty of Medicine's problem-based curriculum. He was the President and Chief Executive Officer of Vancouver Coastal Health Authority from 2009 until his retirement, in April 2014.
Gavin Charles Edward Stuart served as Dean of Medicine at UBC from 2003 to 2015 during which time he led the implementation of the distributed medical program across BC. He also held the role of UBC Vice-provost Health. Previously he was Vice-president of the Alberta Cancer Board. He is currently Professor and interim Head of the Department of Obstetrics and Gynecology and a practicing academic gynecologic oncologist in Vancouver.
The book will be available on April 27, 2021.
Pre-Order Online:
Or, contact your local bookstore to pre-order.