Take the pledge
Last week, the Honourable Janet Austin, Lieutenant Governor of British Columbia, invited all British Columbians to take the #DifferentTogether pledge to uphold the values of diversity and inclusion and to oppose racism and hate in all its forms.
It is an important time for us to stop and think about the role we play in the eradication of such thinking through act and deed.
Join Dermot Kelleher, Dean, Faculty of Medicine and Vice-President, Health, UBC, alongside faculty, staff and students, in taking the pledge that demonstrates our values and commitment of building a medical system that is more representative, inclusive and equitable for everyone across Canada and beyond.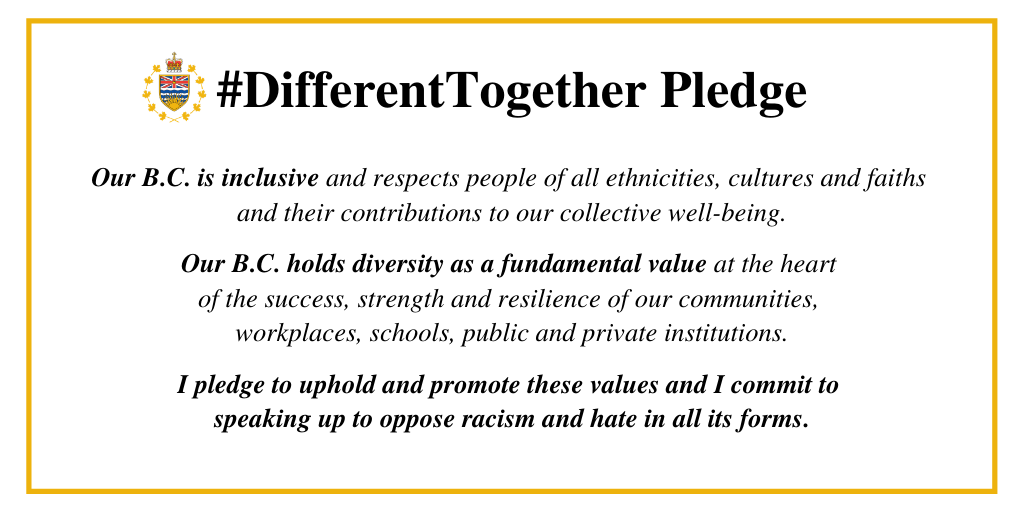 Pledges are anonymous. No personal information will be collected.
---
Take action
Alongside the Faculty's collective commitments, there are individual actions that we can all take to acknowledge the historical wrongs that many groups have faced and continue to face. We should take these actions in a spirit of humility, acknowledging to ourselves that there are things that we may not know about different cultures, about the world in which we engage, or about the people that we see and work with every day of our lives. We will all have our own way of doing so, but some ideas include:
Take concrete steps to educate yourself on the roots of racism in Canada and around the world.
Reach out to a colleague from a different background and have a conversation about their lived experiences. Ask some questions that you might not have asked before.
Take an implicit bias test.
Think about examples of racism, discrimination or bias within your environment and what you could do to report or address it.
Donate to organizations that support anti-racism activities.
Community Update from Dean Dermot Kelleher
Read the list of concrete actions the Faculty will take to eradicate racism and discrimination in all its forms.
Read the message