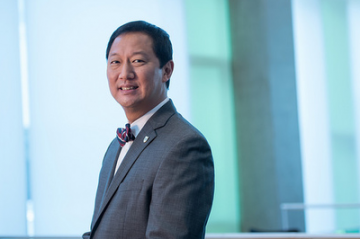 Santa Ono, the President of the University of Cincinnati and a medical researcher, has been named as the 15th President and Vice-Chancellor of UBC.
Dr. Ono specializes in the immune system, eye inflammation and age-related macular degeneration, a leading cause of blindness. As a professor of medicine and biology, Dr. Ono has worked at Harvard, Johns Hopkins, University College London, and Emory universities. Last year he was inducted by Johns Hopkins into its Society of Scholars, which honours former faculty who have gained distinction in their fields.
Dr. Ono has been the University of Cincinnati's President since 2012. Previously, he served as that university's Senior Vice-President for Academic Affairs and Provost. Under his leadership, the University of Cincinnati achieved its largest enrolment in its history and received numerous accolades, including being named Public University of the Year by the Washington Center.
Dr. Ono will become President on August 15 for a five-year term. He succeeds Martha C. Piper, who will end her term as Interim President and Vice-Chancellor on June 30. David Farrar, former UBC Provost and Senior Advisor to the President, has agreed to take on the role of Interim President after June 30 and prior to Dr. Ono's arrival.
Dr. Ono is no stranger to UBC. Originally born in Vancouver, his father (Takashi Ono) was a mathematics professor at the university in the early 1960s. He returned to Canada for graduate studies, earning a PhD in Experimental Medicine at McGill University.
"One of the most compelling reasons I was drawn to UBC was the depth and breadth of its academic research, and I am deeply committed to advancing that research by working collaboratively with some of the world's leading scholars," Dr. Ono says.
He and his research team are working to develop a blood test that could identify biomarkers in people who are progressing toward macular degeneration.
"Early detection and treatment could reduce vision loss and allow more people to enjoy their retirement years and maintain their independence. It's intellectually rewarding research that at the same time has the potential to transform people's lives," Dr. Ono says.
He has served on the U.S. Medical Research Council's Medical Advisory Board and College of Experts and the immunological sciences (IMS) and hypersensitivity, autoimmune and immune-mediated (HAI) diseases study sections of the National Institutes of Health. He has consulted widely for companies such as GSK, Cambridge Antibody Technologies plc (now part of Astra Zeneca), Johnson & Johnson, Santen Inc. and Oxagen plc.
As a scholar and researcher, Dr. Ono has served on the editorial boards of the Journal of Immunology, Journal of Biological Chemistry, Immunology and the Journal of Allergy & Clinical Immunology.
Among his many honors and awards are the American Diabetes Association Career Development Award, the Investigator Award from the National Arthritis Foundation, the Brit Katz Award (Emory University), the Roche Laboratories Award for Excellence in Research, and the Pharmacia International Award in Allergy Research. He was elected a Fellow of the American Association for the Advancement of Science in 2012, inducted as a member of the National Academy of Inventors in 2014 and inducted into the Johns Hopkins University Society of Scholars in 2015.