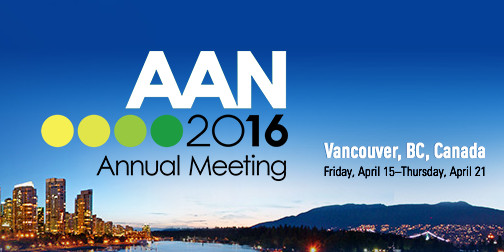 As 12,000 neurologists descend on Vancouver for the American Academy of Neurology's 68th annual meeting this week, UBC is poised to make the most of the opportunity to showcase the university's clinical and scientific leadership in the field.
Three faculty members will be giving talks at plenary sessions the world's largest gathering of neurologists, taking place at the Vancouver Convention Centre April 15-21:
Anthony Trauboulsee, the MS Society of Canada Research Chair, will discuss the results of a clinical trial of a new drug for multiple sclerosis;
Blair Levitt, Professor in the Department of Medical Genetics, described the development of a potential new drug for Huntington's disease and the current clinical trial;
and Jon Stoessl, Co-Director of the Djavad Mowafaghian Centre for Brain Health, will review the latest developments in neuroimaging.
UBC's National Core for Neuroethics hosted a booth that showcased its recent research on such topics as concussion, dementia, cognitive enhancement and autism, promoting opportunities to collaborate on research, and providing advice about finding reputable information online about brain health.
Dr. Stoessl was interviewed for a segment on City TV's Breakfast TV program, giving an overview of the annual meeting.
Members of the Faculty of Medicine volunteered at a public-oriented Brain Health Fair: a free, one-day event connecting hundreds of neurology patients, caregivers, families, students, and those interested in brain health. The program included a walk-through inflatable, interactive brain, opportunities to hold a human brain and to view animal brains, workshops to create brain-inspired arts and crafts, cranial nerve stations to demonstrate sensory nerves, an "Ask a Neurologist" booth, and more. Professor of Teaching Claudia Krebs, from the Department of Cellular and Physiological Science, gave a couple of talks at the "Discovery Zone Presentation Stage," including an explanation of why multi-tasking can be difficult, and Haakon Nygaard, the Fipke Professor in Alzheimer's Research, spoke to a large public audience about potential Alzheimer's disease treatments.
Dr. Traboulsee's plenary session on the MS drug ocrelizumab stems from his role leading the largest site of an international, randomized, double-blind trial of the monoclonal antibody, developed by Roche. The Vancouver site enroled 59 patients with relapsing-remitting MS, compared to an average enrolment of four or five patients at most other sites.
Dr. Traboulsee will be sharing results showing that ocrelizumab significantly reduced disability progression and brain tissue damage in both relapsing and primary progressive forms of MS. Ocrelizumab will soon be under review by the U.S. Food and Drug Administration and Health Canada for approval as an MS treatment.
Taking advantage of the event being hosted on UBC's home turf, Dr. Traboulsee brought a large contingent of Roche and Genentech executives – including Roche Canada's President and CEO Ronnie Miller along with three vice presidents (medical affairs, product strategy and finance and business services) – to the Djavad Mowafaghian Centre for Brain Health for a morning of presentations and discussions.
The group heard about MS research from Shannon Kolind, an Assistant Professor in the Division of Neurology; Roger Tam, an Associate Professor of Radiology; postdoctoral fellow Philippe Beauchemin; and Assistant Professor of Medical Genetics Carles Vialrino-Guell. Larry Lynd in the Faculty of Pharmaceutical Sciences discussed how careful analysis of B.C.'s patient database can be used to answer questions that usually require more expensive and time-consuming randomized controlled trials, and Clinical Assistant Professor Robert Carruthers, along with Dr. Traboulsee, discussed the potential of ocrelizumab to change patient care. Afterwards, the Roche-Genentech group toured the clinical and research spaces in the brain health centre.