Why UBC physical therapy graduates from the Northern Rural Cohort are embracing rural practice.
---
Over the past two years, Gregory Smith has hiked the rugged backcountry along British Columbia's Sunshine Coast, he's scaled the mountains of Tumbler Ridge in the foothills of the Canadian Rockies, he's paddled miles across the open ocean to reach distant islands, and he's carved his skis into the snow of the Hudson Bay Mountain outside Smithers.
Exploring the natural wonders of rural B.C. are among some of the many highlights that Smith recounts when asked about his time as a UBC physical therapy student in the Northern and Rural Cohort (NRC).
"I had such supportive mentors in these rural and northern areas. They really challenged me and pushed me to be better," says Smith, who grew up in Vancouver. "Also what really stood out to me were the patients — in a lot of underserviced areas, there is great need and the patients are truly appreciative of the rehabilitation services, support and care they receive."
The NRC initiative — created in 2012 with funding from the Government of B.C. and delivered in partnership with the University of Northern British Columbia (UNBC) — exposes students in the Master of Physical Therapy program to the unique challenges and rich rewards of rural practice by taking them well beyond the borders of Vancouver to complete their hands-on training.
"NRC students complete four of their six clinical training placements in rural and northern communities, working alongside physical therapists in every corner of the province — from Fort St. John to Fernie and Bella Coola," says Robin Roots, a senior instructor with the Department of Physical Therapy and coordinator of clinical education for the NRC.
Roots, a practising physical therapist in Prince George and strong advocate of rural healthcare, has helped to build the NRC from the ground up, travelling to communities to engage front-line therapists to take on students and ultimately serve as mentors to the next generation.
"It's so important that our students feel a deep sense of connection to community while they're on clinical training placements — that they have an opportunity to build personal and professional networks and see what it's like to support the rehabilitation needs of patients and families in rural regions," she says.
For Smith, who gained experience training in Fort St. John, Kitimat, Powell River and Whitehorse, being part of the NRC and spending time making connections with these communities had a profound impact on his decision to 'go rural' after graduating.
On one occasion, during his time Kitimat, Smith remembers helping one individual rise to their feet and take their first steps after being bed-ridden for 18 months in hospital.
"The patient was recovering from a wound that had been very severe. I was able to build rapport with them, which allowed me to push them further. I told them if they wanted to get out of the hospital, if they wanted to get home, it was important that they really try," says Smith. "I explained that it may be painful, that it would take a lot of hard work and effort, but that the rehab team was there to help them towards their goal."
This close patient experience — and countless others — is part of what has inspired Smith to work in a rural community after completing his education this fall.
Next spring, he will move to Powell River, where he's accepted a position at a local physical therapy practice. It's the kind of community, he says, where people still wave and stop to say hello when you walk down the street.
But Smith is not the only graduate from the Northern Rural Cohort embracing rural practice.
A growing network of physical therapists for northern and rural B.C.
According to Roots, the NRC — which comprises 20 out of the 80 UBC physical therapy students admitted each year — has helped encourage many graduates to practice in rural areas across the province.
We're seeing more graduates inspired to stay and support the needs of communities where they've trained."

Robin Roots
"We're seeing more graduates inspired to stay and support the needs of communities where they've trained. Among the first three cohorts to graduate, more than 40 per cent are working in northern or rural communities and 96 per cent are practising in B.C.," says Roots.
Bryn Nyeste, who graduated from the program in 2015, is one of them.
"Over the last two years, I've gained experience working as a physical therapist on a medical, surgical and rehabilitation ward in Prince George," she says. "The team here is incredibly supportive of each other."
Having grown up in Merritt, a small city in B.C.'s Interior, Nyeste has an intimate understanding of the challenges often associated with accessing rehabilitation services outside of large urban centres.
"When I was in my first year of university, my father had a stroke," says Nyeste. "After he was discharged, we really struggled with the follow-up therapy and care — there were no rehabilitation services in town so we travelled with him to out-patient therapy."
The memory of those long drives with her family remained with Nyeste throughout her early university years, and ultimately encouraged her to apply to the Master of Physical Therapy program. From the beginning, she knew she wanted to be part of the NRC, where she could gain the skills and experience needed to help patients living in rural areas, like her father.
"The experience of being a part of the NRC was incredible," recalls Nyeste, reflecting on time spent with her fellow NRC colleagues during a three-week academic block at the Physiotherapy Plinth Lab at the University of Northern British Columbia in Prince George. "We shared lectures with our Vancouver-based classmates through video-conferencing and on the weekends there were always hiking trips, camping trips, and barbeques in local physios' backyards. The community was always there when we needed anything."
But beyond the academic and social experiences, Nyeste says her time in NRC helped to solidify her understanding of how rewarding rural practice can be.
While in Invermere on a clinical training placement, Nyeste remembers how the entire town rallied around a patient recovering from a brain injury.
Everyone, she says, jumped in to help.
"We didn't have a lot of man power, so people in the community would take shifts and come into therapy sessions to help us work with the patient. And when we didn't have the equipment we needed, the community built it with their own hands — from standing platforms to ramps."
Today, as a physical therapist in Prince George, Nyeste experiences this strong sense of community each day.
"There are challenges, but also so many rewards," says Nyeste. "Working in these rural areas, everyone comes together around that one common goal: to help the individual and see them return home and become active members of their community again."
For Roots, seeing more graduates, like Nyeste and Smith, take on positions in northern and rural communities is very encouraging.
But the impact of establishing the NRC — now in its fifth year running — stretches much further.
Increasing service capacity and supporting retention
The creation of the NRC has also helped increase rehabilitation services in northern and rural areas.
"In order to offer our NRC students the full range of clinical training experiences and opportunities, in some cases, we've needed to first build capacity by actually advocating for rehabilitation programs and services in certain settings," says Roots.
Over the past several years, Roots has worked with partner organizations to increase access and integrate physical therapy services into a number of existing health services. As a result of these efforts, there has been a direct impact on under-serviced and marginalized communities in northern and rural areas.
According to Roots, the arrival of the NRC has also helped to support retention efforts. UBC physical therapy students on clinical training placements help to increase capacity and alleviate the pressure on physical therapists working in rural and northern communities.
"With my large case load, having students to support really helps," says Erin Gagne, a physical therapist in Quesnel, who has been supervising physical therapy students for several years.
Gagne, who returned to her hometown to practice after graduating from the Master of Physical Therapy program in 2012, is now serving as a clinical faculty member with the Department of Physical Therapy.
Until recently, she was the only public practice physical therapist in Quesnel, supporting the rehabilitation needs of patients at the town's 31-bed hospital. Training students, she says, continues to ignite her passion for physical therapy.
"You're teaching them, but they also teach you," says Gagne.
According to Roots, the NRC has been a driving force for strengthening and engaging the wider physical therapy community working in rural areas.
"I'm really honoured to work with clinicians across northern and rural BC who are so dedicated to the profession, to their communities, and who have embraced students to share their passion, knowledge, and depth of experience," she says.
In the months ahead, physical therapy graduates from the class of 2017 will embark on their own paths across the province, with some — like Smith — returning to work in the very communities where they trained.
"What really excites me about the next stage is the opportunity to move to a rural community — to not only support the rehabilitation needs of the people in the area, but volunteer, maybe coach a sports team, and be a part of the community," says Smith, looking ahead at the new challenges and adventures that await him as a physical therapist in Powell River next spring.
And when he's not in town, Smith's adventurous spirit will be sure to lure him outdoors, where he can soak in the serenity and natural beauty of his new home on the Sunshine Coast.
---
Related story: NRC Alumni Spotlight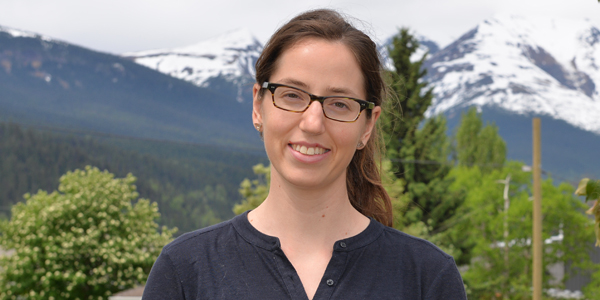 Josina Rhebergen looks back on her time as a student in the Northern Rural Cohort and shares what inspired her to work as a physical therapist in rural B.C.