Bruce McManus, Professor in the Department of Pathology & Laboratory Medicine, received the 2012 Leadership Award from Life Sciences British Columbia on April 19 in Vancouver.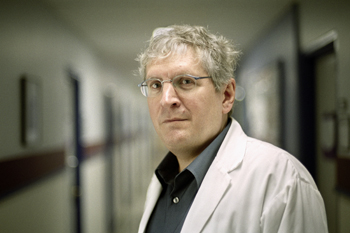 Dr. McManus serves as Director of the  UBC James Hogg Research Centre at St. Paul's Hospital, Co-Director of the Institute for Heart + Lung Health, and Director of the  Centre of Excellence for Prevention of Organ Failure (PROOF Centre). Past leadership roles include inaugural Scientific Director of the Institute of Circulatory and Respiratory Health of theCanadian Institutes of Health Research,  and Head of the UBC Department of Pathology & Laboratory Medicine from 1993 to 2000.
Dr. McManus' research focuses on the mechanisms, consequences, detection and prevention of injury and aberrant repair in inflammatory diseases of the heart and blood vessels. He works in a cross-disciplinary setting, enabled by computational sciences, and focused on molecular bio-signature development and implementation.
Dr. McManus has co-authored approximately 350 peer-reviewed publications, several chapters while editing four books and is a co-holder of numerous patents. He has served as Councilor for the International Society for Heart Research and the American Society for Investigative Pathology, and as President of the Society for Cardiovascular Pathology.
He was a co-recipient of the prestigious Max Planck Research Award in 1991, elected to the Royal Society of Canada as a Fellow of the Academy of Sciences in 2002, and became an inaugural Fellow of the Canadian Academy of Health Sciences in 2005. Dr. McManus has received the Research Achievement Award of the Canadian Cardiovascular Society, the BC Innovation Council's Lieutenant Governor's Technology Innovation Award and the CSATVB Scientific Excellence Award, Canadian Society for Atherosclerosis, Thrombosis and Vascular Biology.
The Life Sciences British Columbia Awards are presented annually to recognize individuals and organizations that have made significant contributions to the development of British Columbia's life sciences industry.